2016 AMA ATV Motocross
Round #10 Red Bud MX
Buchanan, MI
July 30, 2016

Joel Hetrick Takes Sixth Win at Red Bud Pro ATV MX
Chad Wienen goes 1-2 for 2nd overall, Jeffrey Rastrell Takes 3rd
2016 AMA ATV Motocross
Round 10 - Links
Buchanan, MI (7/30/2016) – Joel Hetrick got back to winning form as he beat out Chad Wienen during the AMA Pro ATV Motocross National Championship race at RedBud Motocross Park. Hetrick finished second in the first moto and won the second moto to earn his sixth overall win in Round 10 of the 12-race season. Wienen was second, ahead of Jeffrey Rastrelli, Josh Upperman and David Haagsma.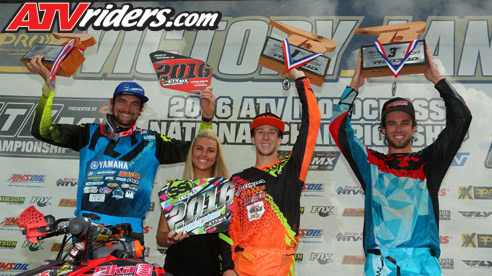 Red Bud MX - Pro ATV Motocross Podium (left to right)
Chad Wienen (2nd), Joel Hetrick (1st), Jeffrey Rastrelli (3rd)
With rain threatening all day, the clouds opened at race time for a sunny, temperate and humid race. Wienen won the ATVRiders.com Top Qualifier Award for the event, which kept Wienen in the hunt heading into the final two rounds with Hetrick leading with 6 followed by Wienen with four.
FOX's Chad Wienen grabbed the ATVriders.com Fastest Qualifer Award, which has him just 2 behind Hetrick heading into the final 2 rounds
DASA Racing's Joel Hetrick beat out Josh Upperman for the holeshot in the first moto and appeared to be well on his way to the win. However, he lost control going past the mechanic's area and flew of his quad, handing the lead to Jeffrey Rastrelli followed Chad Wienen. Hetrick was quick to get back in action and drove from third to finish second, just behind Wienen. Rastrelli finished third, ahead of Upperman and John Natalie, Jr.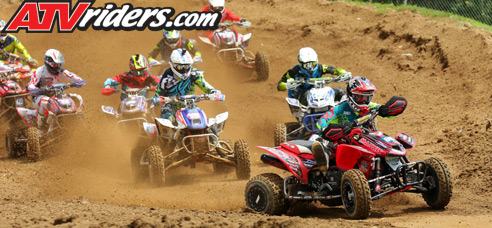 DASA Racing's Joel Hetrick grabbed the Moto One Holeshot
In the second moto, Hetrick again grabbed the holeshot, this time beating out Wienen, and set sail from there, running a flawless race to finish first. Wienen finished second, ahead of Rastrelli, Upperman and Haagsma.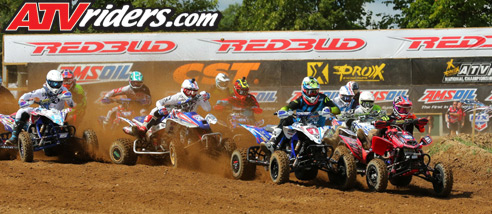 Maxxis' Joel Hetrick was able to hold off Chad Wienen on the start to grab the Moto 2 Holeshot
"I pulled two holeshots, and that helped in both motos," said Hetrick. "It would have helped a lot more in the first moto, hadn't I taken a little dirt nap. It was a really good weekend, but I'm pretty bummed out about that first moto because we could have gained a couple of points. I thought the track was going to be really tough on me, but I was wrong. I rode smooth. I was just on my game this weekend."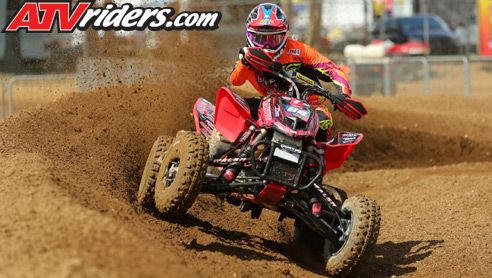 ELKA's Joel Hetrick scored his 6th Overall win of the season at Red Bud MX
Wienen retains the championship lead ahead of Hetrick with the gap of 22 points unchanged.
"We've been at 22 points for the last six rounds now," said Hetrick. "It's tough to deal with and Daytona really put a hurting on my points. He has really good motos and so do I. We're two of the fastest guys on ATVs and we go back and forth every weekend. It's tough to beat him and I'm sure he feels the same about me. Anything can happen with this championship battle. I'm just taking it moto by moto."