AMA ATV Motocross Nationals
Round #5 - Ballance Moto-X
Bowling Green, Kentucky
June 2, 2012

AMA ATV Motocross - Round 5 - Ballance MX - Amateur Race Report
Cody Gibson Wins, Cody Janssen, Tyler Hamrick Podium Pro-Am Unlimited Class
2012 AMA Pro ATV Motocross
Round 5 - Ballance Moto-X

Bowling Green, KY (6/7/2012) – Round five of the AMA ATV Motocross Series headed south to Ballance MX for another exciting weekend of amateur ATV racing. With almost perfect weather conditions on hand, Walsh Race Crafts Cody Gibson would again dominate the Pro Am Unlimited class as he rode to a perfect 1-1 win over his competition. Moto one would see Gibson claim the holeshot and steadily pull away from the field as he cruised to victory followed by Tyler Hamrick who put in an outstanding ride after battling the entire moto with third place finisher Cody Janssen.

#40 Cody Gibson pulled the Holeshot in Moto 1 in the Pro-Am Unlimited Class
Moto two would almost be a repeat of the first moto with Gibson overtaking the lead early on the first lap leaving the remainder of the class to battle behind him. Janssen and Hamrick would once again be locked in a moto long battle that would see Janssen best Hamrick to claim second in moto two.
DWT's Cody Gibson won each moto in both the Pro-Am Production & Pro-Am Unlimited classes on his Walsh Race Craft Suzuki LTR450 ATV & CRF450 Hybrid ATV
For Hamrick, his third place performance at round five marks his best finish to date this season and came after a miraculous save in one of the many rhythm sections that highlighted the intensity of the racing found in the Pro AM Unlimited ranks.
Bladwin Motorsports' Tyler Hamrick took third in the Pro-Am Unlimited Class as well as placing ssecond in the Pro Am Production Class on his Honda 450R ATV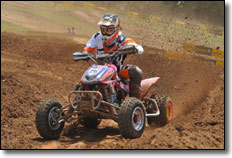 Cody Janssen went 3-2 to place second overall in the Pro-Am Unlimite Class

Cody Janssen's performance was solid as he put in another great effort here at round five to finish on the podium for the third time this season.

Cody Suggs would reel in a fourth place finish for the weekend and Nick Moser would round out the top five after another incredible performance as he powered his way through the class going 4-6 on the weekend.

::CONTINUED::