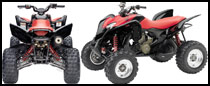 Honda TRX 700XX IRS Sport ATV
With the introduction of the all-new 2008 TRX700XX, Honda enters the large-displacement Sport ATV market at the peak of the high-performance curve and accelerates into the red zone where no one can follow. Its electric-start, fuel-injected 686cc four-stroke engine traces its heritage to the Baja-dominating XR650R and delivers class-leading power. Just as significant, the drivetrain and suspension of the TRX700XX are state-of-the-art—and then some. Specifically, Honda has engineered a brilliant centered chain drive system that permits the use of fully Independent Rear Suspension (IRS) with more advantages than traditional IRS designs.
2008 Honda Sport ATV Models
The adult Sport ATV market in the U.S. continues to mature and today can be classified in three distinct, yet overlapping segments. The first is occupied with 250-400cc models that provide lightweight, tractable power and convenience of operation. The TRX250EX, with its innovative SportClutch, and the ubiquitous TRX300EX are wonderful examples of this category. On the other end of the spectrum are focused, competition-oriented machines like Honda's TRX450R, which boasts a ready-to-race liquid-cooled, four-valve Unicam™ four-stroke engine and agile suspension. Straddling the line between entry level and pure competition machines are the high-performance sport ATVs that add season-long capability and versatility to the high-performance formula. The TRX400EX, with its bulletproof XR400-derived air/oil-cooled four-stroke powerplant and cast-aluminum swingarm, slots in well here. In keeping with the increasing expectations of riders in this segment, the new TRX700XX carves out new ground at the pinnacle of the Sport ATV market.
TRX 700XX Engine / Drivetrain
Honda TRX 700XX 686cc dry-sump, liquid cooled SOHC four-valve single-cylinder four-stroke engine
The lifeblood of the 700XX is its 686cc dry-sump, liquid-cooled SOHC four-valve single-cylinder four-stroke engine. With a bore and stroke of 102mm x 84mm, it boasts the largest diameter single-cylinder that Honda has ever mass-produced. Although it is infused with the heart of the potent XR650R mill, the 700XX engine has been purpose-designed and built for the rigors of ATV duty. Given the higher weight of ATVs (compared to off-road motorcycles), torque—and lots of it—was a priority. A longer (plus 2.0mm) stroke and slightly larger (plus 1.4mm) bore accomplish this. But in keeping with Honda's philosophy of mass-centralization and a low Cg (center of gravity) to achieve optimal handling, engineers determined that a taller cylinder and engine would not do. So they shortened the overall height of the engine by creating a longer-throw crankpin and a correspondingly shorter, carburized connecting rod to shorten cylinder height. The connecting rod is affixed to a ball-bearing crankshaft. Smooth, all-day riding comfort was assured with the fitment of a gear-driven counterbalancer to neutralize engine vibration.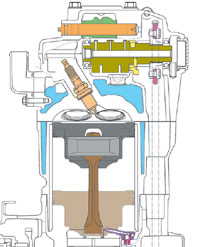 TRX 700XX Cylinder & Piston
Like Honda's renowned CRF® motocrossers, the XX piston features a slipper skirt design and it strokes through a centrifugally forged, 3.5mm-thick steel sleeve. A forged piston was used to handle the increased mechanical and thermal loads, and it also benefits from an underside shower of cooling oil shot from a jet that protrudes into the center of the engine case. Compression is 10:1 and the high-tech slug is fitted with a larger 24mm piston pin. The combustion chamber utilizes a pentroof shape and is fired by a single, centered spark plug.
The engine inhales through a foam air filter fitted in a 7.6-liter airbox. Intake valve size is 1mm smaller than those used in the XR (36 vs 37) for better low-rpm flow—and therefore torque—while the exhaust valve diameter remains unchanged at 32mm. The Programmed Fuel Injection (PGM-FI) system draws fuel from a 3.0-gallon blow-molded, multi-layer fuel tank and delivers it via a single Denso injector through a 44mm throttle body. A Keihin Engine Control Module (ECM) manages both the fuel injection and the transistorized ignition. The engine exhales through a single long-tube header tuned for excellent low-end and mid-range torque without sacrificing top-end power. Gases are expelled through a muffler constructed of 128-grade stainless steel.
| | |
| --- | --- |
| | |
| TRX 700XX large 7.6 liter air box with foam air filter | TRX 700XX 44mm Keihin PGM-FI System |