Remember when mom would tell you to stay out of the mud? Well, now we're telling you to jump right back in. Introducing the all-new 700 H1 EFI Mud Pro. As you can tell, this competition machine is all about running through the deep stuff competitively; straight off the showroom floor.
Just like the rest of our race ready ATVs, the H1 evolution of hemi-producing power continues with EFI. After two consecutive Quad Terrain Championships, the 700 H1 EFI has a powerful 695cc, SOHC, single-cylinder, liquid-cooled engine, designed for a wide torque curve with the smoothest power delivery via Electronic Fuel Injection. Cold weather starting and altitude changes are no longer questionable.
The H1's Performance Mud Chassis
To start with, Team Arctic mud racers were crucial to the Mud Pro design. They told us what they wanted; we built it for them! First was a slightly taller seat that has been raised an inch, combined with a new handlebar design for better mud riding ergonomics.
The stance and suspension were addressed next with competition spring and shock valving and preload changes tailored specifically for the Mud Pro's taller Highlifter Outlaw MST tires. Team Arctic mud racers demanded there was only one choice when it came to gearing; it had to have 4.0 gears and clutching specifically tuned for the gears. Arctic Cat tuned both in harmony with the EFI mapping to provide the ultimate performance gains in low end torque and acceleration.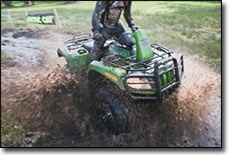 Arctic Cat 700 H1 Mud Pro ATV soaring through some mud.
An industry leading 14" of ground clearance and big tires will get you nowhere if water gets into your intake systems. That's why Arctic Cat went one step further by designing an elevated Intake and Clutch snorkel to keep the CVT belt dry and cool through the deepest holes. The Mud Pro snorkel system takes the guesswork out of designing one in your garage. Specific EFI calibrations tuned in conjunction with the gearing, clutching, intake and tires produce the maximum horsepower in all conditions. (System does not retrofit other FIS Arctic Cats)

Switching from 2WD to 4WD is as simple as pressing a handlebar mounted shift button, while activating the front diff-lock is now easier as pushing the all-new electronic rocker switch button located on the instrument pod. A 2-in. "automotive style" receiver hitch, long-range 6.5-gallon fuel tank, digital instrument pod (MPH, odometer, dual trip meters, hour meter, clock and fuel level) and Start-In-Gear capability complete the package.

From the front headlights to the rear brake lights, the 700 H1 Mud Pro screams show as well as go. Extra wide fenders add protection on muddy courses. A latch on the seat allows quick access to the handy tool tray below. Arctic Cat puts the power to the trails with a fully-independent front and rear double A-arm suspension. Equipped with preload adjustable shocks which, coupled with a full-length skid plate, gives riders the confidence needed to venture almost anywhere, over any obstacle. One can't help but notice the race-derived Competition Green Metallic painted fenders that can be waxed and buffed. To cap off the Mud Pro package, front and rear heavy duty bumpers are standard, and new rolling attire via an all-new 12" aluminum wheel are wrapped with aggressive 28" Highlifter Outlaw MST tires.

Easily removable engine covers shield mud from the engine while creating a clean appearance to the engine compartment. SpeedRacks have a slim, body-hugging appearance with 100/200-lb. rack capacities front/rear. Get out there and compete on an Arctic Cat Hemi H1. Monotony has never faced such potent adversaries.