IXCR Racing Series
Indiana Cross Country Racing Series
Attica, IN (2/21/2014) – Indiana Cross Country Racing, aka the IXCR,  is not just another local series as it was presented to me back in 2013. I harken back to 2012 when I was first asked to pay the series a visit that ended up being a bust as I caught a nasty cold and was unable to make the trip. Even with having to miss the trip, what started was a friendship that grew and grew and finally in 2013 I was able to head to southern Indiana to check out what was fast becoming a powerhouse in cross country motorcycle and atv racing.

The series itself started in 2007 with a main goal of preparing local racers for competition in the Grand National Cross Country series (GNCC). The promoter even wanted the "feel" of a national race and every detail was focused on so even those that couldn't afford traveling to the national races could experience a taste of what it was like. As the series gained attention and grew, Pro racers from both atv and motorcycles found there way to the series adding to the atmosphere that was being created.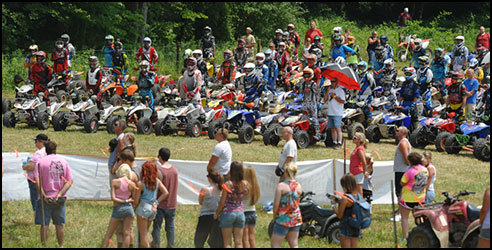 The IXCR Racing Series has a national feel but it is based in the Midwest
I arrived at my first IXCR event and I must admit, it looked much like many of the locals I had attended. That began to change as set up began and a well bannered starting area took shape. Vendors started to fill in and by race day, all the elements were in place. The race weekend format follows the nationals with ATV and Mini's (bike & ATV) running on Saturdays along with SxS's. The bikes run on Sunday allowing for a weekend full of excitement and entertainment. The nitty gritty is that this series is far from being anything close to a "local" with an average race attendance in 2013 of 519. Their largest race was in April that saw an outstanding 709 racers with 2769 total in attendance. Those are impressive numbers by anyones standards for a series in a state that boasts 4 other XC based series.
The IXCR Crew does a nice job of keeping their tracks interesting!
The man behind this endeavor is Tim Popcornman and his family all of which are dedicated to the sport of offroad racing. Having gone to several other IXCR events and doing a ton of watching his team in action, it is very clear he is not only serious about making the events run well, he is very open to every racer and sponsor to make any changes that will improve the series. Wide open and the sky is the limit comes to mind when you ask Tim about things, and it is not just talk. As well as being 100% involved, Tim is incredibly active with social media to promote the series as well as interact on all levels with anyone who may have questions or just share the love of the sport.
The Youth Classes are very popular at IXCR because of its family like atmosphere
I asked Tim what his biggest obstacles were:
"Our biggest obstacle,our name is INDIANA CROSS COUNTRY RACING but that doesn't mean you have to be from Indiana to come to our races.  We have a lot of people say yeah we have heard of your series, but not yeah we've been to one of your races.  We want people to venture out and come give us a shot.  While we may not travel all over the place we would like for more people to give us a shot and see what you think.  Then we want to hear what you have to say about it.  Give us some feedback so we can continue to make your time with us the best that it can be."
In addition to ATV racing, IXCR also features SxS Racing