2012 Coal Creek OHV Spring ATV & SxS Jamboree
Tennessee's Coal Creek OHV Off-Road Riding Park
ATV & SxS / UTV Sand Dune Links

Oliver Springs, TN - When people decide to gather to enjoy a specific event, it usually means good times simply because everyone is sharing a very common interest. When you combine good friends, good times, the great outdoors and our beloved off roading you tend to have a weekend that creates memories that last forever. Now add in a riding area that is minutes from every modern convenience you would want, spectacular views of the Tennessee countryside and trails that are good enough to give you a variety of riding challenges and you have an event that is out of this world!

The Coal Creek Spring Jamboree was held this year near the end of April at the Coal Creek O.H.V area located just outside Oak Ridge, TN. Located on 72,000 acres and featuring 300 miles of trails, one need not worry about finding some new trail to explore.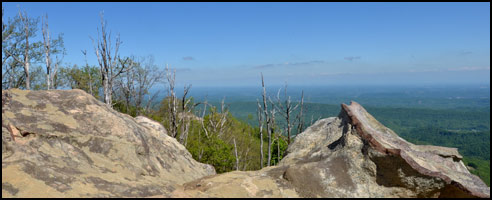 Coal Creek Spring Jamboree is held at the Coal Creek OHV riding area in Oliver Springs, TN & features over 300 miles of breath taking ATV & SxS Riding Trails
The trails themselves are well maintained, marked, and would lend themselves to riding enthusiasts from around the country as the event kicked off. With onsite cabins filled to capacity, the RV hook up and primitive camping areas quickly became a sea of ATV's and SxS's as people found their way from all over.
There were many vendors on hand at the 2012 Coal Creek ATV & SxS Spring Jamboree
The chat amongst off roading fans was always upbeat and friendly and conversations ran the gamut of topics from riding gear to the event itself. As the vendor area opened, dialogue was robust as those wanting a new or needed item quickly got advice and tips from the vendors and from those who had a particular opinion on everything from tires to insurance!
There was many ATV & SxS events held at this years Coal Creek Jamboree including ATV & SxS drag racing
The huge variety of lifestyles combined to allow exploits of trips past to be brought back as memories were shared to friends at every opportunity. I recall listening to stories of fishing adventures in Alaska while we were taking in the scenery from one of the many lookouts that are just stellar for those wanting to soak up what Coal Creek has to offer.
| | |
| --- | --- |
| | |
| A Dash for Cash was held that left many participants muddy head-to-toe | Pole Bending races were also held at this years ATV & SxS Jamboree |