Can-Am ATV & SxS Racers Take Podium at Powerline Park GNCC
Powerline Park GNCC - Round 11 - St. Clairsville, OH - October 6, 2012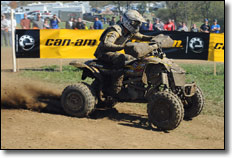 Motoworks / Can-Am DS 450 racer Chris Bithell notched a third place finish at round 11 the Can-Am GNCC Racing series recently held in Ohio
Valcourt, Québec (10/11/2012) -Three Can-Am Outlander ATV racers finished on the morning overall podium and swept the 4x4 Open class at round 11 of the 2012 Can-Am GNCC Racing series in St. Clairsville, Ohio. Can-Am X-Team racer and reigning 4x4 Open class champion Bryan Buckhannon, won the morning overall and his class, beating fellow Can-Am pilots Michael Swift and Zac Zakowski. In the afternoon session of ATV racing, Motoworks / Can-Am DS 450 Pro racer Chris Bithell finished third overall in the XC1 ATV class. XC1 Modified side-by-side driver Joe Krecelich also earned a third-place podium finish in his Can-Am Commander 1000 X.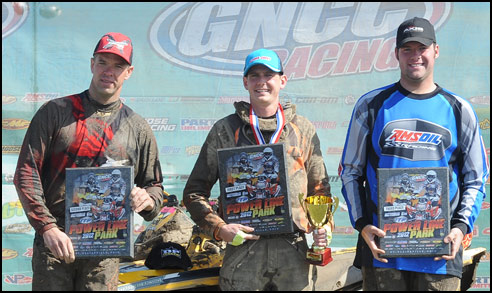 Can-Am ATV racers Michael Swift, Bryan Buckhannon & Zac Zakowski swept the 4x4 Open class, 4x4 morning podium & overall morning podium at round 11 of the GNCC series held at Power Line Park in Ohio
"Can-Am ATV racers made their presence known at Power Line Park in Ohio, by not only sweeping the morning overall podium, but also earning five of the top 10 finishes in the morning and a coveted XC1 class podium in both ATV and side-by-side racing this weekend," said Jimmie O'Dell, Race Manager, Can-Am. "Bryan Buckhannon and Michael Swift continued their highly competitive, yet friendly battle for the 4x4 Open class crown. I was very thrilled to see both Chris Bithell and Joe Krecelich each earn a place on their respective Pro class podiums. The bottom line is that we had a great weekend, but now we need to shift our focus on round 12, the famous Ironman GNCC in Indiana, and continuing our effort to win several 2012 class championships."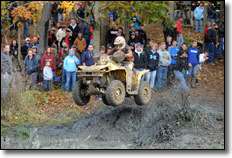 Bryan Buckhannon, the defending 4x4 Open class GNCC champion, won his class & took the morning overall at round 11 aboard his Can-Am Outlander ATV

The 10.5-mile Power Line Park course was soaked by rain Friday night, greeting the racers with wet-and-muddy track conditions on Saturday. Can-Am racers started the weekend off in a positive manner as Buckhannon, Swift and Zakowski swept the 4x4 Open class podium, overall morning podium and utility podium in Ohio. Buckhannon, winner of nine races this year, continued to expand his points lead and to repeat as 4x4 Open champion.

"We had a great day of incredible racing and our setup [on the Outlander] just worked awesome in today's conditions," said Buckhannon.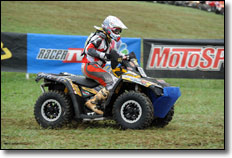 Forrest Whorton continued his mastery over the Senior 4x4 class as he rode his Can-Am Outlander to victory in Ohio

Robert Smith, a Can-Am Renegade ATV racer from Conneautville, Pa., recorded his first U2 class win in Ohio, edging class stalwart and reigning champion Cliff Beasley (UXC Racing / Can-Am) and Can-Am racer Scott Day. Forrest Whorton, the defending 4x4 Senior class champion, finished more than 25 minutes ahead of his nearest competitor to earn his 10th win of 2012. Josh Copeland, notched his first class overall of the year, winning the 4x4 Novice class aboard a Can-Am Renegade ATV.

In XC1 ATV action, Bithell was determined to carry the morning riders' success into the afternoon session and looked improve upon his unusual 13th place finish at the last round. The Motoworks / Can-Am racer did just that as he recovered from a challenging start to earn the third step on the XC1 class podium. Bithell garnered his fourth top three or better finish of the season and currently sits fifth in the Pro class points race.

"I did not get a great start, but made some things happen in the first few turns that sent me into the woods close to the leaders. The track was a great mix and had some sections where I could really use the power," said Bithell. "I have to really thank my mechanic Darrin Thomas who had my Can-Am DS 450 ATV really dialed in. Everything really worked today and I am so happy to be on the podium."

In the final session of the day, Krecelich continued the Can-Am podium trend as he piloted his Jack's Excavating/Team Krecelich Can-Am Commander to third overall in the XC1 Modified class, rallying from his eighth-place position after lap one.

For more information on Can-Am racing, the entire 2012 schedule, the '12 contingency program and DS 450 amateur racer support program, please visit www.can-amxteam.com.

Bombardier Recreational Products Inc. (BRP)
A privately-held company, is a world leader in the design, development, manufacturing, distribution and marketing of motorised recreational vehicles. Its portfolio of brands and products includes: Ski-Doo and Lynx snowmobiles, Sea Doo watercraft and boats, Evinrude and Johnson outboard engines, direct injection technologies such as E-TEC, Can-Am all-terrain and side-by-side vehicles and roadsters, as well as Rotax engines. BRP products are distributed in more than 90 countries. www.brp.com

Sea-Doo, Ski-Doo, Lynx, Evinrude, Johnson, Can-Am, Rotax, E-TEC, DS 450, Outlander, Renegade, Commander and the BRP logo are trademarks of Bombardier Recreational Products Inc. or its affiliates. All other trademarks are the property of their respective owners