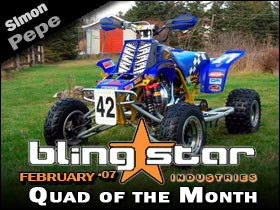 Blingstar Industries January Quad of the Month
Simon Pepin's 1996 Yamaha Banshee
"First off I would like to thank, ATVriders.com, everyone who voted for me, and Blingstar for Sponsoring Quad of the Month. It's an honor to win, especially with all of the sick bikes here at Atvriders.com. I bought this bike 4 years ago with a Drag setup and I was planning to keep it like that until about 4 or 5 months after owning it. I decided to make it over for MX and since then, almost all stock parts have been changed on this bike. It runs awesome on an MX track, nice handling, nice power. You can see my banshee in action on Youtube , don't be afraid to post some comments. Once again I would like to thank everyone who voted for me and supported me with my "old" 2 stroke!"
Chassis | Suspension | Controls:
Frame: Stock Gusseted Powdercoated Yellow
A Arms: Denton Racing +2+1
Swingarm: Chrome Lonestar -1"
Steering Stem: Burgard +1 Chrome Anti-vibe
Axle: Durablue Eliminator
Carrier: R.A.D.
Locknut: Durablue
Hubs F|R: Stock Powdercoated Black
Bars: Pro Taper Fat Bar 1 1/8"
Throttle: 450r Thumb Throttle
Clutch Lever: ASV F3
Grips: Blue Spider
Nerfs: AC Racing
Bumper: Duncan racing with Numbers Plate
Grab Bar: AC Racing with Numbers Plate
Front Shocks: Elka Dual Rates
Rear Shock: Elka Dual Rates
Brake Lines F|R: Streamline Braided Stainless Steel
Throttle Cable: Terry Cable Stainless
Rotors F|R: Stock
Brakes F|R: '06 YFZ 450 Front Calipers
Rims F|R: Douglas Beadlocks
Tires F|R: ITP Holeshot MX
---
Body:
Plastic: Blue Race Cut Fenders
Graphics|Seat Cover: Alba Action Flames with Checkered Seat Cover
Number Backgrounds: Nac's Racing
Handguards: Blue Powermadd
Bar Pad: Pro Taper
---
Powertrain:
Cylinders|Head: MX Ported Wiseco Pistons .020" Milled
Bore & Stroke: Stock
Displacement: 350cc
Reed Valves: V-Force 2
Carburetor: Keihin 35mm CV Carb Kit
Air Filter|Box: K&N with Trinity Adapter
Pipes|Silencers: Paul Turner Mid Ranges Pipes & Fatboy Silencers (Triple Plate Chrome)
Clutch|Plates: Barnett
Gearing F|R: 13T/41T
CDI|Killswitch: Pro Design
Cooling: Pro Design Water Impeller & S.B.R. Super Cooler
Extras: Nac's Billet Kick Start,Nac's Block Off,Chozen Gas Tank Vent Valve,Chozen Pipes Hangers,Chozen Case Saver,Cascade Chain Slider ,Cascade Exhaust Clamps,Cascade Front Brake Reservoir Cap,Cascade Thumb Throttle Cover,Cascade Rear Brake Reservoir Cap,Cascade Dipstick,ATV Fourplay Rear Shock Clamp,U.M.I Gas Cap,Team Alba Laser Cut Stainless Flame Grill,Team Alba Water Pump Cover,Pro Design Billet Shifter,Works Frame Guards,S.B.R. Chrome Stator Covers,Chrome Brake Lever,Lightened Flywheel,Vito's Key +4 Degree