Kawasaki KFX 450R Project Quad Build - Part One
Front Suspension System & Steering Components
ATVriders.com Stock Kawasaki KFX 450R Sport ATV

The Kawasaki KFX 450R ATV has been earning respect on the track and trail as a potent package in stock form that meets the needs of many riders today. Ofcourse if you are a racer at heart or just want to build your self one bully of a machine, it is an excellent starting platform for one to turn into a beast. The aluminum alloy frame offers plenty of strength; the powerful engine provides tire shredding power and even the stock suspension can be tweaked to fit most riders style and ability. This is where we part ways with the stock platform as our Project KFX 450R will be born again, with the addition of several aftermarket parts that should turn the stocker into a woods ripping beast!

After riding the machine in stock form, and paying close attention to the machine in action during the races, our attention was turned to the suspension and handling of this soon to be woods rocketship with the addition of Houser Slicast A-Arms and Elka Shocks. Houser products have a loyal following and a history of being one product that one can buy and trust that it will work and fit. The Slicast A-Arms will allow us to dial in different settings for our new front end to get maximum handling as we ride different areas of the country or dial in a setting that gives us the most optimum handling as we zip through the tree's at high speed.
Stock 2008 Kawasaki KFX 450R Sport ATV in Action for the Test Ride
Combine the Houser products with Elka Shocks and a winning combination is in the bag. Elka has been running rampant in every race series one can find over the past few years and including them in our project was icing on the cake as the performance and adjustability will allow us to tackle rough terrain at blazing speed with confidence.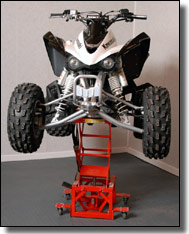 The Team Hawg Racing Sport ATV EZ UP jack stand worked great at raising up the KFX 450 to a convenient height for easier replacement of the suspension components, and it allowed us to spin the unit around when needed.


With the parts in hand, it was time to dive into our Kawasaki KFX 450R project and begin disassembly of the stock components. No matter what work you intend to undertake, starting with a clean machine will aide in the workflow and allow you to inspect the machine as you work. A good work stand is a must have and getting the atv secured and in a stance that will allow you to comfortably work will allow you to work easier and do a much better job.

The KFX450R is slightly different to work on due to its aluminum frame construction and single box tube lower frame rail, and offered us a glimpse at what went into the construction of this machine. With the adoption of fuel injection and advanced electronics on 450 sport ATVs that a few years ago would have equaled that of an automobile, taking your time is a must as you work on the newer ATVs.