Jarrod McClure's WORCS Racing Honda TRX 450R ATV Project
Honda TRX 450R ATV Project
Jarrod McClure's 2009 WORCS Honda TRX 450R ATV

Baltimore, MD (2/10/2009) - With the arrival of the New Year, every racer knows that time is running out on getting their new race quads finished. All of a sudden it is the week before your first race and you are nowhere near ready. It seems like it happens to me every year, and I especially this year. For 2009, I plan on racing the GNCC series and the WORCS series. This means I have to build two full race bikes, and also that I needed one done by the middle of January because that is when WORCS starts!

After the Ironman GNCC I decided I would be racing a Yamaha for the 2009 season, so I began parting out my Honda. I also knew I would be racing a few rounds of the WORCS series. My plan was to race a Motoworks Can-Am DS450, but because I wasn't a factory Can-Am rider there were some issues that prevented it from happening. After hearing the Can-Am was not going to workout, I decided I would put my Honda back together and use that for the WORCS series since the contingency is so good. I sold just about everything, but still had the frame and engine, so I had a good base to start with.

My Honda was at the shop where I work "Bowers Motorcycle Supplies", so I had my mechanic/boss tear the engine down and freshen it up. With that done I began bolting everything back to the frame. Once I had the engine, carb, and wiring in, it was time to make some phone calls.

My first call was to ARS-FX. I am running all of their suspension components in 2009. I also am running their EXIT shocks designed and built by Mike Hallock. I ordered a plus 2" long travel motocross style setup, for up front, and in the rear I went with their new stock replacement linkage. The linkage allows you to run a longer shock while still using your stock swing-arm. This allows you to save a lot of weight… and money! ARS-FX is great to deal with and I had all of my suspension in no time! Also they shipped me a ton of springs and crossovers to get it dialed in. Everything bolted up great, and I couldn't wait to try it out.
ARS-FX Pro Max MX A-Arm's along ARS-FX Gold Series Rear Linkage, which mounts up to the stock swing-arm. Also, EXIT Shocks for the front & rear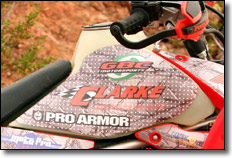 Clarke 3.9 Gallon quick fill gas tank


This year WORCS changed the duration of their races from 90 minutes to 120 minutes. Now they are the same length as the GNCC so I would need an oversized tank. I gave an old sponsor from last year a call Clarke mfg. They were happy to hear from me and got me a tank right away. I ordered a 3.9-gallon tank with the dry break for quick pit stops. Also for the longer race I needed to get a steering stabilizer so my arms wouldn't feel like rubber. I talked with Precision-Concepts, and they got me one of their new pro series stabilizers. They hold a lot more fluid then the older ones so they stay cooler and work smoother. What really impressed me about the new stabilizer was how quick and easy it was to bolt up.
| | |
| --- | --- |
| | |
| Tireballs have forever changed cross country racing in just a few years as spare tires & wheels are no longer needed because theese little balls prevent flat tires, which can make the difference from a Podium finish & a DNF in racing | |
When I raced the WORCS round in Washington last year I saw a lot of pros with racks of tires in their pits. I thought, "Wow I guess these guys don't know about Tireballs". I wanted to make sure I wasn't going to drive to Arizona for the first round and get a flat tire. I had Brock from Tire-Balls send me a set for the Honda so I knew flat tires would not be an issue. I mounted them inside a set of GBC X-Rex tires and paired them to a set of Douglas wheels. I ran Douglas wheels last year, and I know they are super strong, and look awesome with the colored rings. GBC tires are a new sponsor for me this year, and I really like them, they offer great traction, and the company is very supportive of the ATV side of racing.
New for 2009, DWT will be releasing several new wheels including the Alumilite G2, which are focused on high performance ATV racing wheels. The new wheels are lighter & stronger than ever as racers are looking to shave weight whenever possible. They will also come with a new mud cap, which pushes into the wheel to keep the mud out, and this mud-plug isn't like other mud plugs that pop-up during the race either
::CONTINUED::