Photos By: Harlen Foley & Roy Bloodworth
Interview: Travis Spader - Yamaha Factory ATV MX Racer
In 1985, Travis Spader, at 14 years old, threw his leg over an ATC 3-Wheeler for the first time and instantly changed his outlook for sports. The love for off-road riding soon turned into competitive racing. For the next 16 consecutive years, Travis soon accomplished 2 Amateur and 6 Pro-Amateur Grand National Championships. In 1993, he turned Pro and always challenged the Pro title and in 2000, Travis proclaimed the GNC 250 Pro Grand National Championship.
After another year of professional racing in 2001, Travis decided to utilize his Master's Degree of Physical Therapy and open his own rehabilitation clinic. Travis left the racing industry for 3 years and dedicated his time to the physical therapy business.
In 2004, Travis re-developed an interest to ride and compete again with the release of the YFZ 450. Travis made a comeback to professional ATV racing in 2005, aboard a YFZ 450 and respectively finished 6th overall.
With such an impressive racing career already under his belt, we could only wonder what Travis had in store for 2006, so we gave him a call and here is what he shared with us.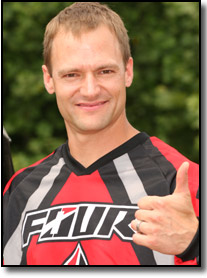 #30 Travis Spader - Ten Quick Facts

Age:
32 Years Old
Weight:
165lbs
Hometown:
Point Pleasant, NJ
ATV:
Yamaha YFZ450
Occupation:
Factory Pro Racer
1st ATC/ATV:
Honda ATC110
Turned Pro:
1993
Favorite Track:
Loretta Lynn's
Favorite Music:
Alternative Rock
Favorite Food:
Sushi
ATVriders: What actually turned you on to ATV racing?
Travis Spader: I lived in a neighborhood that had woods behind it and a lot of the kids had offroad bikes, and in 1985, one of my neighbors came home with a Honda ATC110. He kind of created a whole new craze in the neighborhood as everyone started trading in their dirt bikes for ATCs. I got the knack of it from riding theirs and finally my father ended up buying one for me and that is where it went.

What was your reason for retiring at the end of the 2001 season?
Basically, the fact that I couldn't make a professional career out of it and actually make a living.

In 2001, after winning the National Championship in 2000, you still weren't able to making a living ATV racing?
No, it was a budget that was only allowing me to break even.

Since you weren't able to making a living racing, what were you doing for a job?
I was working as a physical therapist, and I had the urge to open my own clinic, so I basically dedicated all my time into establishing my own physical therapy business.

To start your own physical therapy business, you must have earned a college degree?
Yes, it's a Masters Degree program, and the year I won the National Title, I also graduated from college.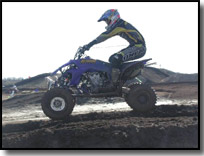 Travis Spader started the buzz in November of 2004 when he showed up to race at the Englishtown Fall Classics and won both Motos in the Pro Am Production Class against John Natalie Jr, Pat Brown,and Donald Lysinger, which set the stage for a 2005 comeback year.

What made decide to become a physical therapist?
Actually I became interested in the career because of the injuries that I sustained through racing. The biggest one that I ever had and put me in six months of rehab was a Achilles tendon rupture back in 1993, which was my first year of Pro. I did it at Red Bud trying to jump the triple, and I came up short. If I never started racing, I would have probably never considered becoming a PT.

Well you must have spent at least six years in college to earn your Masters Degree, so you must have been attending college the whole time you were racing ATVs?
Yes, it was a six year program, which I started in 1994 and before that, I acquired my Associates Degree.

Before becoming a physical therapist, what did you do for a job?
Umm, I bartended and did some landscaping and summer oriented jobs.

What is the name of your physical therapy clinic and where is it located?
It is called Active Physical Therapy and is located in Nanasquan, NJ, which is a town along the Jersey shore and less than a mile from the beach, so I have a very affluent clientele.

Well it sounds like you have a very successful business, so what made you decided to return to ATV racing in 2005 without any major sponsors?
Well, I watched the Industry grow because I have continued to follow the sport even though I wasn't actively involved, and my friend Paul Turner stayed involved in it after I retired. Also, I spoke with Wayne Hinson in 2004, and he told me the sport was growing and if I had any intention of coming back, you better do it now because if you can beat Doug Gust you will have a contract on your lap (laughing), so that made me start thinking that I might be able to comeback and make a career out of ATV racing, so last year, I came back and spent about half my savings trying to do it.
Spader started out the season on a Yamaha, but after experiencing some sponsorship issues, he switched to Suzuki for several rounds before returning to the Yamaha at Loretta's and finished a season best 2nd Overall

I could tell you didn't have a huge budget for racing because you traveled to the races in your pickup truck with your ATV on the back, and you even switched out ATVs midseason when you ran into sponsor issues.
The one thing about being on my own program was that I had the choice to do what I wanted, and I didn't have to stay on any one brand. When I ran into a little difficulty with one of my sponsors halfway through the season, I was able to switch brands without a problem.

My intention at the beginning of the season was to run a limited schedule, so I could establish my name again and get some support for 2006, and what ended up happening is in the first race, I ended up finishing fifth. I told myself before the opening round that if I finished fifth or better, I was going to the next one and things kept rolling. I found myself in the top five in the point's standings, so I kept on going and made a decision to go to every race and finish out the season.

Red Bud has obviously not been a good track for you with your previous injury and in 2005 you were disqualified from racing at Red Bud for not signing up in time, which was a major setback in the points standing for you, so did it affect you mentally finishing out the rest of the season?
No, it didn't set me back mentally, but it did keep me out of the top five in points standing for sure, and if I was able to compete in that race, I would have been able to finish out the season in at least fifth overall.

At the end of the 2005 season, when I spoke to you at Loretta's you weren't even sure if you would be back for 2006, so what has changed between now and then?
The call from Yamaha made the difference because I was really looking to get a full factory ride to continue. I knew that I couldn't do it again on my own budget and spending every spare second that I had wrenching on my quad and riding.

When did you finally receive the call from Yamaha, and what type of deal did you receive from Yamaha?
It wasn't until late fall that I heard from Yamaha, and without going into specifics their support is going to allow me to focus on racing and put a 100% into a full time program. The support is there with product and financing, which will allow me to do what I need to do and give it my 100% attention.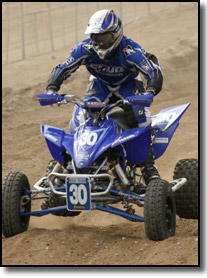 Travis Spader testing Progressive Supension's 6th Sense, which has been very successful in mountain biking

Are there any other major sponsors going to be involved with your program in 2006?
Yes, the biggest other sponsor is Progressive Suspension, and they are coming out with a new suspension system, the 6th sense. They have been very successful in mountain biking, and they are using the same technology for their off-road applications. They want to introduce their product and valving technology to ATV racing, so they are going to be at every race in full support for me and provide transportation and have a suspension technician at each event.

Are you going to have your own rig for 2006?
Yes, I am going to have a full support rig through Progressive Suspension, which is a 45 feet long fifth wheel trailer, and they are having one of their sister companies, Vance & Hines, outfit the whole trailer

Who are all your sponsors for 2006?
Yamaha Motor Corp., GYT-R, Yamahalube, Progressive Suspension, ITP, Walsh Race Craft, Ronnie's Cycle, Spader Racing & Training (SRT), Four, Tag Metals, Precision Racing Products, Scott USA, EVS, Regina

You mentioned Spader Racing & Training (SRT), so tell me more about this company?
Yes, it is a separate business identity from my physical therapy practice, and originally I started it as a way of financing my racing expenses. I have formulated a company that is going to supply products related to training that are more sport specific to motocross that riders can use and help train and get into shape for competition. I can't release any details yet, but in the near future within this year, I will have products available for racing whether for two wheel or four wheel.

It is great to hear that you are building a business around the sport that you obviously have a real passion for, which will keep you involved well after you retire once again.
That is the whole point to be involved with this industry when I stop competing and offer some of my secrets that I have used and learned through exercise science and physiology that no one has tapped into yet. It is a niche for motocross, so I want to be the stepping stone for some of these guys from things that I learned and let them see the results.

With a full race program, I imagine you won't need to worry about wrenching much on your own machines anymore, so who will be your mechanic?
Yeah, Matthew Timmerman, and he works for Progressive Suspension. Matt will be doing all the suspension tuning and mechanic work.

With your race program really coming together for 2006, what have you been doing over the winter?
Just recently, I have hired a fulltime staff member to join my physical therapy practice, which will allow me to train, practice, and conduct r&d to prepare for the upcoming season.

What kind of training have you been doing?
In New Jersey, I am dealing with the elements and I don't have the luxury of going to Florida or California on a regular basis, so I am putting my nose to the grind stone and doing a lot of gym and cardio training. Also, I am getting in some riding even with the elements.

Where do you go to practice living near the beach in New Jersey?
I have a practice track on private land within fifteen minutes of my house, and I practice there by myself against the stop watch. I don't get to practice with anyone, and I have been doing this for so long over the years. I know what it takes to win, and if I can keep my lap times consistent at my race speed that is all that I have to do. The only thing that I am dealing with now is the cold temperatures, so I have a set of motocross tires studded with ice studs, so when the motocross track freezes over, I can still get traction.

How does heading into this season compare to last year?
I am starting this season off in a much better scenario than last season because by January last year, I was still guessing on bike setup and conditioning level because I haven't competed in several years. I now have that under my belt, so I feel much more prepared because I know what it is going to take, and I am going to come out swinging at the first round.

I see you were doing some testing out in California?
Yes, I was out there, and I am heading back out for some more testing at Glen Helen before the National.
Travis Spader has been practicing mostly in New Jersey, but he has made few trips to the West Coast for some practicing at Glen Helen in preparation of the opening round
Even without racing Red Bud MX, you still finished out the year in 6th Place in your comeback year, so what do you think are your chances of winning the Pro Championship in 2006?
I think that I have the support to do it. I know the pace, and I learned a lot last year. It has definitely gotten more competitive, and I know what it is going to take to win. If I am doing my homework right, I should have a good shot at winning it.
Do you ever imagine yourself being in this position several years ago?
No, when I quit, I thought that I was done and pretty much through with the racing, and once I threw my leg over the quad again in 04, I just got that drive to do it again, so it was almost like I never left.
Do you still have time to host any Spader MX schools?
Yeah, I plan on doing two or three of them this year, but I still don't have any dates. This year is going to be a busy year for me. My wife is pregnant and is due February 22nd, which is the week after Texas, so if things go as planned it will work out well. I have the pressure running my business on my shoulders and racing now fulltime, but I seem to do well under pressure because I like to keep busy.
Congratulations, so do you know if it will be a boy or a girl?
Yes, it is going to be a boy, and we already decided on the name, Travis Jay Spader, Jr.
How long have you and your wife been together?
Amy and I started dating in high school, so she has been with me through my whole racing career.
If things go as planned for Spader, this is a view the rest of the Pro Class will get use to seeing in 2006

What does she think about you getting back into racing?
She is supportive and knows that I really want to do it, and she likes the fact that I have the backing this year and not have to go through what I did last year especially with a baby. My number one priority is going to be my family and racing will definitely come second.

Well Travis, thank you for sharing so much information about your career and family with the ATVriders.com readers, and do you have any parting words?
I hope it is healthy and happy season.