Photos By: Harlen Foley & Roy Bloodworth
Interview: Pat Brown - Yamaha Factory ATV MX Racer
Less than five years ago, Pat Brown entered his first ATV race at a local track, and it has forever changed his life as he has been hooked ever since. After a successful year of racing locally, he decided to test his skills at the ATVA MX Nationals, and after only one year of racing he already advanced to the A Class.
In 2003, Pat Brown would waste no time making his presence known by winning the 4 Stroke A Championship and finishing runner-up to Dustin Wimmer in 265A Class. His desire to win didn't stop with his transition to the Pro Am ranks because in 2004, Brown won both the Pro Am Production and Pro Am 265 Championships and made his debut in the pro Class at Daniel Boone MX Park. In only his first Pro race he just missed the podium with a fourth overall finish.
In only his rookie year as a Pro, Pat Brown was consistently running up near the front, and he just missed finishing out the year in the top ten overall when snapped his axle at Loretta Lynn's in the first Moto after charging his way through the pack and into third with only two laps to go. His axle might have snapped, but it didn't break his spirit because he came back stronger than ever in Moto two to finish in second place behind Joe Byrd, which proved he has the speed to run out front.
With a little luck, I don't think it will be long before we see Pat Brown on the Podium celebrating, so here is your chance to find out about man behind the #199.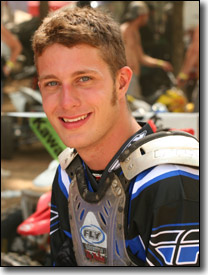 #199 Pat Brown - Ten Quick Facts

Birth Date:
2/6/1985
Weight:
160lbs
Hometown:
Pittstown, NJ
ATV:
Yamaha YFZ450
Occupation:
Factory Pro Racer
1st ATC/ATV:
Honda ATC110
Started Racing:
16 Years Old
Hobbies:
Wake Boarding
Favorite Drink:
Ice Tea
Favorite Food:
Sushi
ATVriders: When did you first start riding ATVs?
Pat Brown: Actually, I started riding on Honda ATC 110 when I was four years old, which was Christmas present for my brothers the year I was born in 1985.

When did you get your first ATV?
My first ATV was a 1992 Kawasaki Mojave.

Obviously you have been riding from a young age, so when did you finally start racing?
My first race was in 2001 at Sleepy Hollow MX Park in Pennsylvania on a bone stock Yamaha Raptor. I raced in the 4 Stroke B Class, and I finished out the day with a 4th place finish and was hooked. I went on to race the rest of the season and won my first race before the end of the year.

After your first year of racing locally on the Yamaha Raptor, what did you do in 2002?
I decided to try racing at the Nationals in the B Class on a Honda 400EX, and half way through the season I made the switch to A Class. I also built a Hybrid YZF426 Yamaha that I raced at Loretta Lynn's and again in 2003.

What made you decide to move to A class mid season?
I was running toward the front locally, so I decided to move up to A class. I also moved up to A class at the Nationals because I didn't want to break any rules by racing in a lower class at the Nationals than locally. Also, I figured I could use the experience.

How was the transition from B to A Class?
It actually went well, which surprised me because I didn't expect to still be running out near the front in the A Class.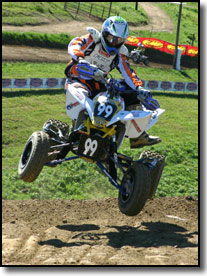 Pat Brown won Championship in both the Pro Am Production and 265 in 2004 on a Lost Creek Cycles YFZ450

For 2003 and 2004 you were pretty much unstoppable winning several class championships and turning Pro at the end of the 2004 season. You finished out your first season as a Pro in 11th place, and I recently heard you are now a Factory Yamaha Rider, which is incredible considering your not even 21 years old yet, so tell me how your Yamaha Factory ride developed?
Yamaha supported me a little bit last year, and they believe in my talent and determination to win, and over the past year we have developed a good relationship, which has now developed into a Yamaha Factory deal for 2006.

Any other big changes to your race program for 2006?
Yes, I am making the switch from K&K Racing to Golden West because they laid out a good program for me. I didn't leave on bad terms with Shawn at K&K or anything like that; Golden West just fits in better with my whole program for this year. Also, I am back on Laeger components, which is what I won all of my Championships on in the past, and I am also going to be running Ohlins, which I am really excited about. Obviously, I am going to be running GYTR Exhaust and Aluminum Accessories, which goes hand and hand with Yamaha.

How are the Ohlins shocks working for you?
The shocks are awesome. They are light weight and they have some high end technology built into them with their PDS valving, which works incredible because they don't heat up or fade during the race. Also, I am testing some new super light weight shocks with titanium springs, and it is amazing how light they are compared to other shocks on the market.

What companies are sponsoring you for 2006?
Yamaha, GYTR, Yamahalube, Golden West Cycle, Laeger, Ohlins,ITP, PowerMadd, Tag, Axcalibar, Streamline, Douglas Wheel, Fly, QuadTech, Doneslon Cycle

Since you are now riding for Golden West Cycle will Tony Kellner still be your mechanic in 2006?
No, my mechanic will be Jeff VanDuyne. He and I use to race together locally, but he cut his fingers off in an accident, but they are back on now, which was an important qualification (laughing). Seriously, he has plenty of experience wrenching on ATVs, and he will be traveling with me to all the Nationals.
Pat Brown spent an extensive amount of time out in California at Glen Helen in preparation for the 2006 season to dial in his new 2006 Yamaha YFZ450
I seen you were practicing at Glen Helen on a 2006 Golden West Yamaha YFZ450, so how does it compare to your 2005 Yamaha?
It is really close to what I have been running, and I have the Ohlins shocks working awesome.
What have you been doing in the off season?
I really haven't spent that much time off the bike, you saw me out at the Ironman GNCC and I have since raced two harescrambles and went to California a few times to practice. I also went to France to race the Pont De Vaux and a Supercross race.
What do you think of racing in the GNCC Series?
I really enjoy it because in these types of races you get to spend some much time on the bike. You really don't have to worry about working on the bike because it either stays together or it doesn't and you are done, so I may race a GNCC event again this year.
| | |
| --- | --- |
| | |
| The first weekend of January, Pat got his first chance to throw his leg over a Yamaha Banshee and roost some sand with Kory Ellis and the media | Pat has rode some impressive Motos in the Pro Class since loretta's, but he just hasn't had any luck with numerous simple failures, which has kept him off the Podium |
You have had a rough start to the year with back to back races with mechanical issues.
Yes, I have been struggling just with some bad luck. At Glen Helen, I had a rock come up and break a wire on my wiring harness, and at Oak Hill, I just ran into more mechanical issues.

If it weren't for your bad luck, where do you think you would be in the points standings right now?
I would probably in top five(laughing) because I was running in fifth at Glen Helen in both Motos, and if I would have won the second Moto at Oak Hill, I would have finished third overall.

With any luck, how much longer will we have to wait to see you on the Podium?
I think next weekend (Gatorback).

I can definitely say you are confident in your ability, and I wish you some better luck at the Gatorback, and if your prediction is right, I will be interviewing you at the Press Conference afterwards and thanks for your time.