Michael Sroka, Jr Interview - 2005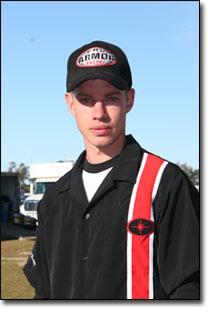 Michael Sroka, Jr - Ten Quick Facts

Birth Date:
9/23/1982
Weight:
140 lbs
Hometown:
Smithfield, PA
ATV:
Polaris Predator 500
Occupation:
Landscaper
1st ATC/ATV:
Suzuki LT80
Started Riding:
5 years old
Years Racing:
2 Years
Favorite Food:
Creamed Chicken & Biscuits
Favorite Drink:
Gatorade
Racing Career Highlights:
2nd Place Overall at "The General", A Class 1st Place - 6 Hours of ATV America Rausch Creek, PA, and A Class 2nd place - 12 hours of ATV America Ft Dodge, IA.
Future Goals:
Win GNCC A Class Championship and continue to climb in the Overall rankings.
Favorite Racer & Why?
Barry Hawk because he eats, sleeps, and breathes racing. He is the definition of a true champion.
What type of physical training do you do?
Running, Basketball, and occasional weight lifting.
How often do you Practice & Where?
Actually not as often as I would like because my work schedule limits my free time.
Do you practice with anyone?
Yes. Jeff Miller, Alan Howell, Jeff Pickens, and occasionally Barry Hawk.
Why do you race in the GNCC Series?
It provides me with the opportunity to travel across the country, see new things, meet interesting people, and race as a bonus.
What are some of your highlights from this season?
2nd place finish at "The General" and "Big Buck", and several holeshots
Which race this season would you like to forget?
Definitely the Ironman. At the 10 second call, I was left working on my machine due to an unexplained electrical failure.
What were your favorite racers this year & why?
Any that I finished in front of Harlen, Just kidding. Actually, I enjoyed each round.
What were your worst races this year & why?
The ones in which I was unable to compete, because every race is a valuable learning experience.
What was the most important thing you learned this year?
A rider is only as good as his equipment and pit crew.
Are there any locations you wish were added or removed from the GNCC Series?
Two words, "High Point." I would love to see the series come back to Southwest PA.
Any other changes you would like to see in the GNCC Series?
Nothing drastic, I believe Racer Productions has everything under control.
Which class do you plan on racing in 2005?
Unsure at this point, depends greatly on what type of support I receive for next season.
What are your winter plans?
Train and prepare for opening round in Texas.
Are you excited about heading back to Texas next year?
Yes. I really enjoyed the track in Texas, despite the drive.
Do you expect more factory involvement next season?
Yes
How many people do you have in your pit crew & names?
That's a tough one, since it varies so much. I have more of a "pit family." Wilson Racing, Travalena Racing, and Kuhnle Racing.
Would you consider racing some GNC races if they weren't the same weekend most of the year?
No
Sponsors:
Wilson Racing, Sport Rider Outdoors, Pro Armor, R.E.M., Maxxis, Klotz, Rath Racing, Hot Seat Performance, and Cycra