Interview: Kory Ellis - 2007 Yamaha / ITP Quadcross Pro ATV Champion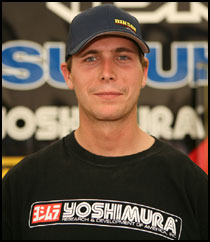 #53 Kory Ellis - Quick Facts

Birth Date:
2/13/1977
Weight:
195lbs
Hometown:
Murrieta, CA
ATV:
Suzuki LT-R450
Occupation:
Yoshimura PR
First ATV:
Suzuki LT250R
First Race:
Woodland, WA
Favorite Food:
Chicken
Twist/Thumb:
Twist
Website:
myspcace.com/KLS
Kory Ellis first became fascinated with quads about 20 years ago when a friend took him to an ATV race near his hometown of Longview, WA. Ever since that fateful day, Kory has dedicated much of his life to the sport he loves.
Kory's involvement has not been limited to just racing. Kory worked with aftermarket manufacturer Leager in the late 90's and was a key figure in the development of the first high performance four-stroke ATV motor. In 2004, Kory became the first Yamaha factory backed racer in almost twenty years. After a couple years, Kory made the switch to a Suzuki LTR450, but that wasn't the only change in store for Ellis. In 2007, Kory joined Yoshimura as the ATV Brand Manager and also became a member of the Suzuki/Yoshimura team and went on to win the 2007 ITP Quadcross Championship.
Now for the upcoming 2008 season, Kory has even more changes underway. ATVRiders.com got a chance to chat with Kory at the final round of the ITP Quadcross at Glen Helen about what his plans are for next season.
ATVriders.com: Kory, you had a great season and just wrapped up your 2nd ITP Quadcross championship, can you give us a little overview of how your season went?
It went really good. Suzuki/Yoshimura really stood behind me this year, as well as all my other sponsors. I came out at the beginning of the season in really good shape, and rode real hard. I won quite a few races at the beginning, but I didn't do so hot at the end of the season, I had a broken foot, so I was trying to get back in shape but that didn't happen to well, but I still won, so I'm real happy.
| | |
| --- | --- |
| | |
| Kory Ellis has been racing since the late 80's, and he has secured many Podium finishes through out his career among them were a few TT Podiums as well | In 2003, Kory Ellis was the first rider to debut the Yamaha YFZ450 at High Point, and he raced for Yamaha till this year when he switched to Suzuki |
You went from riding a Yamaha YFZ450 nationally for several years to a Suzuki LT-R450 and primarily raced on the west coast, how was that transition for you?
Basically, I didn't have a ride at the end of the 2006 year. When I was in New Zealand last year, I got a chance to ride Doug's (Gust) Suzuki and I got a feel for the Suzuki and I really liked it. I've actually ridden a Suzuki for a lot more years than any other brand; I used to ride them back in the day. It wasn't that big of a change because the Suzuki is really comfortable…So basically, I had no ride and I had to go get a bike and I got a Suzuki. I was going to go race all the WPSA races, but couldn't get all my sponsorships in place, so I had to go find a job. I ended up over at Yoshimura as the Brand Manager, which worked out really good. I work with the race team and I still get to go to races and do what I love. I get to race here locally and have fun. This year was a really good year.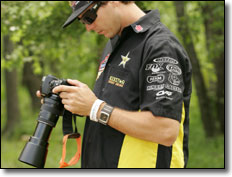 Kory Ellis swapped his riding gear for camera gear for the majority of the WPSA Powersport ATV Tour races
How is your new job going and what are your responsibilities at Yoshimura?
It started off with me kind of being in charge of everything ATV and side-by-side related. I was going to events making sure that the team was happy and ended up helping out the team quite a bit. I did a lot of stuff working internally with the team. I'll be the team manager next year. It's a really good transition for me. I won't be racing much next year at all if any. I may come out and do a couple Quadcrosses and a couple of local events when I'm at home if I want to, but I think I'm going to ride the vet class. (Laughs)
How exciting is it for you to be the team manager for one of the biggest race teams out there?
It's really exciting! I like working with the team, I like working with the riders and mechanics. It's fun; I'm out there cheering the guys on the track. It's definitely not like I'm going to be missing the racing. I'm still going to be there, I'm just not going to be on the bike. It will be kind of nice to go home at the end of the day and not be all beat up and sore for the next week. I still get to go out and see everybody and do what I love other than actually being on the bike. The whole atmosphere of racing is what I really love.
::CONTINUED::