Interview: Keith Little - Monster Energy / Kawasaki Factory ATV Racer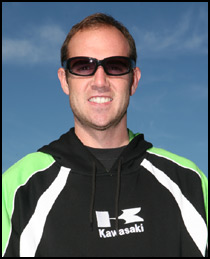 #12 Keith Little -- Ten Quick Facts

Birth Date:
12/30/1977
Weight:
160lbs
Hometown:
Russellville, AL
ATV:
KFX 450R
Occupation:
Pro ATV Racer
1st ATC/ATV:
Honda ATC70
Started Racing:
13 Years Old
Favorite Track:
Echeconnee, GA
Favorite Racer:
Tim Farr, Shane Hitt
Favorite Food:
Steak
Keith Little, who was the man to beat off the gate during the 2007 WPSA series, has spent much of his career as a privateer racer, but that hasn't slowed him down one bit. Keith is not only an accomplished motocross racer, but is lightening fast on the TT track as well, and he has the 2004 National Championship under his belt to prove it.
During 2007, Keith's spirit and determination on the track made a big impression on the guys at Kawasaki, which landed him a deal to be a part of the factory race team for the upcoming 2008 season. We recently got the opportunity to talk to Keith about his deal with Kawasaki and what his plans are for the upcoming race season.

Can you tell us a little bit about how long you've been riding and racing?
I started riding when I was about 5 years old and started racing when I was 12 and I turned pro in 1996. I was racing the ATVA MX Nationals and I also raced the Stadium series for about 5 years.
Are you excited about your new factory deal with Kawasaki for the '08 season?
I'm very excited! This last year I have been the team manager, driver and everything else on top of racing. It will be really nice being able to focus on just racing next year; it will take a lot of pressure off of me.
What do you think about Kawasaki's philosophy "We don't buy champions, we build them"?
When I went to their office, I saw all the pictures on the walls of all the champions that they have created and to me it seems like they have created more than any other manufacturer. I think they really hold true to that.
Are you pretty happy with their race program so far?
I'm very happy with it. It's even more than I expected. They plan to take what they learned and achieved last year and build on it. They are very open to any changes or suggestions that the racers have and are very flexible.
With the release of the KFX 450R in 2007, Kawasaki was back at the race track, and in 2008 Kawasaki will be expanding it race team to include Josh Creamer, Keith Little, and Russell Shumaker
Have you been doing much testing on the KFX 450?
Kawasaki has some new engine packages that we are going to be trying out and I still need to get my suspension dialed in a little more. I've definitely made the most of my riding time when I've been out testing. I've had some good seat time on it, but I would like to get a little more time in on it before the season starts.
You were riding a Honda for quite a while, how has the transition been for you going to the KFX 450?
The transition was a lot easier than I thought. The aluminum frame is really nice. It's a little more rigid and it takes some getting used to, but the bike corners really good. It has lots of smooth, mid-range power, which for me is the best for MX. It also gets off the line really quick. The ergonomics are also really nice, the quad is very comfortable for me, which makes the transition a lot easier.
Speaking of getting off the line quick…last season you were the holeshot king. Do you think you can hold on to that title next season?
I spent an entire day working on my starts when I was out in California testing and the bike responded really well. I think the new engine packages will also help with getting good starts.
#12 Keith Little grabbed an impressive six Holeshots in the WPSA Series while only competing in nine of the ten races
Last season, it almost seemed like getting the holeshot was your primary objective; was that the case?
The WPSA seems to really put the spotlight on the guy that gets the holeshot and emphasize it, and I figured it would be a good way to get my name out there. I may have focused on my starts a little too much. I was really happy with my starts all season long, but I was a little disappointed in my finishes.