By: Corry Weller
A FEW MINUTES WITH WORCS PRO RACER – JOSH FREDERICK
A Pro race at the WORCS races just wouldn't be a truly great Pro battle without Josh Frederick at the line, waiting for the chance to battle it out yet again with the likes of Doug Eichner and Logan Holladay and the other WORCS Pro racers who have committed to another great season of anything-is-possible racing action! While Josh is more reserved than many of his fellow competitors on the line and around the pits, his quiet demeanor is quickly a thing of the past once Josh is on the track and hammering through the laps at a blistering pace, no matter how rough the course may be. Always accompanied by a dedicated pit crew, Josh has a terrific support system built around him that is apparent to even a casual observer, and it's obvious that Josh Frederick is a force to be reckoned with in 2006
I was fortunate to find the time to talk to Josh for a few minutes and find out a bit more about this talented rider from Nevada.
Josh Frederick - 10 Quick Facts

Birth Date:
04/08/78
Weight:
165
Hometown:
Moapa, NV
ATV:
Epic Honda 450 & Bombardier Outlaw 800
First Race Location, Year, & ATV:
Caliente, NV; 1996 on a 250R
First National Event & ATV:
Macon, GA, Honda TRX250R
Occupation:
Heavy Machine Operator
1st ATC/ATV & Age:
Yamaha 200 3-wheeler; 8 years old
Turned Pro:
1998
Hobbies:
Riding, fishing, hunting
When did you first start riding ATVs, and how did it come about?
I've always been around ATV's since I was very little. I lived in the middle of the desert and there wasn't much else to do.


What made you decide to start racing? It's fun…. I like to ride and I was good at it.

How many years have you been racing ATVs? Ten years

What was the first event you entered as a Pro Racer and how did it go? Other than local races, it was probably the PACE stadium series in 1998. I actually qualified for the Main.

What different events have you competed in other the years? I raced the Nationals in 2001-2002; the Stadium Series from 1998-2004 where I finished in the top 10; The 12 hours of America; The Baja 1000; The 12 hours of Ponte De Voux in France.

What are some of the highlights of your career? Winning the SCORE & BITD championships last year.

What was your scariest moment as a racer? Breaking my femur in 2003 or that split second, anytime you are about to crash hard.

What were your most memorable events from last year and what makes them so memorable? Any time I win it's memorable, but probably the Baja 500 because it's a huge event.

Is there any one individual who has influenced you the most in your life and helped you get to the point you are at right now, career wise? My dad. He has been there from the beginning. He has been to almost every single race from France to the Baja. He has sacrificed alot for me to get me where I am today.

Do you have any pre-race rituals, or anything you do at the gate or the start of a race to help you with your races? I say a prayer for me and my family.

What is it like competing against an ATV racing Legend, Doug Eichner? Very intimidating. He has won so many races and championships. He's a great competitor.

What drives you to compete in the WORCS Series over the other racing events? I like that there are so many things involved…..like pit strategy, bike prep, endurance, MX & Grand Prix. I love it!

What do you like best about competing in the WORCS Series? It's very challenging.

What is your favorite track from last year on schedule for 2006 & why? The Payette, Idaho is a fun track with lots of elevation changes; and Havasu is good because it is rough, but I really don't have a favorite.

How would you describe a WORCS event compared to a cross country, desert, or motocross events? In WORCS you have to ride all out for 90 min - not much time to rest. With desert racing there is more time to rest.

Which aspect of the track do you feel you a faster at than any one else? MX - but I need to work on corner speed.

What type of preparation (training, riding, exercise) do you do between events? I try to ride as much as possible, but that doesn't always work. I'm usually lucky if I get 2 days a week in, but I make up for it by lifting weights and road biking.

Do you practice with anyone? If so, where and how often? No, not usually because of my work schedule - it is easier to just ride when I have a chance.

Have you ever competed in a GNCC event, and if so how was it, when and where? If not, would you ever consider it? No I haven't. I did the GNC's for 2 yrs but it is just too hard to travel back and forth and keep a full time job, so to do the GNCC's just isn't feasible… but I would really love to try one. That's where all the big dogs are.

Any changes in your race program/sponsorship for 2006? Yes this year I am racing for Golden West Cycle/ Epic/ Bombardier. I will ride the Bomb Outlander 800 in the desert and utility class - and the Honda 450r in the WORCS/MX Pro class. I am very excited to have these guys behind me this year.

Sponsor List? Golden West Cycle, Epic, BRP, Elka, Maxxis, AC, Big Gun, Fly, Scott, Tag, One, Douglas, Quad Tech, Maxima, Avina Prep, Precision, Maier, IMS, Powermadd.

Do you race with Tire Balls? Why or Why Not? No, not this year….. most tracks you don't need them - but it's a great product.

Do you have any career goals or achievements that you are aiming for in your career? It would be really nice to race for a living.

Have you ever thought of quitting this sport at any point? Why or why not? Yeah, at the start of every year….. trying to get sponsorships buttoned up and credit card bills paid off - it is a real nightmare.

Are you married, and how does your wife feel about you still racing ATVs? Yes, I've been married for almost 6 years. It is hard on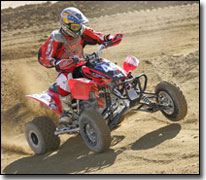 **Thanks, Josh, for taking the time to talk with us – and congrats to you and your family on your up and coming bundle of joy! Good luck this season and we will be sure to keep track of all the racing action this year in the WORCS Pro class!**

her because I do spend a lot of time training, getting ready, and going to the races - but she is very supportive and sees that it makes me happy.

What do you see yourself doing 5 years from now? Probably still driving heavy equipment and coaching my kid's soccer team?

How many more years do you plan on racing at the Pro Level? Until it's not fun any more or I just lose that drive.

Besides your family and racing, is there anything else that you enjoy spending time on? I like to hunt and fish but I don't get much time to do it.

Any exciting news to share outside of ATV racing? We are expecting our second child!