Josh Frederick Interview
Josh Frederick Multi-Time Racing Champion
Josh Frederick - WORCS Racing & BAJA 1000 Pro ATV Champion
Mesquite, NV (2/4/2014)
- Josh Frederick is one of the most determined and hardest working racers in the ATV / SxS racing industry, and his collection of Pro Championships over the past decade is a testament to his dedication to being the best. Unfortunately, just under a year ago, Josh Frederick's ATV racing career came to an abrupt end when he was paralyzed while competing in Round 3 of the WORCS Racing Series, which changed his life in a flash.
For the past year, Josh Frederick has made incredible progress in adjusting to this life changing injury, and the same determination and hard work he dedicated to his racing career, he is now applying it to his everyday life, and it is remarkable how much he has accomplished since his injury in March of 2013, and while he won't be attending any awards banquet or adding another championship plaque to his wall for all he accomplished this past year, he surely would have added another championship to his resume.
As many racers know all too well, championships are not earned overnight. Not only do they take skill, but they take teamwork and dedication as well. Fighting for a title can be a rollercoaster of emotions that eventually lead a racer to the highest point in their career, holding the #1 plate above their head in the middle of the podium. One racer that has had the opportunity to experience this feeling on more than one occasion, is off-road ATV racing legend Josh Frederick.
After turning Pro in 2004, Josh Frederick career took off quickly as he became one of the fastest racers in the desert. In 2005, Frederick captured both the Best in the Desert and the SCORE Championships. After two years of battling for the Pro Championship in the WORCS Series, his hard work paid off when he won back-to-back titles in 2007 and 2008.
| | |
| --- | --- |
| | |
| Josh Frederick in 2005 on his Temecula Motorsports Yamaha YFZ450 | In 2007, Josh Frederick won his first WORCS Racing Championship |
After grabbing his third WORCS title in 2010, Frederick took that a step further two years later when he raced his DS450 to take the checkers and the win at the world-famous Baja 1000 for Team Motoworks / Can-am in 2012.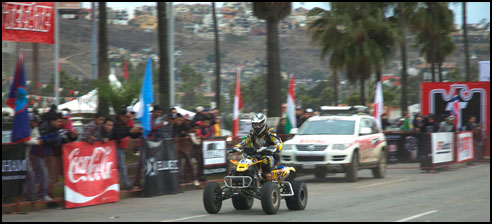 In 2012, Josh Frederick won the SCORE BAJA 1000 with the Can-Am / Motoworks team of Jeremie Warnia (pictured), Josh Frederick, Jarrod McClure, Collins Webster & Caesar Lopez
Josh "The Animal" Frederick was a man on fire and he seemed to be unstoppable on his four-wheeler. However, after several successful years of racing, tragedy struck at the third round of the WORCS series in 2013. After a bad crash in Lake Havasu City, AZ that fractured his T-5 vertebrae, Frederick was flown to a trauma center in Las Vegas, NV where he underwent extensive surgery. Although the operation was successful and doctors removed the bone fragment that was logged in his spine, he did not regain feeling in his legs. However, like a true champion, Frederick remained positive and stayed strong for his wife and three kids. Together, they pulled through his physical injuries and adjusted to a somewhat new life.
We were fortunate enough to spend a few days with Josh Frederick, and see first hand what he has been up to this past year.
The Frederick Family (left to right)
Madelyn, Gavin, Josh, Jackson, Tiffany