Photos By: Harlen Foley & Thad Josey Provided by: ELKA
Interview: John Natalie Jr - Honda Factory ATV MX Racer
John Natalie Jr. started his ATV racing career over 15 years, and he has raced a wide assortment of ATVs over the years ranging from the Banshee, 250R, Cannondale, KFX400, and various hybrid machines, but in 2003 with release of the all new Yamaha YFZ450 also came an all new John Natalie Jr. as quickly found himself in the spotlight. In only his second race on the YFZ450, he took his first two wins of season in both the Pro and Pro Production Class at Southwick to finish out 2003, and he has been virtually unstoppable ever since and winning numerous races and championships along the way. In just the past two years, John Natalie Jr, has been crowned the Champion in the following major ATV events: ATVA MX Nationals, Pro Quad Stadium Series, ATV Winter Olympics, 12 Hours of ATV America, Great Outdoor Games, and the Dirt Riot.
With such an impressive track record the past two years, we just had to find out what John Natalie Jr. had up his sleeve for 2006, so we gave him a call and here is some of the exciting news that he shared with us.
#13 John Natalie Jr.- Ten Quick Facts

Birth Date:
7/7/1975
Weight:
180lbs
Hometown:
Houtzdale, PA
ATV:
Honda TRX450R
Occupation:
Factory Pro Racer
1st ATC/ATV:
Honda ATC70
Started Racing:
15 Years Old
Favorite Food:
Spaghetti
Favorite Drink:
Monster energy drink
Website:
ironmannatalie.com
ATVriders: What have you been doing since the end of the ATVA MX Nationals?
I have been racing a few events like the 12 Hours of ATV America and a few GNCC Races, but since the 12 Hour, I have taken over a month off from riding since fracturing a bone in my hand, but just before Christmas, Michelle and I headed down to Florida for some training and testing.

How is your hand since your bad wreck at the 12 Hours of ATV America when you hit a rock which sent you over the bars?
Its doing pretty good, but it took about three weeks to heal before I could do anything. I finished out the 12 Hour and it started to get really sore afterwards, and when I went to the hospital, they wanted to put a cast on it, but I just purchased a suit for the GNC banquet, so I wouldn't let them put on a hard cast. It has since healed up fine, and I feel 100% for the upcoming season.

Are there any big changes in your race program for 2006?
Yes, I have signed a two year deal with Honda, so for 2006, I will be a Factory Honda Rider and no longer just a support rider, which is a big step forward in my racing program.

Awesome news, so now that both you and Tim Farr are Factory Honda Riders will there be a Honda Rig at the Nationals, or will you still have individual setups?
Everything will remain the same as last year in that respect, and Tim and I will still pit out of our own trailers for 2006, but I have heard that if Yamaha comes out with a Factory Rig that Honda will as well, and I have also heard through the grapevine that Yamaha plans on bringing out a rig in 2007, so I am hoping that in 2007 we will get a Honda rig.
(left-Right) Curtis Sparks, John Natalie Jr, Dee Manshack

Any other changes in your race program for 2006?
Yes, I have made the switch to IMS / Roll components paired with Elka Suspension, and I am now sponsored by the exhaust manufacturer HMF Engineering, so my mechanic Dee Manshack will be replacing Curtis Sparks as my engine builder.

Your racing program has definitely undergone some changes over the winter, but I am most surprised to hear about Curtis Sparks not being involved in your racing program for 2006, since you have given him so much credit over the past year?
My new deal with HMF Engineering created a conflict of interest with Curtis Sparks for him to be building my engines without using his pipes, so I have decided to go with Dee Manshack since he is a great guy and has been my mechanic the past year, and I put a lot of trust and faith into Dee because he builds a great engine. I talked to Dee about the situation, and he decided that he would be willing to give it a shot, so he built me an engine, and it ran really well, so I am confident that I will have another great year with Dee as my engine builder.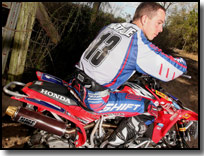 John Natalie Jr on his 2006 Honda TRX450R with his proto-type HMF Exhaust System Installed

Lets talk about your HMF deal, so will there be John Natalie Jr Signature Series exhaust coming in the near future like the Bill Ballance and Mike Penland Signature Series?
Yup, I am going to have my own signature series exhaust, and we are developing it right now. The goal is for it to be able to pass the sound test and produce the maximum amount of power, so it will be best pipe available for motocross racing.

Will there be any unique features on your HMF signature series exhaust?
Yes, my signature series exhaust is going to have its own custom look with a different end cap, and I am working on my own unique color and of course it's going to have my name tag on it, which will include my signature along with "Ironman" and probably "People's Champion" as well.

How many signature line products do you have currently available?
Right now, I have the Blingstar aluminum line and HMF line, and I am working on several others to add to the list.
John Natalie Jr testing his new Roll Design front end paired with his Elka Track System Front Suspension in Florida
What made you decide to switch your supsension from Fox to Elka for 2006?
Martin Lamoureux at Elka approached me about riding for them, and he promised atleast the same amount of support as Fox, so I decided to give them a test because I have heard great things about the company and I was impressed with their product. Also, more importantly to me was the level of service that I received from Elka because when you call and order a set of shocks, you don't have to wait months to receive your shocks because they have everything ready and in stock. Also, they are always at the races to take care of everybody, which I feel is important, so I decided to work with them on making their product even better and provide the most complete suspension package on the market with their level of customer support.
Also, I already just started testing their new Track System Suspension and we already have them dialed in better than the Fox Shox I was running last season.
I image it doesn't hurt either being sponsored by both Elka and IMS/Roll since they have a close working relationship in designing and developing matching components?
Yes, it is a huge benefit, Doug Roll visited with me at home along with the Elka Boys, so we could start dialing in the A-arms and swingarm length along with what we were going to do for a linkage on the 2006 Honda 450R.
We dialed in the right caster and camber on the A-Arms along with deciding on the right length swingarm to work with the Elka linkage and suspension, and in the end, we decided it was best to just stick with the stock swingarm and pair it with the Elka Link and Elka special rear shock, and up front, I am going with the Roll A-Arms with the Elka Track System Suspension.
| | |
| --- | --- |
| | |
| John Natalie Jr has also been testing a new MX Tireball in Florida | A glimpse at John Natalie Jr's 2006 Honda TRX450R |
I heard rumors that you have been testing Tire Balls?
Yes, I have been testing with Tireballs while I have been down in Florida at Croom and Hardrock with Tire Balls Founder, Wade Summers, and they are coming out with new motocross balls which are much lighter than before, and they have been working really well for me, so I will plan on running them at the Nationals.
For MX racing, what do you think are the benefits of running Tire Balls?
First, you don't have to worry about having a flat tire which could ruin a moto plus they provide a plusher feel over the small bumps and the hard square edges bumps because you don't have the instant rebound from the tires with Tireballs, which allows the shock to do the work.
It sounds like you have a fair amount of new sponsors for 2006, so who are all of your sponsors for 2006 so far?
American Honda, Honda Pro Oils, Elka, IMS / Roll, Shift, HMF, Maxxis, RPM, Pro Designs, Douglas Wheel, Motorsport Outlet, Quadtech, Blingstar, Scott USA, Tire Balls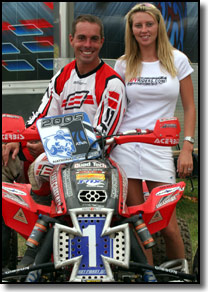 John Natalie Jr caught everyone off guard when he wrapped up the ATVA MX Pro Championship at London, KY with two rounds remaining, so he was presented his #1 Plate the following race at Unadilla MX Park

With a Honda Factory Ride and impressive sponsors list to match, I imagine you must feel fairly confident in your chances of a repeat championship?
I went up against the Factory Suzuki team last year as a privateer, and I was able to beat both of their riders which had a limitless amount of money, limitless amount of mechanics and time to test, and they were able to fly out to the events, and I still went out last year and won on what I call the rocky style. I just did what I needed to do training wise, and I did what I could do on a limited budget, and I was still able to come out on top last season.

Since you bring up the Team Yoshimura Suzuki, you must admit they were at disadvantage last year racing the LTZ400, which required some major modification to be competitive in the Pro Class, and this year they will have the new LTR450 with fuel injection and many other advanced features, so shouldn't this level the playing field and maybe even give them a slight advantage?
No, they might have stepped up the program a little bit with the LTR450, but I have stepped up the program as well with my IMS/Roll Design components and Elka Suspension, and I know have more time to train than ever before as a Factory Honda Rider. Also, considering the fact that I almost had a 20 second lead every race last season, I figure they have that 20 seconds to make up plus I am going to try and add to that this year because as long as I work hard, I can still come out in front.

Plus, Paul Turner has started a little war with me in the Carpe Diem video, which has me more motivated than ever. When Doug Gust had Randy Lawson as his mechanic, Doug won almost every race, and then he switched to Paul Turner and hasn't won a race since, so I am not real worried about Doug unless he gets Randy Lawson back as his mechanic.

It definitely sounds like you are motivated to win another championship, so will you still have time in your schedule to compete in other racing events like you have done in the past?
Yes, I would like to race almost every weekend if possible, and I plan on racing the new ATV Super Tour along with as many GNCC races as possible and the 12 Hours of ATV America.

Well, it sounds like you will have a busy schedule, and you really are planning on attending most of the GNCC races this year and not just a few at the end of the season?
Yes, I have always enjoyed racing in the GNCC series, and thanks for Joe Borich, I was able to race in the final two races of the 2005 season, so I am in the process of building my own cross country machine for 2006, and I going to race as many of them as I can when time allows, and as long as Honda doesn't have a problem with it because if I am running upfront in points, they might not want me to risk getting hurt racing in the GNCC series.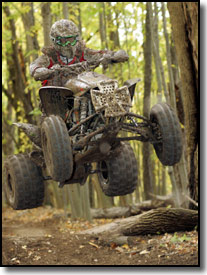 John Natalie Jr raced in two GNCC events in 2005, and he even lead the Overall at the "Ironman", and for 2006, he plans on racing even more GNCC events.
You definitely proved you have the ability to run with the Pros in the GNCC series when you took over the lead in the second lap at the "Ironman" of all races, so how did that feel?
It was awesome when I got into the lead; I was wondering what kind of pace to set, and when I saw William Yokley behind me, I pulled over to let him pass because I knew he has already won this race before, so I figured that I would let him lead me around and set the pace. Yokley and I started to pull away a little bit, but I made a mistake and clipped a tree, which put me back a few spots. I worked my way back up behind Chris Borich, but then I ended up stripping out my front sprocket, which sent me back to 9th to finish out the race.
After the race, I told Joe Borich, "You sabotaged me and cut off all my teeth, or grounded them down so they would wear off" (Laughing). On a serious note, it was awesome that Joe & Chris Borich were kind enough hook me up and take care of almost everything I need to race in a few GNCC events.
You also mentioned the MXi ATV Super Tour, so if it ever materializes, you plan on racing it as well?
I have heard on the Internet that they have four races set tentatively, but what sucks about that is you try to plan your life and what you are going to do for the year, and I still would like to go to Hawaii, and I have to wait for those idiots to come out with a schedule, and I surely hope they don't come out with a schedule at the end of January with a race scheduled for February or even March because I will be like "Holy Cow" because it doesn't give me much time to plan for the event.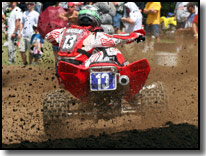 As you can tell, John Natalie Jr is more determined than ever to repeat his Championship in 2006 and leave his competition chasing his roost, so be sure not to miss any of the exciting action by attending as many events as possible, or atleast visit ATVriders.com to keep up on all the intense racing action.

Any other exciting news outside of racing?
Michelle Reiser and I are getting married on September 9th and we are planning on going on a cruise for our honeymoon. That is great news, and I wish you two the best, and while we are talking about Michelle, what do you think of her Yamaha Ride?
It is awesome, and she is going to make them proud this year because she is training really hard, and she even has a blister (laughing).

Well John, I have taken enough of your time and thanks for providing ATVriders.com readers a chance to find out what has been going on over the winter and your plans for next season, and I look forward to seeing you at Glen Helen.
Thank you and everyone that has supported me.