Interview: Joe Byrd - Honda Factory ATV Motocros Racer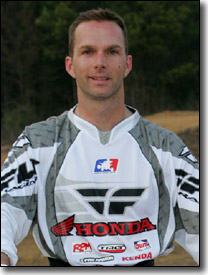 #7 Joe Byrd - Ten Quick Facts

Birth Date:
11/27/1972
Weight:
205lbs
Hometown:
Union City, TN
ATV:
Honda TRX450R
Occupation:
Factory Pro Racer
1st ATC/ATV:
Honda ATC110
Started Racing:
14 Years Old
Favorite Food:
Pasta
Favorite Drink:
Gatorade
Website:
joebryd.com
Less than two weeks ago at Loretta Lynn's Dirt Days, Honda's Joe Byrd wrapped up his second consecutive Pro ATV Motocross Championship, and secured the first ever AMA Pro ATV Motocross National Championship. New for 2007, AMA Pro Racing sanctioned ATV Motocross, and Joe Byrd will join the rest of the AMA National Champions in Las Vegas, NV to be awarded his #1 Plate. There has been many changes taking place in 2007, but one thing remained unchanged…Honda factory racer Joe Byrd is still a champion. We recently had the opportunity to speak with Joe about his winning season, the series finale at Loretta Lynn's, and some of the changes that are taking place in the ATV racing industry.
ATVriders: Congratulations on your winning season, Joe. How does it feel to be the first AMA ATV Pro Racing Champion?
Thanks! It feels really good, it's awesome! It's an honor to be the first AMA ATV Champion. It's going to be fun going to Vegas with all the supercross and motocross stars.
What went through your mind when your head pipe fell off in the first Moto while Jeremy Lawson was working his way to the front of the pack?
I thought "Oh crap!". That was basically it. (Laughing)
Where did you get that extra boost of energy in the 2nd moto to close the gap on Chad Wienen at the end of the race?
Chad had about a 10 second lead on me. There were a lot of fans there and that kind of makes you give it your all when they are cheering you on.
Joe Byrd & Chad Wienen put on a great show at both Sunset Ridge & Loretta Lynn's with the pair swapping Overall Wins after some intense racing, and it would be great to see them racing against each other weekend after weekend.
Do wish that more Kawasaki & Suzuki riders competed on a regular basis in the AMA Series?
Yeah, only about half of them are racing the series.
Why have you solely focused on just the AMA Series?
There are several reasons; first, the tracks are better. That's why we do this, to go have fun and ride some good tracks! Plus, all of my sponsors want me to focus on the AMA. It's been here for 20 years and it will be here for 20 more years.
How well do you feel the AMA has done with all the changes this year?
They've done a great job. The tracks are better, the organization is better. They've made everything really good this year.
What stood out to you as the biggest improvement this year?
The main thing is the tracks and the organization. Plus we have a voice there now, someone there speaking for us versus a bunch of riders just going up there and saying what we want or need. It's a whole lot better having someone there to represent us.
Do you expect to see more Pros returning to the AMA Series in 2008?
Yes, I do.
Do you have any plans on ever competing at a WPSA event?
Not at this time. Some of the races conflict with the AMA schedule and my sponsors want me to stay focused on the AMA races so I plan on racing where my supporters want me to.
How do you feel about the ATV Pro Open Invitational at Steel City?
I think it's great. It's a big step for our industry.
Do you feel racing at the same track with the bikes is the right direction for the ATV racing?
I think it will give quads more recognition than ever and get more people involved in the sport.
With the season over, what does Joe Byrd do during the off-season?
Right now I'm concentrating on nailing down my sponsors for next season and I will also be doing a few riding schools.
::CONTINUED::