By: Brittany Bloodworth
Interview: Jeremy Schell - Three Time ITP Quadcross Pro Champion
This past weekend I had the pleasure to sit down with the three time ITP Quad Cross Champion Jeremy Schell after he wrapped up his 2005 ITP QuadCross Championship with his third place finish in the final round at Glen Helen.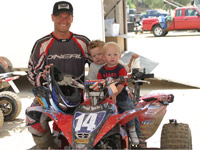 Jeremy Schell with his boys
Mason & Maverick

Before we get into the interview, here is a little background history on Jeremy Schell. He was born and raised in the small town of Hornersville, Missouri, but after deciding to make a career in ATV racing, he made the move across the country to California, so he could practice and race year round because conditions weren't favorable for practicing in the winter back east. Jeremy now lives in Murrieta CA, with his wife,Jayme, and three children and at the age of 31, he has an impressive resume spanning over ten years, and he doesn't seem to be slowing down any with age. Jeremy is currently racing for Golden West Yamaha aboard a YFZ 450 with the Number 14 plate. Some Jeremy's career highlights include 03-05 ITP Quad Cross Champion, 96-97 4-Stroke National Champion, and 2002 4-Stroke World Champion. But enough of the small stuff, and on with the interview.

ATVriders: First things first, the number 14 plate, How did you come up with that number?
Jeremy Schell: I was number four and every time I went to sign up for a race there was always a number four, so I just slapped a one in front of it and its been that way ever since.

How did you feel coming into the last of the ITP Quad Cross knowing that it was anyone's game at this point? And that if you won, you would be the ITP QuadCross champion for the third years in a row.
Well it's a long series, January to December, and a lot of pressure to go with it. This has been the most pressure that I have had in three years. This year Dana Creech was out here along with Dustin Nelson and this was a more prestigious win then the past years. It has been a lot of pressure, I shouldn't have taken it that way, but if your on top everyone is always trying to kick you off. I just stayed on top of my game, both Dana and I had some bad luck, but I guess I just came out with the better luck.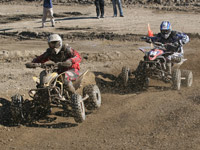 Dana Creech & Dustin Nelson gave him a run for the Championship

Last year you where battling with Darrell Patton and this year it was Dana Creech and Dustin Nelson up there with you. Who do you think it will be up there with you next year?
Well if Dana comes back next year it's going to be him and Dustin. Right now I don't know if anyone else will step up their game, its hard for anyone else to step it up, because us three ( Dustin, Jeremy, and Dana) can pretty much ride when ever we want. That's why I had to step it up this year. This is the first year that I have been able to race full time, and its been a hard time for me because it wasn't really a year were I made a lot of money, its has definitely been a financial sacrifice. But next year will be better, and the year after that should be even better. But I am not sure who is going to step up their game, it could be anyone.

You have had some injuries this year, a broken ankle at the Pro Quad series and a broken wrist during an ITP round, not very long after each other. How do you think that affected your riding ability this year?
Well you know I broke my ankle in the end of January and was out the whole month of February, came back in March and took second, which I couldn't believe. I came back the next race and won that one, and then the next round I broke my wrist. So it's been a bad year for me with injuries. Every time I just came back harder and wanting to win more. I didn't have any big mechanical failures on my race quad, I had a flat tire once, in fact that was the same race that I broke my wrist. I think it just made me practice harder and want it more.

How did you feel through-out the whole year coming back round after round, with the points going back and fourth?
The points back and fourth, I mean Dana lead the first round, I won the second round, and I think from the third round on Dana lead for the points all the way to Phoenix where he crashed, and I just knew that I needed to be on top of my game, especially after my injuries just trying to work back up. In all I think it was a great year for us and definitely some great racing that a lot of people missed out on.

What do you think about how long the series is compared to what you get at the end of the year?
There is no comparison to the Nationals. The problem is that this series isn't as old as the GNC Nationals. I mean all the magazines are out here, why aren't they out here covering the event. Basically we need more press in order to get more sponsors.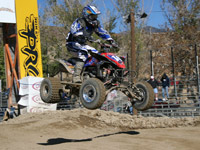 Jeremy Schell won the 2005 ITP Quadcross Championship on his Golden West Yamaha YFZ450 with a Curtis Sparks Engine

They talk about this series trying to become the "West Coast National" what do you think about that? Do you think it can live up to that name? And will the fact that the series will be traveling to six different tracks next year help?
Well we all want it too, but its not going to be until we start traveling to more places and getting more recognition, and basically getting more people to want to come to ITP Quad Cross, so It should be good for all of us because the more tracks you go to the faster you get. The more we spread the races around the more riders we will be able to pull in from other areas, which will help the series gain more attention.
Next year what are your racing plans?
Well I'm going to do Pro Quads Series, ITP QuadCross, and the ATV Super Tour. So I'm going to be pretty busy next year. I would have considered racing the ATVA Motocross Nationals, but my sponsors want me back out here again and several of Nationals conflict with the ITP Quadcross Series.
How do you plan on racing both the ITP Quadcross on the West Coast and the ATV Super Tour, which is speculated to be a South East Series?
I plan on having two race quads for the ITP Quadcross Series and two other quads back East at my parent's house in Missouri. I will fly back and forth in between races, and with typically a month gap between ITP Quadcross races, I may be able to attend more than one race in the ATV Super Tour before returning home to California.
Jeremy Schell with his wife, Jayme. They met at an off-road race and have been married for over 5 years.

ATV racing has finally replaced your fulltime job and with the competition stepping it up, you must spend plenty of time practicing, so what are your plans for preparing for next year?
I try to practice as often as I can during the week at Elsinore MX Park along with Glen Helen an I-395, and with a race held almost every weekend here in California, I get in plenty of seat time over the weekend at different tracks against different riders, which has really helped me in the ITP Quadcross Series this year.

Do you ever get a chance to practice with any other pro riders?
No, I normally practice by myself or with some local amateur riders. I am good friends with Kory Ellis, but we never get to practice with each other and hardly even see each other since he is always on the road, but next year, I am looking forward to heading back to Missouri and hopefully getting a chance to practice with Joe Byrd since he lives less than an hour away in Tennessee.

What ATV do you plan on racing next year?
I still haven't completely decided what I am going to race next year, but as of now it is between my Golden West Yamaha YFZ450 and the Honda TRX450R

Well I want to thank you for you time, and I'm sure you have some people you would like to think as well.
Yes, I just want to thank all of the people who helped me get this number one plate this year: Golden West Cycle, Epic, Precision Concepts, ITP, ELKA, Tag, Hinson, Curtis Sparks, O'Neal, Hinson, K&N, IMS, and One Industries.