Interview: Harold Goodman - Honda TRX 450R Pro ATV Racer
#708 Harold Goodman - Quick Facts

Birth Date:
7/13/1978
Weight:
150lbs
Hometown:
Brownstown, MI
ATV:
Honda TRX450R
Occupation:
Real Estate Inv.
1st ATC/ATV:
Honda ATC70
Started Racing:
7 Years Old
Favorite Food:
Steak
Favorite Drink:
Dr. Pepper
Hobbies:
RC Cars
Harold Goodman has been involved in ATV racing for the last 22 years. Harold is a well-rounded racer that has raced in just about every event there is and done well. He has won many amateur titles along the way and in 2007, won his first National Pro ATV Championship in the Duro Tire Extreme Dirt Track Series.
This year Harold is defending his EDT Championship and is also racing the entire series of the AMA ATV Motocross Nationals, where he has also been doing quite well. Harold recently scored a podium position at round 8 of the AMA ATV MX Nationals at Muddy Creek, which has put him one point away from being in the top five in the points race. Harold is also the only Pro who is competitively racing in both the EDT and AMA ATV MX series'. We caught up with Harold after round eight of the motocross series to see what he has been up to and to find out what he is hoping to accomplish for this season. Here's what he had to say:

ATVriders.com: You're currently the only Pro that is competitively running both the EDT and AMA MX Nationals, how do you feel about that?
Harold Goodman: I'm happy that I'm still running both, but I wish there was a few more guys from the motocross side that would race in the EDT. I do know that there's a couple guys that are planning on coming out to try a few, like Sage Baker and Chad Wienen.
The last time Harold Goodman was on the Podium at an ATV Motocross Nationals was in 2004 at Southwick when he finished 3rd Overall on his Yamaha YFZ450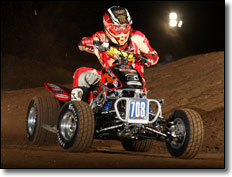 Harold Goodman is the current Pro points leader in the Extreme Dirt Track Series
Some of the big Pro's like Shane Hitt aren't racing this year. Do you know what was behind that decision?
Shane was at the last round watching. He said that he felt he had been doing it long enough and decided to just give it a rest for now. He is thinking about doing a couple of events later on this season.
You're a pretty well rounded rider and seem to do well no matter what type of racing you do. What do you attribute that to?
I think mainly because the series' used to be together and I used to race both. I did take a couple of years off and when I came back the series had split. It was easier for me to pick back up on the TT side of it, but I was slowly getting better and quicker at the motocross side of it. Every year I do a little bit better, and I hope that continues through to next season, especially after 22 years of racing.
Have you had any major changes in your support for this year?
The only major change I had this year was that I changed exhaust sponsors this year to HMF and that's working out really well. Other than that, it's almost the same program I had last year. I think one other thing that changed and has helped me this year is that I don't have a tire sponsor this year. That's allowed me to run whatever tires that I feel work the best.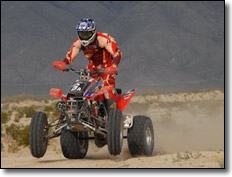 Harold Goodman & Wayne Matlock won the SCORE San Felipe 250 in March on a 450R, but they will be racing the TRX 700XX for the Baja 1000 in November
What other races are you going to be doing this year besides EDT and the AMA?
I'll be doing the Baja 1000 this year with Wayne Matlock's team, which is part of the SCORE series. We're hoping to get the championship there this year. I ran the first race of the Best of The Desert series in Parker, Arizona also with Wayne Matlock and Marc Spaeth, and we won there. I believe there are about 4 more of those races and I'll be racing those as well.
Will you be racing the new Honda TRX700XX?
Yes, I will. I'm looking forward to it because I haven't got a chance to ride it yet. Hopefully I'll get a chance soon when I go out to California to do some testing so I can try and get use to it.
::CONTINUED::