Interview: Harold Goodman - Honda TRX 450R & 700XX Pro ATV Racer
#708 Harold Goodman - Quick Facts

Birth Date:
7/13/1978
Weight:
150lbs
Hometown:
Brownstown, MI
ATV:
Honda TRX450R
Occupation:
Real Estate Inv.
1st ATC/ATV:
Honda ATC70
Started Racing:
7 Years Old
Favorite Food:
Steak
Favorite Drink:
Dr. Pepper
Hobbies:
RC Cars
Harold Goodman has been a familiar face in ATV racing for many years. He has raced a wide variety of events ranging from AMA ATV Motocross, Extreme Dirt Track, to GNCC to TT and just about everything in between. Harold has always kept a busy schedule, racing multiple series' each season with remarkable success. This year Harold's accomplishments include the Pro and Pro Lites championship in the Extreme Dirttrack series, a top 10 placement in the AMA ATV Motocross Nationals, the Pro ATV Championship in the SCORE series and his team just won the Pro ATV class in the SCORE Baja 1000.
Over the years, Harold has become somewhat of an icon in ATV racing and was recently recognized for his outstanding efforts and achievements both on and off the track as the recipient of the 2008 ATVA Athlete of The Year award. Harold recently took time out from his busy schedule to talk to us about his 2008 season and his plans for the coming year.

ATVriders.com: Harold, you've had a very successful season. You won the Extreme Dirt Trck Pro and Pro-am ATV championship, and placed in the top 10 at Nationals. That must make you feel pretty good.
Harold Goodman: Definitely! I'm really happy with how the season went and I'm already looking forward to next season.
| | |
| --- | --- |
| | |
| Harold Goodman Won his 2nd straight Extreme Dirt Track Pro ATV Championship this year, and he also claimed the Pro Lites Championship | Harold Goodman Won SCORE BAJA 1000 with Wayne Matlock's team on the Honda TRX 700XX, and they also won the SCORE Pro ATV Championship |
ATVriders.com: The team you were on also just won the Pro ATV class on the new Honda TRX 700XX at the Score Baja 1000. What was that experience like for you?
Harold Goodman: I've been to Baja several times and it's always been a very challenging and fun experience, but this time our team won. It feels really good to be a part of a winning team. It's really a major highlight of my racing career.
ATVriders.com: While you were busy winning at Baja, you were also nominated and won the AMA Athlete of the Year award. How does that make you feel?
Harold Goodman: That is the single biggest award that I have ever won. It's a real honor for me to be recognized like that for my accomplishments and how I'm perceived in this sport both on and off the track. I just wish I could have been there to accept the award in person.
ATVriders.com: You've had an incredibly exciting year, but the excitement still isn't over for you as you are getting married December 13th. Are you nervous at all?
Harold Goodman: Actually, I'm more excited than anything. We've got everything really well organized and I'm looking forward to it.
Harold Goodman married Jessica bielak on December 13th at the St. Stephen's Catholic Church in Michigan
ATVriders.com: Are you going anyplace special for your honeymoon?
Harold Goodman: We're going to an all-inclusive resort down by Cancun. I'm really looking forward to having a real vacation. I've been going pretty steadily all year so it will be nice getting some time to just relax.
ATVriders.com: What are your plans after you get back?
Harold Goodman: The day after Christmas I'll be heading down to Florida to start training for a couple of weeks, then I will head to Texas to the Rage ATV facility to train a bit down there.
ATVriders.com: Are you going to be doing any special training or will you be sticking to your same program as last year?
Harold Goodman: I'll be sticking to my same program, but I will be working harder at it. I actually feel really good. I'm in better shape this year than I was this time last year because I've been riding a lot more in the off-season and haven't lost any of my conditioning. I think that will have a big impact on my training this year.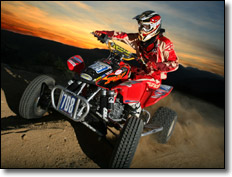 #708 Harold Goodman
ATVriders.com: Who are your main supporters going to be for next season?
Harold Goodman:
My two biggest supporters will be Honda again and Houser Racing.
ATVriders.com: The competition really seems to be increasing in ATV racing. What are your thoughts on that?
Harold Goodman: I think the increased competition is really great for our sport and it makes things a lot more fun and a lot more interesting. A lot of people ask me why I don't say I'm going to go out and win a championship when I'm asked about my goals. I don't say "win it" because there's just too many fast guys out there now and you have 20 riders that are all capable of making the top five on any given day. I think that's a great thing and I think that all of that competition makes our sport better and more appealing all the time.
ATVriders.com: What series' will you be committed to?
Harold Goodman: I'll be committed to the Extreme Dirt Track series again, AMA Pro ATV MX Nationals, along with all of the SCORE and BITD desert races, which I'll be teaming up with Wayne Matlock to do. It's about 30 major events total, plus I want to do the Montreal Supercross again if I don't have any schedule conflicts.

ATVriders.com: Wow! That's a lot of racing. What exactly are your goals for next year with racing all of those events?
Harold Goodman: My main goal is to defend my Pro and Pro Lites championships at the Extreme Dirt Track Series. I also want to make the top five at the AMA Pro ATV MX Nationals. Top three would be nice, but I think top five is reasonable. I also want to defend the SCORE championship that Wayne and I just won, and win the BITD championship as well.
ATVriders.com: Do you think you will be able to accomplish those goals?
Harold Goodman: I think my goals are pretty reasonable and I'm pretty confident about winning the BITD and SCORE series'.
ATVriders.com: Thanks for talking to us today Harold. Congratulations on all of your accomplishments this year and the best of luck to you and your fiancé' on your big day!
Harold Goodman: Thank you!