Interview: Harold Goodman- 2007 ATVA Extreme Dirt Track Pro Champion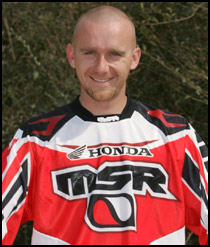 #708 Harold Goodman - Quick Facts

Birth Date:
7/13/1978
Weight:
150lbs
Hometown:
Brownstown, MI
ATV:
Honda TRX450R
Occupation:
Real Estate Inv.
1st ATC/ATV:
Honda ATC70
Started Racing:
7 Years Old
Favorite Food:
Steak
Favorite Drink:
Dr. Pepper
Hobbies:
RC Cars
The series final of the 2007 Duro ATVA Extreme Dirt Track Nationals took place on September 30th at Fayette County Fairgrounds in Brownstown, Illinois. Despite a close points battle with Shane Hitt, Harold Goodman held off the competition and took the championship, the first Pro ATV Championship of his racing career.
Harold, who has been a Pro ATV Racer since 1995, has had a very busy season, racing not only the Extreme Dirt Track series, but also the WPSA series, and a few other miscellaneous events throughout the year, along with instructing at a couple of riding schools he put on at tracks around the country. Keeping busy and being in the racing circuit for so long, has presented Goodman with abundant opportunities and experiences, and has allowed him to accomplish many of his racing goals, including his first Pro Championship. ATVRiders got the chance to talk to Harold about winning his first championship and what he's got planned for next season.
Congratulations Harold! You pulled off your first National Pro ATV Championship here at the Extreme Dirt Track Series. How big of a deal is this for you?
Thanks! I've been racing nationals since 1987 and it's great to finally get a pro championship.
You have won a few amateur titles along the way; what were they?
I won the 60 mod class in '89 and a couple 90 Super stock classes. Also some A Class and some Pro Am stuff, but ever since I went pro I've never won a championship, so this is awesome!
Who was behind you this year and what made the difference?
We made some changes for this season. We switched to Rage ATV for our motor work and we went 40 motos this year; 12 mains, and 16 TT heat races without a DNF. It's been my most consistent season since I started. My Honda worked perfect. PEP Suspension, Houser Racing Components with the new "Tric Trac" system worked perfect. Everyone that helped me out…JP MX and Douglas Wheel, and everybody else were just terrific this year.
| | |
| --- | --- |
| | |
What's really impressive is that you were out there running AMA MX, the WPSA, and EDT Nationals and you had an impressive finish in the WPSA also.
We had a really good season there. 7th overall was great. I did have to miss one round and to still pull off 7th was incredible. I couldn't have had a better season. Next year, of course, I would like to do a little bit better than that. I don't have any plans to win the series, but I would like to be in the top three so we're going to try hard for that next season.
The Extreme Dirt Track series split off from the GNC Motocross Series a couple of years ago, so where do you think the series is headed?
The series has been doing really well. They have great numbers, an awesome youth turnout, and a good turn out of pro riders. We always have over 20, this weekend we had only 17, but it's the end of the season and that does happen at the end of most seasons. Hopefully the series just continues to grow. It's a little bit easier and little bit less expensive than racing MX, but the average rider doesn't have to train as hard either.
What is it about Extreme Dirt Track that really keeps you coming back?
It's not really more technical, but it takes more finesse to ride TT than motocross. If you blow a turn in MX you might not even have anyone pass you, but if you blow a turn in TT you might have 3 or 4 people get by you. So you have to try and be perfectly consistent for 20 laps, so it's a little bit different riding style, but I like the speed, I like the close competition. There's always a race going on. It's a lot of fun.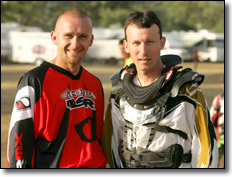 Harold Goodman & Shane Hitt
Was there a lot of pressure on you this weekend going up against Shane Hitt?
After North Carolina, I lost most of my lead. We had a really bad weekend, so for a couple weeks I really put a lot of pressure on myself to really try and do well the last couple of rounds and I got to thinking about it and thought since we've been doing this for fun for 22 years, and that's really what it's all about. Coming into this weekend I felt fine. I got a little nervous after the heat races. When we went to line up, I felt a little nervous, more than usual, but once I put it in gear, I forgot about it and just tried to get the holeshot.
You and Shane were right next to each other and bounced off each other a little, did that make you nervous?
Yeah, it actually did. The start here was less than desirable. It gets kind of tight and we're already in 5th gear when we get to the first turn and trying to go 4 wide, it's not the best of starts. When we got to the turn we touched a little bit again and that's when Chuckie (Creech) got around us.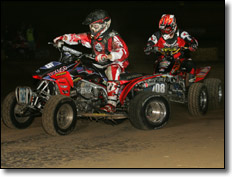 Chuckie Creech & Harold Goodman
You were right on Chuckie the whole time. Did you feel you could have made the pass on him if you wanted to or did you just not want to risk it?
There was a couple of times when I did really pressure him, but then I got comfortable behind him because Shane was behind Zac Willet. When Shane got around Zac then I started pushing him again, and we just kept pulling away, so I just stayed and followed him. Could I have passed him? I don't know, it's hard to say. It worked out fine. I ran a smart race
::CONTINUED::