Photos By: Roy Bloodworth & Harlen Foley
Interview: Dustin Nelson - 2006 Yamaha Factory ITP Quadcross Champion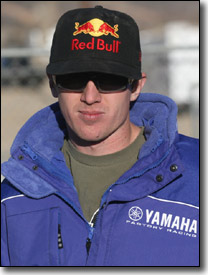 #94 Dustin Nelson .- Ten Quick Facts

Birth Date:
11/14/1977
Weight:
175 lbs
Hometown:
Ramona, CA
ATV:
Yamaha YFZ450
Occupation:
Test Rider / Pro Racer
1st ATC/ATV:
2004 YFZ450
1st Bike:
1983 PW50
Started Racing:
6 Years Old
Favorite Food:
Mexican
Hobbies:
R/C Car Racing
ATVriders: We all know that your racing career began on two wheels, so when and what were some of your major accomplishments on two wheels?
I won a handful of amateur nationals when I was growing up with the biggest coming at Loretta Lynn's in 1993 riding the 85cc 14-15 STK class. I turned pro at the end of 1994 when I turned 17 and raced supercross and nationals through 2004. The highlight of my pro career was winning the AMA 4 Stroke National series in 1999.

How many years have you been a test riding for magazines & manufacturer?
I began testing with Yamaha in 1999, and I have done magazine stuff here and there ever since.

How long have you been working with Yamaha?
I've been testing for Yamaha for 8 years and just signed my first racing contract with them for the next 2 years to compete in the ITP Quadcross Series

How long have your been with Dr. D & what do you do?
I've raced for DR.D for 5 years and I have worked there for 2 years. I go to the shop 3 days a week, while I'm there I run the tubing bender, help with proto-typing new products and of course I'm a test rider.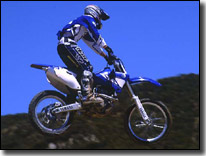 After racing Motorcycles for 20 years, Nelson switched to ATVs

When and why did you decide to switch to ATV racing?
I had a lot of fun at my first ATV race and did well enough to attract support from a few of the top aftermarket companies. I had already committed to doing a full season of 4 Stroke Nationals in 2004, but I decided to race an ATV on every off weekend that I could. When it came to making the decision of where to focus my efforts for the 2005 season, I chose four wheels instead of two.

What are some of the major differences between racing and ATV and a motorcycle?
There's not as many places to pass, which makes passing on an ATV more difficult, and it takes a lot more thinking and set-up because there is just not as much room. On the physical side of it, an ATV demands stronger shoulders and you use different muscles in your back.

How many years have you been racing?
I started racing motorcycles when I was 6 years old, so 23 years, and only three of those years on an ATV.

What are the different types of events that you have raced on either two or four wheels?
I've pretty much have stuck with motocross besides a few Supercross races on a motorcycle, and I also competed in the 2005 Baja 1000 with Doug Eichner, which turned out to be a disaster.

What was your first event that you have ever raced on an ATV (year, event, location, class, finish)?
2003 ITP Quadcross race at Glen Helen on the back track, and I finished in 2nd place in the Pro Class
Dustin Nelson

How does it feel to now be the ITP Quadcross Pro Champion?
It feels really good. I feel like I worked hard to step up my speed and my bikes have always been top notch. I accomplished what I set out to do, and I'm proud of that. I'm also very happy with the opportunities that have come with the championship, I have just signed with Yamaha and Red Bull, two companies that will not only help my program, but the growth of the sport as well.

What is your favorite track and why?
Speedworld MX. It's just a really fun track that you can ride very aggressively, I like to try to push myself harder every lap and Speedworld lends itself to that.

What are your plans for the 2007 racing season?
I will race the entire Yamaha/ITP Quadcross Series as well as all WPSA events that don't conflict.

What is the most memorable race that you have experienced?
It would either be coming from behind to pass Kory Ellis for the win at Speedworld last year or passing Jeff Spooner in the final corner at Glen Helen to pull off the win.

Who is the most influential person in your life, that you can always count on, and who has always been there for you?
When I was young my dad was really into my racing and did everything I could have ever asked of him to help me along. Now that I've grown up, my wife Mindy has been there for support and to make my life as easy as possible.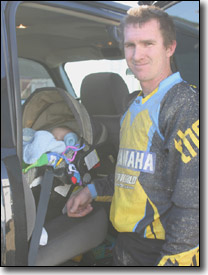 Dustin Nelson sporting Yamaha Blue after signing a two year deal with Yamaha, and he also signed with Red Bull for 2007

I know that you are married, but how long have you been married for, and do you have any kids?
Mindy and I have been married for 2 years and we have 2 great kids. Our daughter Jaycee is 2 and our son Trevor is 7 months.

Also how does your wife feel about you racing?
She likes the racing, I'm sure she gets a little nervous every once in a while but overall she likes it.

What does your training schedule look like as far as both on and off the track training?
My training off the track is mostly chasing my 2 year old around, she's crazy. Lucky for me, I get to ride quite a bit. Between Yamaha testing, DRD testing and trying to ride my own bike every so often, I ride a lot.

Do you have anything rituals that you do before the start of every race?
Some deep breaths and some good stretches, and I'm good to go.

What is the reason behind you running motocross over doing something, like the WORCS series?
Motocross is what I've done my whole life, taking more time away from my family to try something new just hasn't fit into my schedule.
Dustin Nelson sporting Yamaha Blue after signing a two year deal with Yamaha, and he also signed with Red Bull for 2007

Any changes for the 2007 season as for sponsors?
Yamaha has come on board, Red Bull and I will be wearing Thor gear from head to toe.

Besides work, and racing, what are some of the other things that you like to enjoy in life?
I love to go to the desert. We have a long travel sand rail that is so much fun, it's really cool to get in that thing and tear up the dunes, its just like a big quad.

Where do you see yourself in five years from now?
I see myself still racing and hopefully being successful.

Any sponsors you would like to plug in here?
Yamaha, MotoworldRacing.com, Dubach Racing, Red Bull, Thor, Ohlins, SRF Racing, Galfer, ITP, Tag Metals, Custom Decal, Team Industries, Maxima, GPR, AC Racing, PWR, Quad Tech, Velocity Filters