Doug Henke Interview - 2005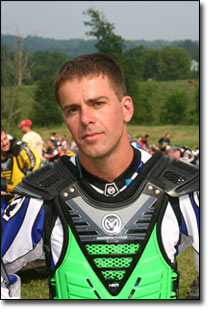 Doug Henke - Ten Quick Facts

Birth Date:
7/12/1970
Weight:
170 lbs
Hometown:
Parkersburg, WV
Occupation:
Chemical Operator for Chevron-Phillips
1st ATC/ATV:
Honda ATC 70
Years Racing:
6 years off & on
Favorite Food:
Manicotti
Favorite Drink:
Gatorade, X-Factor
Ra
cing Career Highlights:
Having the opportunity to ride with Kawasaki Team Green


Future Goals:
Try to push myself to become a faster and a more confident racer.
Favorite Racer & Why:
Chad Duvall because he's from my hometown.
What type of physical training do you do?
Ride whenever possible.
Do you race in a Local Series? If so, tells us about it?
District 11, when I have a brake from work and the GNCC series.
How often do you Practice & Where?
1 to 2 times per week I ride usually around on our own property.
Why do you race in the GNCC Series?
Very competitive classes and more classes to choose from.
What are some of your highlights from this season?
Winning the Utility Unlimited Championship in 2004 and finishing 2nd Overall in Florida.
Which race this season would you like to forget?
Petersburg, VA because I lost the front wheel on last lap while leading class.
What was the most important thing you learned this year?
The bigger the bike, the bigger the bruise
Are there any locations you wish were added or removed from the GNCC Series?
Remove Texas because it is too far away.
Any other changes you would like to see in the GNCC Series?
Better rotation of the classes in the A.M.
What are your winter plans?
Hit the gym and come back stronger for next season.
How many people do you have in your pit crew & names?
Four People, Wife-Betsi, 2 children-Brent and John, Brother David
Would you consider racing some GNC races if they weren't the same weekend most of the year?
No
Sponsors:
Team Green Kawasaki, Moose, Alpine Star, M2R Helmets, Scott Goggles, Elka Suspension, ITP Tires, IMS/Roil, HMF Exhaust, Maxima oils, Team Industries, Tireballs, Shock Pros, Axe Racing..