By: Harlen Foley
Interview: Doug Gust - Team Yoshimura/Suzuki Factory ATV MX Racer
The Suzuki LT-R450 Quad Racer was announced to the public this past October, and it has created plenty of buzz around the ATV industry, and with the start of the ATVA Motocross Nationals just around the corner, ATVriders.com thought this would be a perfect time to interview the four-time national champion, Doug Gust, about what he has been doing over the winter and his lowdown on the new Suzuki 450 QuadRacer.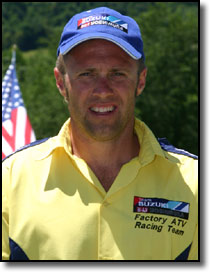 #55 Doug Gust - Ten Quick Facts

Birth Date:
1/24/1967
Weight:
175lbs
Hometown:
Salem, WI
ATV:
Suzuki LT-R450
Occupation:
Factory Pro Racer
1st ATC/ATV
1984 ATC 110
Started Racing:
17 Years Old
Favorite Track
Echeconnee, GA
Favorite Racer:
Gary Denton
Website:
www.douggust.com
ATVriders: So Doug, did you have any involvement in the development of the new Suzuki LT-R450?
Doug Gust: I went to Japan back in March to help with the general setup of the new LT-R450 by providing suggestions for handlebar and footpeg locations among other things on a prototype machine, and I also did a lot of riding on it for testing of the chassis and fuel injection system. After my visit to Japan, I didn't see a completed version of it until I went to Washougal, Washington in September to film the television commercial. More recently I have been involved in testing Yoshimura exhaust systems and various fuel injection maps, and with the Yoshimura exhaust it really rips and I mean this thing goes!!!(laughing).

Tell us a little about the television commercial filming, and did you know it was on television this past weekend during AMA Supercross Preview?
Yes, I heard it was already on television from a friend of mine, but I haven't seen it yet. The filming itself was really cool because I had a chance to see the new 450 in person for the first time since my visit to Japan, and the filming was done back in September at the Washougal track around a month before the dealer show. The track was in perfect shape for the filming. We spent all day filming, and matter a fact, John Lawson came with me to the filming because after the commercial, I had to head down to San Francisco, CA to have surgery on my knee, so John was along to help out, and he was tickled to death to get a chance to see the new Suzuki.

How much riding did you do to create the commerical?
We started shooting around 8AM in the morning after breakfast and they filmed all day until 6PM that night with only a half hour break for lunch, so it was a full day of fliming..

After having a chance to ride the Suzuki 450 QuadRacer, what do you think of it?
For a stock quad there isn't any better with the way the suspension works and how it handles. It is already wide in stock form at over 49 inches wide, which may not be good for the cross country riders, but they could just install narrow offset rims to get it ready for the woods. Besides for the woods, guys really don't have to spend any money on it anymore for motocross besides nerf bars and a kill switch, and you are ready to go.

The tires, you wouldn't even believe how good the stock tires are on this thing because they work great for stock tires and the rears are 18" with 20" fronts, which is perfect for MX.. It even has a chain guide for change, so you don't have to buy a chain guide to make sure your chain stays on during a race, and it also comes with a quick adjustment clutch perch, which shows they really did their homework on designing this machine

There were rumors that you would be racing it in stock form, but recently several companies have announced Team Yoshimura/Suzuki are signed on for 2006, so if it is so great, why not run it stock?
No doubt, the new 450 is capable of being raced in the Pro Class in stock form, but with a National Championship on the line, Yoshimura/Suzuki wants the very best available components installed to give us the best opportunity to win races. The stock suspension is great and works better than any stock suspension that I have ever run on before, but the FOX AirShoxs are more importantly lighter than spring shocks and work incredible, so we are going to do what it takes to cut some weight and improve the performance with some aftermarket components because every little bit is important in the highly competitive pro class.

How would you compare the R450 QuadRacer to the Z400 QuadRunner you have been racing the past two years?

Doug Gust roosted the competition
in 2004 winning the GNC MX
National Championship

The center of gravity is so much lower on the new R450, and I don't know if you seen any up close photos, but the gas tank is now 3 inches lower even though the frame height is the same, but from the footpegs to the gas tank everything is squashed, so it is more like the Honda and Yamaha, and It just corners so much better even in stock form that I feel like I am just as fast on a stock R450 as I was on my National Z400 last year. Also even stock, the R450 has the same amount of power as my National quad last year, and Yoshimura did a lot of work to get the Z400 up to around 50HP to compete with the other 450 machines, and this quad stock runs right with it without doing anything to it.

I am heading back out to California the beginning of January, and they are suppose to have me a race engine setup with a Yoshimura exhaust, and I should really have some power.

How does the Fuel Injection system compare to a carburetor?
I tested the two together, and the F.I. is just so much more responsive. You know like when you are sitting on a quad and stab the throttle and it just goes Haaaaa. The F.I. won't do that no matter what, and I tried going through whoops and banging the throttle and stabbing it hard, but it was always there, which is really cool. There is just no comparison to between the two on throttle response.

Is there going to be a kick start version of the LT-R450?
I am pretty sure because there is a hole in the case for a kick start, but I don't know when one will be released, and I believe that the team will be on an electric start regardless. I did find it interesting that you don't need the battery even for the fuel injection system, so the battery can be removed.

Have your heard when the LT-R450 will be going into production?
I have been testing slightly different variations of the LT-450R in the last month to find out what works the best, and from what I heard, the finalized version is set to go into production in January to be ready for release in time for the Nationals.

It sounds like you're a pretty excited about racing the new R450 QuadRacer in 2006?
Oh yeah, think about it, I have been racing the Z400, which is basically a trail quad, and it is now several years old in technology, and it was initially designed to be a trail quad, and I have been racing against guys with the Honda and Yamaha machines, which were built for racing.

I am real excited, and when I go out to California now, I am psyched because I know that I am testing this new quad, which makes riding it even more exciting.
Doug Gust went down hard at
Birch Creek & High Point in 2005,
which Allowed John Natalie Jr to
cruise to the 2005 Championship
with Gust finishing in second

On a personal note, how is your back and your knee after your recent surgery?
I am about 90% right now, and I feel a lot better than I did, and I went to therapy today for my knee, and I am just about finished with it. My knee is about 90%, and the only time my back bothers me now is when I sneeze hard, but other than that, it hasn't bothered me and things are really going good for me.

Last Year, after my wreck at High Point, I raced the rest of the season at 35-40% with my knee injury and everything, and I was getting depressed because I couldn't ride, but now, I am getting back to where I use to be, and when I was out to California this last trip, Wayne Hinson told me that I was looking like my old self again, which was a big confidence booster, and I knew it too because I could just feel that I was riding better.

Is John Lawson still going to be traveling to the races with you this season even though he has been replaced as the rig driver?
Yes, nothing is concrete, but I am pretty sure that he is going to be hired to be my mechanic for working on my Suzuki's at home while Paul Turner will still be my race mechanic, which is awesome. I won't have to worry about doing maintenance and cleaning the machines afte practice, which will give me more time to focus on training. Also, I am pretty sure he will have a job at the races as well, which is more good news.


What have you been doing over the winter to stay in shape?
I have mainly be practicing on my snowmobile at home because we have had several inches of snow of the ground, and I even had Joe Byrd come up and visit. I put him on a snowmobile, and we went out to my practice MX track, and he did really well. He loved it so much that he wants to get one for himself.

Joe stayed for two days, and by the second day, he was jumping all the big double on my track, and some are over 50 feet long and send you easily over 10 feet into the air.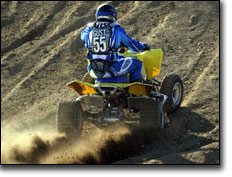 See You at Glen Helen!

What kind of sleds do you have?
I have Ski-Doo for mx, which is the same ones that Blair Morgan races, and I have two trail 600 sleds for Cindi and I to trail ride.

Well Doug, it has been great talking with you, and it sounds like this coming season is going to be an exciting year for Team Yoshimura/Suzuki.
I can't wait for the season to start, and I will see you at Glen Helen in February.