By: Corry Weller
A LITTLE TRACKSIDE TIME WITH DOUG EICHNER
Doug Eichner, probably most famous for winning the Ponte De Voux in France an amazing 7 times, has made a name for himself over the last 20 years for being an extremely fast, talented, and very well-rounded rider who is capable of not only taking on some of the most grueling and physically demanding racecourses in the US and abroad (and he's got the championships to prove it!), but also for his ability to conquer the most technical MX tracks around with the best of the best. Anyone who has spent more than a few minutes talking with Doug Eichner comes away from their conversation understanding what it means to truly enjoy doing what you do best. For Doug, that is racing quads, no matter where or what the terrain. Not only is Doug well respected by his fellow riders no matter what the level of competition, it's quite obvious that he is also well liked by them, too; and after having the opportunity to talk with Doug for a little while, I can definitely see why. Not only did I learn a great deal about someone I already admired from afar, I was reminded the whole time simply by being around Doug and feeling his enthusiasm and hearing his obvious love for this sport, of why I started this whole sport to begin with; and it can be summed up with one word………because it's FUN.
I sat down with Doug for a few minutes between races, and was able to find out a little bit more about him: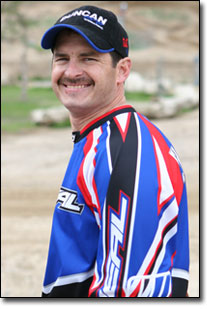 Doug Eichner - Quick Facts

Birth Date:
10/21/64
Weight:
165
Hometown:
San Diego, CA
ATV:
Honda TRX450R
Twist or Thumb:
Twist
Occupation:
Welder for Fox shocks
1st ATC/ATV & Age:
86 250R 3 Wheeler; 21 years old
Turned Pro:
1986
Favorite Food:
Pizza, BBQ ribs
Favorite Drink:
Ice cold Pepsi!
Hobbies:
Golfing, dune riding, RC cars
ATVriders: What made you decide to start racing? Well, I raced two wheelers for such a long time before I broke my collarbone, and then I bought my 3-wheeler and joined a club, and we all went to Sand Lake and rode all the time. We used to go up and do snow runs up there in Washington in the winter and go up to the reservoir and run on the ice on the lake and have ice races – that was fun for a while but I kind of got bored and I wanted to start racing again.

How many years have you been racing? 33 years

What was the first event you entered as a Pro Racer and how did it go? My first event was just a local mx race at Washougal National Motocross Park, and I went out there and won it.

What different events have you competed in other the years? I won the Mickey Thompson Offroad Championship in 1993, I've done the Nationals back East, I have competed in the 12 hour Ponte de Voux and the Baja 1000 with the SCORE Series and won that, the ITP Quadcross Series- whatever kind of racing there is, I'll usually go do it on a quad.

What are some of the highlights of your career? My championship from the Mickey Thompson Offroad Series; I was a 3 time Open Pro Champion back east on a Banshee; and 7 time Champion of the 12-hour Ponte De Voux….

Out of all the races, organizations, and countries you have raced in - where is your favorite place to race? You know, me and Jeremy Schell were invited over to New Zealand by their ATV Club – they paid for us to come over and have a little school for them, and those people there were so nice and the islands we were on were really nice……. I'd have to say New Zealand was probably one of the neatest places I've been.

What was your scariest moment as a racer? Back in 1987 I broke my femur on Friday the 13th (so don't race on Friday the 13th )! I was in traction and had to have a cast for 6 months and….. they tried to put a metal rod down inside my leg, but….. they screwed up that so I had to be in a cast for 6 months. That was probably the worst. Breaking my femur was one of the worst things……luckily it wasn't a compound facture, but it was bad enough.

What were your most memorable events from last year and what makes them so memorable? It would probably be….me and Lance Armstrong winning 7 times over in France; you know…. I won the Ponte De Voux 7 times now, and he's won over there his 7th time - so that is probably one of the most memorable events.

Why is the Banshee still your machine of choice for competing in the Ponte De Voux? Well, we have so much time invested in that Banshee and we know what it takes to make it work and make it win – I'd actually rather ride a Honda 450R, but my co-pilot that I ride with, John - he's sponsored by Yamaha over in England, so we pretty much have to ride a Yamaha. The YFZ 450…….we have not quite had enough time on it to work the bugs out of that - it's fast and it works good and everything, but it has little problems. Tavis Cain and Chad Lohr have run it over the last couple of years and they've had some problems…..but they've been fast when they didn't have problems! But we have just had so much time on the banshee and just know what it takes to make it win.

Is there any one individual who has influenced you the most in your life
and helped you get to the point you are at right now, career wise? Yeah, as far as starting out, Arlen Lehman from LRD and Bart Sanisfield from Oregon Motorsports, starting out- and Duncan Racing…… Loren and Lenny. As far as racers, probably Gary Denton. Do you have any pre-race rituals, or anything you do at the gate or the start of a race to help you with your races? No….. you know, every race I just go at it…. and you have to visualize yourself getting the holeshot- that is just something that will help you every time. And so I just kind of go through that over and over and think about the track – what corners and what to do where – just kind of mull it over a little bit. I'm usually pretty happy-going and pretty loose - that start doesn't really bother me.

What are your race plans for 2006? Race the WORCS series and hitting the ITP's when I can – the Ponte De Vuex, I'll do that – probably do the Elsinore Grand Prix and the Adelanto Grand Prix. I like those town races where you get all the crowds - those are fun. Those are probably the main ones…

Going into 2006, what is your main focus - what would you like to accomplish most of all this season? Winning the WORCS Series.

What drives you to compete in the WORCS Series over the other racing events? I just like this type of racing because you get a little bit of everything… you have the mx track and then it sends you off into the desert or the woods and the trees - depending on where it's at. It's kind of a good all around kind of racing - it's a good series and it's mostly on the West Coast.

What is your favorite track from last year on schedule for 2006 & why? I really enjoyed Goldendale, Washington – it was a pretty fast, natural terrain track and I won that one, so I'd have to say that was my favorite track last year.

Any changes in your race program/sponsorship for 2006? Just my suspension – I'm running Fox shocks this year instead of Elka. Since I work for FOX it's just easier for me and works out better for me in the long run.

Sponsor List? Duncan Racing, Roll, IMS, Golden West Cycle, ITP, Douglas Wheel, GPR,ETC, FOX Shocks, Hinson Racing, Motion Pro, Edelbrock, O'neal Racing.

How long have you been working with Duncan Racing? I've been with Duncan racing for a little over 10 years now.

How did you get started riding for them? They approached me at the Mickey's and said that they'd like to do something with me in the Mickey Thompson Offroad Series….. and I was planning on moving to California, so it kind of worked out good for me to start riding for them when I moved down here.

In what way do you feel they help to put you above the competition? They are just a great organization and they build a very good motor. You know, it might not be the fastest thing out there, but it's for sure the most reliable. Lenny Duncan – you know he's a good mechanic (even when he puts gas in the bike when maybe he SHOULDN't put gas in the bike…. but anyway!) (laughs) They are just a good outfit to work for - very professional.

How did the Bombardier Outlander work out for you in 2005? The Outlander was a very fast bike for as big as it was, and the suspension was OK, but…. for as big as it was it ran out of suspension pretty quick. It was a fun bike, we just didn't have enough time on it to do the Baja - we had some problems and it broke. But Bombardier is a good company to work for and to ride for….. it just didn't work out as good as we wanted it to.

Are you going to be working with them at all again this year? No, not this year.

You are a huge inspiration to me personally, to be able to win the races you win, racing against riders who are half your age... What advice do you have for other racers like me, who aren't young pups anymore and who have families and jobs - who have to race against the younger racers out there with nothing to loose? You know - a lot of it is heart. You just have to have a bigger will and a bigger heart than the other riders and just want it more. And the biggest thing is, you don't have to be the fastest guy out there but be the smartest. Don't make any mistakes - ride smooth. The biggest thing I tell a lot of kids and people when they say "man, you just look like you're cruising out there" and I tell them that it's about riding smooth. If you can be smooth, fast will come. Riding smooth, you don't get as tired as quick and it's just easier on yourself and the bike. It's a lot of heart.

Would you ever get him into racing? You know, I got him a little electric quad, but I'd rather put a baseball bat or golf club in his hand!

How does your wife feel about you still racing ATVs? She supports me 100%! She has to prod me quite a few times to get off the couch and go workout and ride because after working 40 hours a week, it makes it hard to get up and go work out. She actually bought me a gym membership for Christmas so I would get to the gym, but I haven't been there yet! (laughs)

When do you find time to work out? You know, right now I'm lucky if I get to ride on the weekends. Every day I take a half hour at lunch and ride my mountain bike for a half hour for cardio – and that's about all I do right now…. I just don't have time for anything else.

What do you see yourself doing 5 years from now? Hopefully I'll be doing something with my boy, Devin - spend time with him. I'm sure I won't be racing, but I'm sure I will still be riding. I will probably be going to the dunes and having fun with my buddies. I will probably never quit riding, but I'd like to spend time with my family and my boy.

How more years do you plan on racing at the Pro Level? At the most, two years. I mean… I'll do this year and next year probably - and then seriously think about retiring. We will see what happens this year, too…..mainly.

Do you plan on staying involved in the Sport after you retiring from racing ATVS. If so, do you already have any plans? Well working for FOX shocks like I do now, they have their test rider whenever they need him do their R&D work, so I'm sure that with FOX I will still be involved with the ATV business a little bit. My part of it now - I work for the Offroad part – which is the cars and trucks part of it - but they still kind of work together on quad stuff too….

Have you ever thought of starting your own race company? Yeah, I have. It's just, right now there are so many people out there building stuff, and while the market is good right now, it's not quite THAT good. I thought about it years ago after I quit working at Laegers…. to go out on my own…. and I probably should have then. It would have been good back then to do it, but now it would be really tough with so many other people out there doing it and the competition is greater.

Besides your family and racing, is there anything else that you enjoy
spending time on? I like to go golfing. I was actually going to bring my clubs this weekend and try to get out some time to play some golf….

Where do you ride when you aren't racing? We used to have a track in El Cajon where we used to ride at, but it got closed down. We used to ride there every Monday night, but it's gone now. I have a little sand track by my house where I like to ride, but they don't like me riding there - I get kicked out every once in a while. I really don't have a specific place I can ride right now!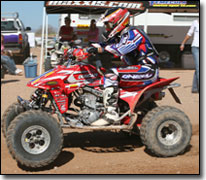 **Thank you Doug, for sharing some insights and for spending time with us!! Good luck in 2006 and we will be watching you in your pursuit of the WORCS Pro Championship!**

Do you go to the dunes? I like to go to the dunes and ride…we like the dunes or the hardpack – we ride the hardpack too. On big weekends I will take the wife and the kid and we will all go out in the trailer and spend the weekend at Glamis or Superstition and ride.

For someone like you, with so many accomplishments in the ATV racing
industry and so much drive to continue racing, what do you do to keep
yourself motivated year after year? What drives you to do what you do? You know, you have to go out and have fun. That's the main thing – to have fun. I get to meet a lot of different people and I'm friends with almost everyone out here. It's like a weekend out racing or riding with your buddies at the dunes – it's just a fun thing I like to do and I do pretty good at it still, so I like to go do it.