Interview: Chris Borich- East Coast ATV Pro GNCC Racer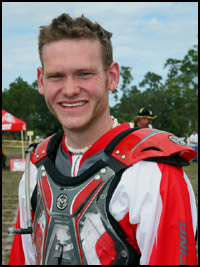 #2 Chris Borich - Ten Quick Facts

Birth Date:
5/6/1982
Weight:
170lbs
Hometown:
Sunbury, PA
ATV:
Honda TRX450R
Occupation:
ATV Pro Racer
1st ATC/ATV:
Honda ATC90
Started Racing:
13 Years Old
Favorite Food:
Steak
Favorite Drink:
Mountain Dew
Hobby:
Racing
The Can-Am GNCC series resumed from its summer break with the GEICO Mountain Ridge GNCC in Somerset, PA. The facility is noted for it's rocky trails that can sometimes be quite hazardous to riders, but the rocks didn't seem to bother Chris Borich one bit. Chris managed to grab the win and take the points lead over Bill Ballance. Borich and Ballance have been dueling back and forth for the points lead through the entire series, with Ballance trying to claim his 8th championship and Borich charging hard for his first after finishing in the runners-up spot the past couple of years. With only three point separating them and 4 rounds left in the series, it's still anyone's game.
ATVRiders.com caught up with Borich after the his victory at Mountain Ridge to ask him about his win, find out his plans for the rest of this series, and his speculations for next season.
You pulled off the win today on one of the tougher tracks of the season; can you give us a run down about how it went?
I got a good start. I grabbed the holeshot. I knew the first lap was going to be kind of tricky, so I took my time. Adam McGill and I sort of hooked up, and then started pulling away. I just had a good day.
What was the most technical section of the track for you?
It was right around the eight-mile marker, there was a little bit of mud and some big rocks that you had to basically crawl over. You could blitz at them sometimes and just crank over them and hopefully make it smooth through it. Other than that it was an awesome track.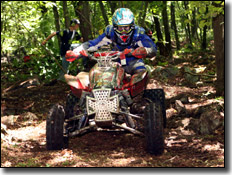 Chris Borich scouting out a line through the rock field
When you came to the rock section of the track did you try to stay on the main path or try to take some alternate lines?
The first lap I took an alternate line and it took a little longer, so I just went over the big rocks and did it that way.
Early on in the race you were following Adam McGill and you said he had wrecked?
It was real close to the end of the lap. He was right on a lapper, and the lapper must have got scared or something (when he made the pass). I thought he had it saved, he was up on two wheels, but just flipped off the bike. I just about ran him over. I stopped just in time. I made sure he was all right, then I took off and that's when Bithell and Ballance got by me. I had to push it to catch up and get around those guys.
How important was it for you to get this win today?
It was real good. I needed it! After Snowshoe, I wasn't too happy. I got home and didn't really do all that much training and just took it easy.
Chris Borich smoked his tires on the Podium after claiming the win & points lead
Does this win put you in the points lead?
Yes, I knew as soon as Bithell got in Second and Bill was in third or back a little further, I knew I would have the points lead. I'm really happy about that. I'll keep going one race at a time and hope I keep winning and pull off a championship.
The next round is at Unadilla. Two years ago you snapped a spindle, last year you had fuel issues. What are your thoughts on Unadilla this year?
I think I'm ready for Unadilla. I got the fuel issue worked out, and the spindles seem like they've been holding up good so I'm really looking forward to that track.
::CONTINUED::