Chad Wienen Interview: 2008 AMA Pro ATV Open Motocross Champion
Chad Wienen Interview Links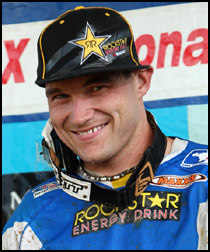 #44 Chad Wienen - 10 Quick Facts

Birth Date:
1/25/1985
Weight:
205lbs
Hometown:
Galena, IL
ATV:
Suzuki LT-R450
Occupation:
Pro ATV Racer
First ATV:
Kawasaki Lakota
Started Racing:
14 Years Old
First Year Pro:
2005
Favorite Racer:
Tim Farr
Favorite Food:
Chicken
Chad Wienen catapulted himself into the spotlight in 2007 with a career first pro podium finish at the AMA Pro ATV Motocross season opener at Mill Creek in Alabama, and he followed it up with dominant performance as Glen Helen and Oak Hill, but mechanic issues at both events would end his inspiring charges for yet another podium finish, but they were more than enough to capture the eye of Suzuki.
By the time Round 4 headed to Georgia, it was announced Chad Wienen would be added as the third man on the MSR / Pro Taper / Yoshimura / Suzuki ATV Motocross Team joining both Doug Gust and Dustin Wimmer to compete for the WPSA Championship, and didn't waste any time adapting to his new Suzuki LT-R450 ride.
At round 2 of the 2007 WPSA Season in his home state of Illinois, Chad Wienen, earned his 1st ever Pro ATV Win, which was the beginning for this rising star of ATV motocross. Wienen would go on to secure 4 more wins for a total of 5 out of 10 wins, which was more than any other competitor, but unfortunately for Wienen, a few mechanical issues would shattered his hopes for a championship.
But no sooner than the 2007 season ended, Chad Wienen was already preparing for 2008 WPSA race season, and he spent most of his time in Florida training at Tommy Tantillo's Motocross Track with several other Pro ATV motocross racers.
Suzuki's and Chad Wienen's main focus for 2008 was going to be the WPSA Series, but they fortunately decided to run the opening round of the 2008 AMA Pro ATV Motocross season till the WPSA season kicked off in May, and Chad Wienen picked up where he left off in 2007 with yet another season opener Podium finish at Glen Helen, and he was once again chasing after a Podium finish at the at both Mill Creek & Ballance Moto X, but after impressive moto one finishes, Wienen was sidelined in the 2nd moto at each event, which dashed any hopes for another podium finish.
Suzuki's Chad Wienen kicked off the 2008 AMA ATV Motocross season with a Podium finish, but it would be last time he would make a podium appearance until round 9 at Red Bud, and Wienen would claim his 2nd straight win at Loretta Lynn's to end out the 2008 AMA Pro ATV Motocross season
Chad Wienen's luck went from bad to worse when a crash during practice injured his shoulder at Round 4 and to top it off, the 2008 WPSA season was cancelled, which meant he wouldn't even have a chance at a fresh start in the series he planned on chasing after the championship.
Chad would continue to race with his injured shoulder at the next two rounds with lack luster results, so it was decided that he sit out Unadilla to allow his shoulder time to heal, which proved to be a smart move because would make his return with a top 5 overall finish at Muddy Creek, but he wasn't finished. Chad would go on to Podium at Red Bud and wrapped up the 2008 AMA Pro ATV Motocross Season with an Overall Win at Loretta Lynn's, which let everyone know a healthy Chad Wienen was back.
The 2nd Annual AMA Pro ATV Open Championship at Steel City gave Chad Wienen his opportunity to seize the last remaining 2008 championship, and he was ready for the challenge as he dominated the field with the fastest lap-times on the very technical track, and more importantly, he took the checkered flag to claim the win and his first ever Pro ATV Championship.
After Chad Wienen's amazing performance at Steel City, we had the opportunity to interview, and here is what he had to say: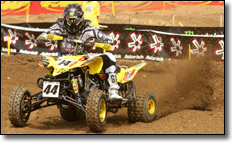 Chad Wienen was on the gas at Steel City leading the ATVs in practice and timed qualifying by securing the fastest lap-times on 4 wheels, which was among the top 10 on AMA Pro Bikes
ATVriders.com: Chad, you had a great race at Steel City. How does it feel to come to an event like this and take the win?
Chad Wienen: It definitely feels good! I really worked hard. This year didn't start off too well for me and it really means a lot to me to come out here and win.
What did you think of the event this year compared to last year?
Last year was good, especially because it was the first year, but this year, there were more people watching with everyone racing on the same day. The bikes put on a good race, but I think the quads were one of the best races of the day to watch.