Interview: Bryan Baker - Factory Polaris GNCC Pro ATV Racer
Bryan Baker - Ten Quick Facts

Birth Date:
10/13/1972
Height:
6'11"
Hometown:
Knob Noster, MO
ATV:
Polaris Outlaw 525
Occupation:
Warehouse
1st ATC/ATV:
1987 Mojave 110
Turned Pro:
1996
Favorite Track:
Steele Creek, NC
Thumb /Twist :
Thumb for sure!
Hobbie:
Hunting
When did you first start riding ATVs?
14 years old in 1987

How did you get involved with ATV racing?
I saw a flyer at my local cycle shop for a local Hare Scramble and told Dad I was going to go race. He said "No your not" and I said "It's my bike and my truck, yes I am. If you want to come you can." I raced in jeans and a t-shirt with tennis shoes and a helmet and Scott goggles with no tear offs or roll offs (what are they?). I had no gloves, boots, spare tires or spare parts and was only 30 seconds down from the overall at the end of the race.

What was your first GNCC event? What Class did you race? How did you do?
In 1993 (20 years old) I went to the closest GNCC 8 hours away to Loretta Lynn's and raced in the Open A class and got 3rd and have been hooked ever since. Most GNCC's are about 14 hours away one way
on average!

When you turned GNCC Pro ATV Racer, what ATV did you race and how did you do your first year?
In 1997 at 24 I started racing in t he Pro class on a Leager 250R and ended up 6th overall for the season.

What is your most memorable GNCC race?
In 2005, at the Unadilla, I ran 3rd overall all day and that was awesome!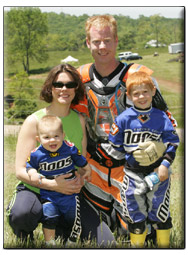 Bryan Baker & Family(Wife, Autumn, Sons Zachary(2), Kolby(5)
What was the scariest thing to ever happen to you during a race?
In 2001, I raced a Yamaha YZF 400 and hooked a rose bush and flipped going up a steep hill behind Chris Borich. I was knocked out for a little bit but got back on and finish the race but still to this day I do not remember finishing. I took a trip to the hospital in the ambulance with my wife and asked her about 50 times, if I finished the race during the 13 minute ride to the hospital.
What are some of your career highlights?
Racing for factory teams like Polaris and Kawasaki.
What was your best GNCC National Number and the year(s) that you
earned it?
I have stayed in the top 10 since turning pro but have held the #6 plate for three years, 1997, ? and ?. I'll have to go look them up!
You switched from the GNCC Pro Class to the Pro Production Class in 2002. What made you decide to race in what was at that time a new class?
I talked to all of my main sponsors and we felt that it would be good publicity and I was fairly confident that I could win that class.
How did you end up doing that year?
I finished 1st in Pro-Production and 8th Overall but I did not get a chance to race the last 3 rounds due to a back injury.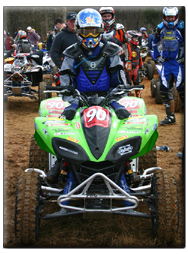 2004 Bryan Baker on the Kawasaki KFX700 VForce in the GNCC Open A Class

After winning the GNCC Pro Production Class in 2002, why did you decide
to take the 2003 season off?
I needed to build a house for my growing family and I did not have enough time and money for both. Did you do any racing in 2003?
Mike Penland brought a Kawasaki V-Force to Loretta Lynn's for me to race but the tank had a leak and I ran out of fuel.

When you returned to GNCC racing in 2004, you raced the Open A Class on a Kawasaki KFX700. What was that like? What did you learn from that
experience?
It was a lot of fun to ride the KFX 700 but Kawasaki did not want me to run it in the Pro class. There was no way that I could have come back without some support. I really appreciate what they did for me.

::CONTINUED::