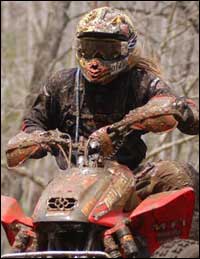 Andy Lagzdins emerges from the woods at Steele Creek.

The GNCC summer break seems like a great time to take some time off from the day-to-day preparation needed to race this series and just catch up on things like work, the family, the house, and of course let your wallet swell back up so you can run the rest of the series! Well, it just doesn't seem to work like that. All those promises you made to your wife or girlfriend involving weekends together doing nothing, non-race related vacations, family celebrations on Sunday afternoons, fixing up the house or cleaning up the yard- they somehow get scaled down to dinner and a movie. It's just the way we are because racing is such a powerful addiction, and I'd put it up against the most addictive drug any day. Racing will make you work overtime every night for weeks, make extra cash on side jobs, burn up vacation days, sick days, personal days, wheel and deal for parts, take out loans, max out credit cards. Sometimes everything else gets pushed aside to chase the dream of a GNCC race win or even a championship. It's that dream that gets me motivated everyday to train, ride, work and ultimately makes me a better person because of it.
There's something about racing that will make you do whatever it takes to get ready for the next event, and when your trying to beat Bill Ballance, it's a 24-hour a day job. The one rider who seems to have a shot at dethroning Bill is Chris Borich, and Chris is on the 24-hour plan for sure. He is always racing; even if it means traveling hours to go to a district race on an off weekend. Chris' dad Joe believes that the best practice is racing, so they are always going to an event. Their approach was obviously working when Chris won the opening two rounds of the series to open up a good lead and strike fear into the hearts of Ballance fans everywhere. Bill had an answer for Chris and won rounds 3 and 4 in Georgia and North Carolina to put the two championship contenders tied in points going into the South Carolina Big Buck GNCC.
Big Buck was one of the closest races I can remember. All the pro riders were lapping within seconds of each other, and at the finish 3rd through 9th place overall were separated by less than a minute. The battle between Chris and Bill pushed them a minute ahead of the pack, with Borich coming out on top and taking over the points lead. In my opinion, a consistent race course with minimal possible bottleneck areas makes for such a good race. People don't want to see runaway victories or big gaps between the top riders, they want to see last-lap battles and close racing action. I like the challenge of the mud bogs and monster hill climbs just as much as anyone, but close races are going to keep TV viewers interested and ultimately benefit the sport in general. It was good to see 4th place Bryan Cook do well close to home, and Bryan Baker stepped up with a 6th overall.
Andy Lagzdins at Loretta's Lynn's

Anyone who witnessed the river flowing through the Pro pits at Loretta's Lynn's knows how wet that race was, and I can't remember the last time a GNCC was shortened due to a muddy/wet track, or when the last time was that the pro pits were moved into a space about the size of two semi's, in a wooded valley no less! You have got to give it to the Racer Productions crew for pulling off this event in the conditions they were dealt. The race did shake up the overalls a bit, with Yokley winning and Ballance picking up a few points on Chris. Jeremy Rice had a great race for second overall, and Johnny Gallagher made his way back into the top ten after a rough start to the season.
What seemed like alot of mud in Tennessee ended up being nothing like the mud in Ohio at the John Penton GNCC. Thick mud all the way through, ruts up to your footpegs, bottlenecks so long you couldn't see the front of them. Faster lines formed alongside the woods in the fields and it was anybody's race. Johnny Gallagher put his mud skills and home track knowledge to good use and led the race until Pro-Am prodigy Adam McGill took his turn at the front and looked like he just might pull off a phenomenal win, but Bill Ballance rode smart and reminded everyone that he is the man to beat. Chris Borich's Honda succumbed to the mud and started to overheat, resulting in an unfortunate 15th overall. The mud is considered the great equalizer, and this race showed that was true as only 7 pro riders finished in the top 20. Also, a blaster won 2 stroke A! One racer that had to feel good about his finish was Chad Duvall, who rode like we all know he can to a 5th place overall finish.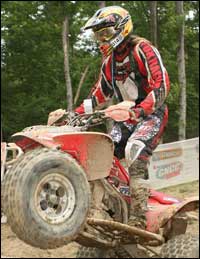 Andy Lagzdins conquers an obstacle at the Mountaineer GNCC

On to the Mountaineer GNCC in Summersville WV. This track has a lot of field sections which makes it a fast one, and the heat and dust would also be a factor. A made for TV section called the "Doomsday Downhill" was thrown in and alot of racers were concerned about negotiating the log-strewn downhill with a small mud bog at the bottom. The fields always make for exciting racing, and I'll have to say this was my best race of the year. I was able to get a top 5 start, and when I passed Smiley and Yokely on the hillclimb option, I found myself in 3rd overall! I tried to ride clean and not make any mistakes. When I came through the barrels and down the pro pit straight, I had about a hundred thoughts going through my head, and obviously negotiating the turn at the end of pits was not one of them. I spun out on the freshly watered grass and let Chris Jenks get around me. I held 4th for a few laps and eventually finished 6th for my best finish in years. Bill and Chris battled to the finish once again, with Bill making the last lap pass to win the race and gain valuable points. 3rd place Chris Jenks had a fairytale day, with a podium finish in his hometown race. Brandon Ballance was on the gas with a 4th overall.
Bill Ballance had now opened up a good gap in the series standings, and a win at the last race before the summer break would make his "time off" more enjoyable, I'm sure. If you could only go to one quad race a year, the Wisp GNCC in McHenry MD is the one you have to go to. The challenging track, the spectator-friendly facility, and the vacation atmosphere makes this race the must-do event on everyone's list. It's only 2 hours from my hometown of Baltimore, and I always close my shop down and have my guys come up and hang out with my family and friends. As an added bonus to my already great season, my image was on the event t-shirts; and after 16+ years of racing the series you had better believe it felt damn satisfying! The track was plenty rough, and I heard quite a few complaints about the damage that the rocks had done to the ATV's. In the four years at the Wisp, I have broken major components twice and finished in the top ten twice. I think that the tough track makes it that much more of an achievement when you do have a good race. Bill was able to win, and opened up a huge points gap after Chris Borich's unfortunate crash and injured collarbone resulted in his DNF. Matt Smiley was shredding the mountains, and after leading for a good portion of the race, finished 2nd overall and on the podium for the 4th time this season. Polaris must be proud. William Yokely bounced back from his WV fiasco to finish 3rd.
The top twenty overall are sorting themselves out, and starting with the Yadkinsville NC GNCC the final run to the series finish will begin. The Unadilla race is also a new addition to the series, and no one has any experience there. The Ironman in Indiana is always a tough race to end the series with, and we can only hope for a close finish in the points race.
So what am I doing on my summer vacation? Trying to catch up on work at my shop, riding my quad and bicycle as much as possible, rebuilding my quad for the last 4 GNCC's, hitting local races every weekend and I almost forgot- dinner and a movie!


www.gnccracing.com
122 Vista Del Rio Drive,
Morgantown, WV 26508
304-284-0084