::Part 1::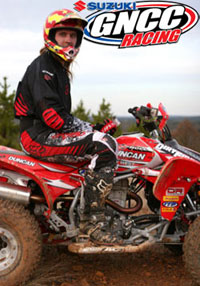 GNCC Pro #14 Andy Lagzdins
Going into the first GNCC race of the year you just don't know what's going to happen. You can prepare your quad with all the latest and most cutting edge parts and practice more than you did last year, but you just don't know how much the other guys have ridden and how good they have set their quads up. Every time I miss a weekend of riding during the off-season because there's two feet of snow on the ground, I imagine the other pro's hammering out laps around a whooped out track in sunny Florida. This winter
I was determined to ride in any conditions, no matter how many layers of clothes I had to wear or how many foot warmers I had to stuff down my boots. I talked anyone I could find into riding with me just in case I got so iced over that my hands needed to be chiseled off the grips. You know you are dedicated when you get up out of a warm bed at 5:00 on Sunday morning and drive two hours by yourself to ride your quad in 20 degree weather in the middle of nowhere. Anyway, I rode alot this winter. I had that covered.
It's been a season-beginning tradition for me to finish putting my new quad together in my trailer the morning of the first GNCC. Looking back, I still don't know why I could never seem to get it together with a few days to spare. This year was going to be different. I had tested my Duncan big-bore motor all winter, and built a brand new motor for Texas. I had my suspension tested and a brand new set of Elka shocks and Laeger a-arms ready to go. We had run the Honda the majority of the 2004 season and knew what it was all about. That's when a Roll Lobo front end and swingarm showed up at my door, three weeks before Texas. It was very last-minute, but the stuff is so rare and works so good I had to use it. The swingarm
length, a-arm width, a-arm forward extension, and shock length were all different. And I didn't get the front shocks until Friday afternoon in Texas! My concern while driving to Texas was that I wouldn't have enough time to set-up the shocks, or that it might rain and I won't be able to adjust anything before the race, or that the shocks would get caught up in shipping, it was just eating at me because I had really tried to be prepared.
Practice was starting in Texas, and I was bolting on my shocks. Ethan and Sam from Elka were at the track and helped me set-up the quad. I rode with Santo Derisi and Todd Knippenberg in practice and felt good, but it was only practice. We made quite a few changes to my quad and it kept getting better. After putting in a bunch of laps I felt good with the quad and decided to go with it for the race. Everything seemed to be coming together and I slept good that night. I felt more ready than ever for the opener.
The weather held out for the Lone Star. Temps around sixty, a little dusty, real good weather for racing. The Ballance brothers looked ready on their YFZ's, Chris Borich had been winning everything during the off-season, Yokely's program looked fresh, Matt was on the factory Predator. Everyone lined up and the tension was thick. My quad was ready, I was ready. When the green flag went up, it was almost like a big weight was lifted off my shoulders. I went into the race just telling myself I would ride like I did at my practice track all winter- comfortable and having fun. I didn't sweat a mid-pack start, but instead just started passing people and throwing my quad around and having a blast. I came through on the first lap in seventh place and told myself that this was where I wanted to be! I came up the Chaos Canyon section, and Bryan Cook made a slight mistake in front of me and I was still moving up. Then came Matt Smiley. Matt had an unfortunate key switch problem on the start line and started almost last. He came up on me at the halfway point, and he was pressuring me HARD. I rode all-out to stay in front of him, but he came by and I just let him show me the way. Chris Jenks was dropping off a little at the end and I got to within half a minute of him, but couldn't catch him. Santo was riding hard and finished fourth, which I'm sure made his ride home real good. Bill and Chris were in
a league of their own and battled right to the finish, which makes for a great race to watch. I ended up seventh, my best overall finish since 2000, and drove for 12 hours straight when we left the track! I was happy!
Still pumped up from Texas, I went to Florida for Round 2 hoping for another good race. We tested in New Jersey in the sand whoops trying to prepare, but I knew I hadn't been riding enough whoops during the winter. During practice it was apparent that the race would be all sand whoops for two plus hours, and whoever was in shape and had the best sand setup would win. I prepared for the worst: blister resistant gloves, wide and stiff kidney belt, padding on my throttle housing, and padded underwear. All I could picture was me going through miles of whoops dangling off my handlebars like a soggy noodle.
Race was beautiful- sunny and warm. My motor was strong, my suspension was top-notch, my health was good; I felt ready. My quad didn't start on the line. When I made it to the first turn, it was just a dust cloud. My determination for a good finish just took over. Every straight I tried to get on the gas sooner and going into every turn I used the brakes later. It seemed like riders were just pulling over for me. Within the first two laps I got up into the top ten and then it hit me. The energy I had spent getting through the pack took its toll on me. The first signs were burning palms and sweat running down the inside of my goggles. Then I hit the chin of my helmet on my crossbar three times in one straightaway. I knew I was in full-blown survival mode when my tongue got caught in my steering dampner. I thought for sure people would start passing me left and right, but I kept on it and finished ninth. Chris was the man again and showed he is the one to beat this year. Brandon Ballance had a great ride to second in a really rough race, he is surely in excellent shape. Matt Smiley putting the Polaris on the podium was one prediction that few had made before the race. Matt is such a smooth and consistent rider, he could probably win on anything.
Georgia looked to be the first true GNCC-style track of the year. Tight woods, mudholes, hills, some motocross- the track had a bit of everything. Borich was looking to make it three in a row for sure. Bill was needing a win. Brandon was ready for another podium. There are so many fast riders capable of leading and winning. The TV section was a mudhole with an optional long way around. The weather was dry on race day, but there were plenty of muddy sections. My quad had ran flawless at the first two races, and I was looking to stay consistent and stay out of trouble.
The start in Georgia was on the MX track, and Chris Jenks used his auto-clutch equipped big-bore Honda to put him out front on the start. Bill, Chris, and William were all in front and running close. My first lap ended with me in sixth place. I spent alot of the first few laps dicing with Matt. I was able to read the pitboard they were showing him in the woods telling him his current position. Brian Baker is back and he is going good. He's been a top rider for a while and judging by the way he was
riding in Georgia he is up to speed. Mike Houston and Santo passed me and I thought they would get away for sure, but on the last lap we came up to the little bridge at the six mile marker. There were about 20-25 guys just lined up in front of it. I went around the line of quads through the weeds and put myself right at the damaged bridge, with Houston and Derisi right in front of me. Houston tried to go left and got hemmed up bad. Santo was looking for a while to find a good line. One lapper that was stuck sideways in the ditch just walked away from his quad! Santo made a run just to the left and looked like he was going to make it. He got his front tires on the far side of the ditch and then he rear tires just augered their way into
the mud. He was stuck bad. I had sized up a part of the ditch to the right of the bridge that had some logs in it, and even though it looked sketchy I went for it. I preloaded the shocks and held the throttle on and somehow I went right across it. Getting through the jam gave me a boost and I finished up in ninth again. Jenks had some brake problems and dropped to third at the finish, with William right behind. It makes you wonder if Jenks might have been able to hold onto the lead without the mechanical problem. Borich and Bill swapped spots all the way into the last mile, and Bill made a pass that gave him a hard-earned win and a boost of confidence.
Brandon came back from a last place start to finish fifth, another good showing.

This season has started off great for me and alot of it is the result of good support from great people. Duncan, Roll Design, Elka, ITP, IMS, Fox, Tireballs, and of course DirtFirst have really stepped up their support and helped me immensely. My winter riding schedule has paid big dividends and looking back I wonder why I didn't get up earlier to go riding! The GNCC's are getting huge! New faces, RP's own camera crew, made-for-TV obstacle sections- when I step back and look at where ATV racing is now compared to where it was in ten years ago, it is truly inspiring. When I started racing back in 1989 -when ATV's were getting a bad rap from Ralph Nader and the Consumer Product Safety Commission, when 3-wheelers were being outlawed, and when the sport quads were disappearing- I thought I had missed out on the golden age of ATV racing. Now quad racing is growing, and 2005 is the
best year yet. Record turnouts, factory involvement, race coverage on OLN, I am thankful to be a part of ATV history in the making, and it is satisfying to have watched quad racing rise up to the level it has in the 2005 GNCC series.

www.gnccracing.com
122 Vista Del Rio Drive,
Morgantown, WV 26508
304-284-0084