Adam McGill: 2009 FRE / KTM GNCC XC1 Pro ATV Racer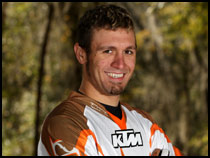 #3 Adam McGill - Quick Facts

Birth Date:
5/29/1987
Height:
5' 10 "
Weight:
160lbs
Hometown:
West Union, WV
ATV:
KTM 450XC
Adam McGill has been involved with ATV's for his entire life. Inspired by his dad's racing efforts when he was growing up, McGill set out to show his dad that he could win too, and in 2005, McGill claimed his first championship.
Although McGill was serious about racing back then, in 2008 he took it to a whole new level when he was approached by Tim Farr and KTM, to come aboard as a factory rider for their first year team. McGill jumped at the opportunity and began a rigorous training schedule, dropping a surprising 30 pounds in the process.
The new lean and mean McGill also took his riding skills to the next level, winning four out of the first five rounds. After round five McGill was a contender for the championship, but some inconsistent finishes put him in third at the end of the season. McGill's third place made him even more determined to be on top in 2009, so McGill trained hard in the off season, working on his consistency.
#3 Adam McGill took over the points lead after Round 5 with his 5th straight XC1 Podium finish, and McGill is the only racer to Podium all five rounds of 2009, but McGill has yet to win a race in 2009
McGill's efforts paid off and at round number five of the 2009 GNCC series, at Loretta Lynn's, Adam McGill took over the pro points lead and is gunning for his first pro GNCC championship. McGill has been looking strong all season and is riding at a whole new level. "I've been training really hard, and this year I feel a little more comfortable with the bike, knowing what to expect from it. I think I have also matured a bit as a rider and that has helped me to keep my focus and ride smarter," said McGill. "Also having Tim (Farr) there really helps a lot as well. He is always on top of things, which really takes a lot of pressure off of me," he added.
| | |
| --- | --- |
| | |
McGill's main goal for the season is not necessarily to win every round; although he admits that would be nice, McGill's ambitions are a little more realistic. "Anything can happen at a GNCC race and everyone knows that consistency is key to winning championships. I just want to be somewhere on the podium every round," said McGill, who couldn't be happier with his current points lead.
2009 FRE / KTM GNCC ATV Race Team Links