YFZ450 & Raptor ATV Links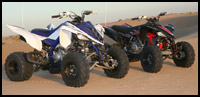 2007 Yamaha Special Edition
Raptor 700 & YFZ450
Glamis, CA
- Over the past several years, Yamaha has released its first run Special Edition models in August, which is followed up by an additional color choice at the beginning of the new year. In celebration of Yamaha's late release Special Edition models, the media is invited out to the Glamis sand dunes in California for a few days of fun in the sand, and 2007 was no different except from some of the features on the 2007 Yamaha Special Edition ATVs.
This would personally be my first adventure with Yamaha to Glamis as in the past, I sent ATVriders.com West Coast Editor, Roy Bloodworth, to these events, but after an arctic blast in the North East, I was ready for some warmer weather and signed up for the long trip out west to escape the ice box. Unfortunately, Mother Nature wasn't cooperating as heavy snow blanketed the airport, the morning of my flight, which caused massive delays and cancellations, but fortunately, my flight wasn't cancelled. I would spend several hours sitting on the runway waiting to be cleared for take-off before my trip would begin to California.
Within 24 Hours, I went from a snow storm to the sand dunes of Glamis relaxing in a Weekend Warrior Trailer with miles of dunes in our backyard instead of nearly a foot of snow back home.
After spending the entire day traveling, I was thrilled to have finally arrived in California, and the next morning, we loaded up and headed to Glamis. When we arrived at the Dunes, we greeted by a row of Weekend Warrior Trailers provided by Camp'N Style a RV travel trailer rental & delivery service. They service Glamis, Gordons Wells, and Buttercup Sand Dunes along with several beach locations, and they provide everything you need for an enjoyable camping experience besides the food.
Once I unpacked in my Weekend Warrior crib, it was time to check out Yamaha's Special Edition Sport ATV models, which now only includes the Raptor 700 and YFZ450 with the Banshee 350 retired from the Yamaha lineup for 2007 after over 20 years of production.
Both the Raptor 700 and YFZ450 received major updates in 2006 with Raptor being completely reengineered and the YFZ450 receiving a over 80 changes, so for 2007, the changes to both models were more subtle than the prior year, but there were still some minor improvements and features added to each.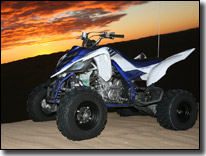 Yamaha Raptor 700 SE
When the Raptor 660 was first released in 2001, it set the bar for high performance sport ATVs, but it quickly became a dinosaur as the other manufacturers began raising the bar even higher, and the Raptor lost its luster, but in 2006, the all new Raptor 700 reclaimed its spot at the top of the food chain in the big bore sport ATV market. The Raptor 700 was a completely new beast with a hybrid frame and fuel injection, which was coupled with a lower center of gravity and dramatically improved suspension and handling.
For 2007, the Raptor 700 remained virtually unchanged besides the addition of a new front brake master cylinder featuring an adjustable lever and a drilled rear brake disc. Also , the Raptor was now available in Grey with a red translucent frame. On the other hand, the Special Edition Raptor 700 received few more potent upgrades with the addition of the YFZ450 type piggyback front shocks along with high and low speed compression adjustments on both the front and rear shocks. This was exactly what the doctor ordered for the Raptor 700 because it made this already fun ATV to ride even better especially in harsh riding conditions because shocks not only performed better, they also didn't fade after an extended ride on the sand dunes, and is well worth the $450 increase in price over the base model with the SE priced at only $7,649
| | |
| --- | --- |
| | |
| PiggyBack Front Shocks with High and Low Speed Adjustment | New Front Master Cylinder with adjustable brake lever |