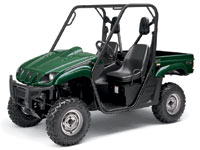 2007 Yamaha Rhino 660
San Diego, CA
- In 2004 Yamaha released a revolutionary side by side that soon became the latest must have item for all off-road enthusiasts. The Yamaha Rhino was a completely new spin on the once defined Utility Terrain Vehicle segment, not only accommodating the traditional farming and working market, but now offering performance and handling worthy of the recreational buyers, which spawned a new off-road trend.
Yamaha's Rhino 660cc offers an abundance of features that has put it at the top of the UTV ranks. From its first in class independent double wish bone rear suspension offering 7.3 inches of wheel travel allowing for the occupants to stay out on the trail longer with out fatigue to its incredible 400 pound bed and 1212 pound towing capacity making the Yamaha Rhino a true utility brute, but if you think the Rhino 660cc is a little too much for your needs, then Yamaha still has the right UTV for you.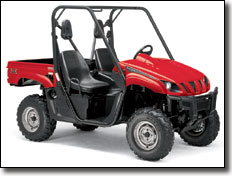 Yamaha Rhino 450
Since 2006, Yamaha has offered the same great vehicle, but with a smaller 450cc liquid cooled engine that can get the job done. Yamaha is constantly on top of consumer's needs and wants, and years ahead of their competition. Looking through history, they were the only company offering a high performance sport quad, the legendary Banshee, for years while others had nothing in their line up to compete. Yamaha was also first in motocross four strokes as they offered the YZF 400 back in 1998 long before anyone else. Again, Yamaha was the first large corporation to offer a true high performance liquid cooled four stroke ATV incorporating their premium performance motocross technology in the YFZ450. So why would you expect anything less than top quality products from the industry leader? It doesn't disappoint. The Yamaha Rhino 660cc has left the competition scrabbling to release their own performance driven UTV.
So, just what is it that has allowed the Yamaha Rhino to excel? Versatility. It was engineered with everyone in mind as a potential consumer. As mentioned previously, the Rhino has great cargo capabilities as well as performance driven suspension, but that is just the beginning. Going out on an all day excursion is not an issue with the Rhino. Inside the cab there is definitely some leg room, and at 6'3", I am not at all uncomfortable in the driver's seat for hours on end, although there are some other UTV's with a slightly increased amount of leg room.
| | |
| --- | --- |
| | |
Sitting side by side in a vehicle as narrow as the 54.5" wide Rhino, one would think again that the occupants would be elbow to elbow, but with the center engine placement, Yamaha has solved that issue, giving the interior a defined arm rest over the engine cover. But the passenger compartment does have its draw backs. Definitely the biggest problematic area for the Rhino is the flat floor where your feet can tend to slide around unless they are firmly planted. In many cases this can prove dangerous as unsafe operators and passengers have rolled their Rhino's (most likely due to operator negligence) causing their legs to tumble outside the vehicle which has led to injury and in some cases caused some broken bones.
| | |
| --- | --- |
| | |
| Aftermarket solid leg minder, which is bolted to the frame, so the passenger must step over the lower fender, but the advantage is that it produces no riding noise | Yamaha's new door panel, which can be installed on any Rhino free of charge from Yamaha, which open and closes, and it is highly recommeneded for all Rhino owners to install |
However, there has been a quick and cheap cure for this problem. Many aftermarket companies have been offering "leg minders" to help enclose the cab and keep everyone safely inside the vehicle, and just recently, Yamaha has announced that all new Rhinos will now come with doors, which they will also install on previously owned Rhino for free, so existing Rhino owners should contact your local dealership for more information.
::CONTINUED::