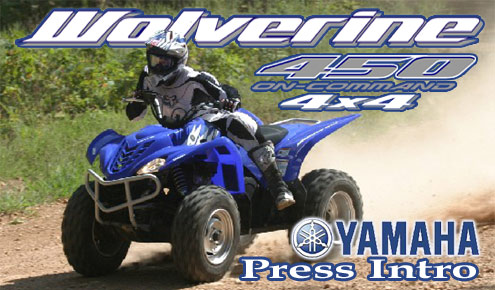 Wolverine 450 Links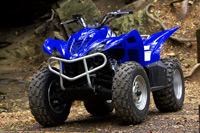 Branson, MO – For atleast the past year, the Yamaha engineers have been extremely busy redesigning several of their ATV models for 2006, and the Wolverine was one of the machines on Yamaha's list. When the Wolverine was first released in 1995 as a sport utility machine based on a the extremely popular Warrior it was an immediate success in its class as it was one of the sportiest Utility vehicles ever produced especially with its 7.1 inches of suspension travel and spunky 348cc engine with a 6 speed transmission, which far exceeded what was available at the time from other manufacturers, but in the past decade the sport utility market has become very competitive amongst the manufacturers, and it was time for the Wolverine to receive a make over, so it will continue to meet the needs of consumers.

Yamaha set out to improve the Wolverine 350 with more power, better handling, and sporty feel yet still handle any terrain it encountered. To accomplish their goal they went with a different frame, engine, tires, and look. When they were finished, they ended up with the new Wolverine 450 4x4.

Of course, Yamaha wanted the media to experience first hand the redesigned Wolverine, so they invited us to the a popular tourist area of Branson, MO, which is located less than a hours drive from the Ozark Mountains and the Mark Twain National Forest, which provided the perfect location for testing with its dense woods, hill climbs, mud, and plenty of rocks to crawl over in the process.

The Wolverine 450 with its optional rack and hitch you might consider this a utility quad, and especially with its towing capacity now over 1,100 pounds, but would you expect a utility quad to be slide through the turns and jump as well. Yes I said jumps. Now I wouldn't take it to your local motocross track and start seeing how far you can launch it, but with it's sport tuned suspension it definitely is capable of handling the smaller variety of natural terrain jumps that you normally encounter when trail riding, so lets take a closer look at all the changes Yamaha made to flagship sport utility.

Engine/Transmission

The left front fender mounted four position shifter allows for convient shifting from forward, neutral, reverse, and park

The Wolverine's air-cooled 348cc engine has been replaced with a more powerful liquid-cooled 421cc engine equipped with the fully automatic Ultramatic® transmission with its automatic centrifugal clutch, which maintains engine belt tension for all-wheel downhill engine braking, and it provides a plenty of power to climb the most rugged terrain with its front and rear shaft drive system.

During our test the system worked exceptionally well as even at low speed the Wolverine had plenty of pull to get it over about everything we threw at it while exploring the Mark Twain National Forest. The engine braking engaged quickly once you let off the throttle, and in four wheel drive you have all wheel engine braking for unsurpassed control on steep descents.

When we weren't rock crawling the Wolverine, we were blazing down the trails just as if we were on a true sports quad as the engine was very responsive and had plenty of power through the its rpm range even with a smaller Mikuni 33mm Carburetor compared to the 34mm on the 2005 model, and with its automatic transmission, all you have to worry about it applying the throttle unless you wanted to switch between two and four wheel drive or reverse.

The Wolverine's other new feature includes its left front fender mounted four position shifter which allows you quickly go from forward, neutral, reverse, or park, and switching between 2x4 to 4x4 modes couldn't be easier with the On-Command® push button system mounted on the handlebars, which allows you to keep your hands on the handlebars when need the power of all four wheels to tackle the obstacle ahead.
| | |
| --- | --- |
| | |
| The left front fender mounted four position shifter allows for convient shifting from forward, neutral, reverse, and park | On-Command® push button 4x4 system mounted on the handlebars puts 4 wheel drive within thumbs reach without letting go of the the handlebars |
Tires/Suspension

All new Maxxis tires developed specifically for the Wolverine 450 mounted on 12" aluminum wheels provided plenty of traction and handled predictably

Yamaha choose to keep the same size tires front and rear for the 2006 Wolverine, but that is all that remained the same as this year Maxxis developed a low profile radials with squared off edge specifically designed for this new breed of sporty utility, and they come mounted on 12 inch aluminum wheels to save weight. We notice the odd looking rear tire right away, and wasn't sure how well the design would work. After about thirty minutes on the machine it was very evident they had hit the mark right on. It cornered similar to a sport machine yet still handled well through the trails. It was a little stiff when just cruising around, but the real test was when we started doing some rock climbing, and they surprisingly provided plenty of traction along with the fronts in four wheel drive mode as this tire/wheel combination proved effective during our testing.

The Wolverine suspension remains one of the few things unchanged from last year as it continues to have 7.1 inches of travel with five preload adjustments front and rear with sporty a-arms in the front and swing arm and straight axle in the rear, which provided a sporty feel and plenty of travel for trail riding, and even enough to catch some air over some of the small obstacles we encountered in the woods, but I still wouldn't be taken the Wolverine to the local motocross track, but for your every day trail riding the suspension worked flawlessly.

Chassis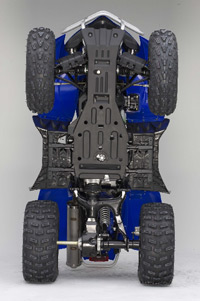 The under belly view of the new Wolverine frame adopted from the already proven Kodak

The engine and transmission weren't the only things the Wolverine and the Kodak have in common as they also both share the same frame, which gives the Wolverine same wheel base of 48.5 inches and along with it came a dramatically improved turning radius of 118 inches over the 2005 Wolverine with its 153.5 inches turning radius, which is a substantial decrease for add mobility in the woods. Even though the Wolverine weighs in almost forty pounds heavier than last year, it turns great and the front end has much lighter steering and even in four wheel drive mode it still was very easy to turn. In fact there were a few time I left it in four wheel drive and didn't even notice. The steering felt sporty as opposed to a normal 4x4 or utility machine, and with its 8.7 inches of ground clearance which remains the same as last year, we found it to be plenty enough to allow us to navigate through the trails.


Ergonomics/Styling
The new Wolverine looks very different than its predecessor with its Raptor inspired styling and removal of its dominate rear rack system. Also the foot pegs have now been replaced with integrated floorboards since shifting is no longer an option, and the new floorboards provided a very comfortable feel for a long day of riding.

A new sportier seat was also added and after an all day ride we had no trouble sitting down later that night. It provided plenty of room to move around when it came time to shift position for some of the rough terrain. The plastic did a good job of blocking mud and water as we traversed some small mud holes along the trail.
| | |
| --- | --- |
| | |
| Yamaha Raptor inspired front fenders shown with the optional graphics kit and GYT-R front bumper | A rear rack is no longer standard equipment on the Wolverine, but a smaller aluminum optional rack is available through Yamaha |
Our Conclusion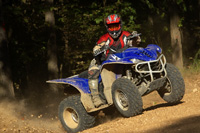 The new Wolverine was a blast to ride and is a great all around ATV, and if your in the market for an ATV and can't decide on either a sport or utility ATV, the Wolverine is for you

There isn't much that I can say that wasn't said already. This new 06 Wolverine 450 is a very well balanced machine, which is capable of going for a leisure ride in the woods, a hunting trip in the mountains or even a little rock climbing. This is a machine that handled almost everything we did on the trails in two wheel drive, and when it didn't the 4x4 On-Command® push button was at our finger tips and we were on our way again. Just knowing you have the 4 wheel drive option at your finger tips is very reassuring, and our only complaint was that the rear brakes did seem to glaze up and start squealing after extended lengths of slow light pressure, but cleared up easy with a couple higher speed hard grabs of the lever. Even with the noise there was still plenty of stopping power.

Once again, Yamaha truly did their homework when they re-engineered the Wolverine, and it remains a great all around sport machine that is a blast to ride, and with a list price of $5,999 it priced competitive with other models available in its class.