Yamaha Grizzly 450 EPS Links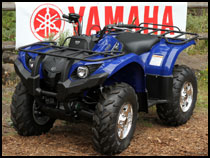 2011 Yamaha Grizzly 450 ATV
Olympia, WA
- While Yamaha frequently gets a lot of attention for their performance / sport line of ATV's, the manufacturer's utility line of Grizzly ATV's is also one of the best on the market. With many new upgrades and improved performance, the 2011 Yamaha Grizzly line is sure to please even the most discerning consumers.
This year's Grizzly lineup includes the 700 EPS, 550 EPS and the new 450 EPS, which all include Yamaha's Ultramatic transmission, on-command 4WD, electric power steering, and independent rear suspension. All models are quite capable machines that are incredibly durable and reliable for working, hunting or just playing out on the trails.
One of the selling points that we find appealing about the Yamaha Grizzly line is that the Grizzly is manufactured in the U.S.A. at Yamaha's facility in Newnan, Georgia. In fact, by the year 2013, Yamaha will move all of its ATV production to the U.S from Japan and will be the first Japanese manufacturer to do so.

Yamaha selected the Capitol State Forest in Washington State as the test ride location for the Grizzly 450 EPS, which offers some great vista views of Mt Rainier on clear days
The Capitol State Forest trail system includes 166 miles of trails & 575 miles of dirt roads, which is spread over 90,000 acres in the "Black Hills" range
Needless to say we at ATVRiders.com were very excited to get the opportunity to attend Yamaha's press intro ride featuring the new Yamaha Grizzly 450 EPS and when we learned of the location we would be testing, we were even more anxious for the day to arrive. Yamaha has always been a supporter of OHV areas and continued its OHV Access Initiative grant program again in 2010, so it was only fitting that we would be doing our test ride at one of the OHV areas that Yamaha supports. The Capitol State Forest in Western Washington State recently received a grant in the amount of $6,000.00 for repairs and maintenance to their trail system bridges, and Capitol Forest is where we would be putting the Grizzly 450 EPS to the test. The Capitol Forest OHV area offers approximately 166 miles of trails, 575 miles of dirt roads, and backs up to the Straddleline ORV Park. The trail system is mostly tight, densely wooded trails that are challenging and fun for even the most experienced riders, and with most trails being a maximum width of 48", it was the perfect place to test ride the new, compact 2011 Yamaha Grizzly 450 EPS.
The Mid-size Yamaha Grizzly 450 EPS was right at home on the tight trails of the Capitol State Forest with many bridges only 48" wide & many of the trails are even tighter with over hanging brush