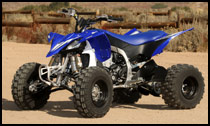 2009 Yamaha YFZ450R ATV
Gorman, CA
- In 2003, Yamaha was the first manufacturer to step up to the plate and produce the 450cc race quad, the 2004 YFZ450. Now that most manufacturers are producing 450cc race quads, the stakes have been raised and Yamaha has come out swinging once again with its newYFZ450R.
We made the trek out to Valencia, CA for Yamaha'sYFZ450R press intro and test ride that is taking place this week. With all the hype surrounding this new machine, we were very eager to check it out and see how it stacked up against the old YFZ450 and today, we had our chance.
Yamaha made arrangements for us to test out the newYFZ450R at Hungry Valley just outside of Gorman, CA. The scenic high desert terrain provided us with miles of wide open sandy trails and steep washouts that would challenge theYFZ450R's power and handling abilities.
In preparation for the YFZ450R test ride, GNCC Top 10 Pro ATV Racer, Jarrod McClure put in some laps on a brand new stock 2008 YFZ450 over the past month, so he would be familiar with the handling and power characteristic of the YFZ450 before making the trip out to California to ride the new 2009 YFZ450R
Once we hit the trails, one of the first things we noticed about Yamaha's new race machine was the handling. "It handles a lot better than the '08 YFZ450 I have at home," said ATVRiders.com test rider Jarrod McClure, who was getting his first taste of riding in the sand. This was Jarrod's first time on the newYFZ450R also and he had plenty of good things to say about it. "The turning radius is a lot tighter and the steering is really responsive. It goes exactly where you point it," he said. "I always felt like I was in control of the bike."
Yamaha has equipped theYFZ450R with new Dunlop tires as well. "On the older models, the stock tires have a lot of roll to them when you're cornering, but the new ones are a lot thicker, have less roll and seem to hold up pretty well. There were even a few times I hit some rocks out there and thought I was going to have a flat for sure, but that wasn't the case," stated McClure.
Unlike other 50" wide 450cc based ATV racers, the YFZ450R comes stock with 20" rear tires instead of 18" tires, but the 20" tires are the perfect size for trail riding where the extra ground clearance makes a big difference especially when riding over rocks and obstacles on the trail
Intended for the motocross track, theYFZ450R's suspension comes standard at almost 50 inches wide, which makes it seem very stable when cornering, but being a motocrosser at heart, the shocks of theYFZ450R seem to be a little stiff at first, but they can be easily and noticeably adjusted. "With just a few clicks you can soften them up quite a bit and it seems that they have more room for adjustment than the older models," McClure said. Once adjustments were made, the ride was a lot more plush and was quite suitable for the desert trails.
Jarrod McClure hit a few natural terrain jumps to test of the long travel suspension on YFZ450R, and it passed with flying colors as it soaked up the impact without any noticeable bump steer or harsh response
::CONTINUED::