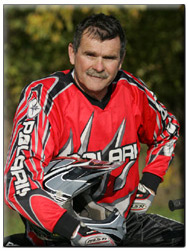 John Gallagher

I made the switch the all new Polaris Outlaw 500 at the beginning of the 2006 GNCC season after racing for years on $12,000 chromoloy frame CR500 rear link masterpiece, which was race proven. This 4 wheeler was very similar to the one Barry Hawk & Bill Balance won 11 or 12 GNCC Pro ATV Championships, so why would I ever consider going back to a stock quad? After all, the production rules don't apply to senior classes. The abbreviated version is that at 60 years old, I am just old and about worn out.

I first heard about the Outlaw 500 in articles describing how plush the new Polaris Outlaw 500 was to ride, and I was excited to finally have a chance to test ride the Outlaw 500 at the 2005 Ironman GNCC for myself. Afterwards, I was thoroughly impressed with the Outlaw and it appeared to live up to its media hype. Fortunately, Polaris offered me the opportunity to race the Outlaw 500 in the 2006 GNCC race season, and with my ATV racing career seeming to be coming to end because it was just becoming too painful and difficult to get out of bed Monday morning anymore, which was no longer acceptable. I decided to take them up on there offer because I figured that I didn't have anything to lose.
John Gallagher only made very minor modifications to his Polaris Outlaw 500 besides the normal aluminum accessories, kill switch, steering stabilizer, hand guards, exhaust, wheels, and tires. The only major modification was the replacement of the stock front hubs with custom modified Lonestar Racing Honda bolt pattern hubs, which narrows up the Outlaw front end by 2 inches..
Now one year later, I captured my third Super Senior GNCC Championship with the Outlaw 500 and raced numerous local races and spent many hours practicing, and I am pleasantly surprised with the machine and my ability to get out of bed Monday morning without the pain. Maintenance was minimal and extremely easy on the Outlaw, and to my amazement, for the first time in the 12 or so years that I have been on quads, no engine work was necessary and the engine was still going strong at the end of the season. The other nice thing was that I didn't need to make many changes to the Outlaw for it to be GNCC race ready. All four shocks remained stock with only preload or spring changes; the $2500 many racers find necessary to spend on after market shocks is still in my wallet. Of course, I added the many bolt on extras most woods riders have come to consider necessities: DG nerfs and bumpers, Scott's steering stabilizer, Flexx handle bars, Hiper wheels, and Maxxis tires. The only major modifications I made to the Outlaw was to narrow the front end, so I custom engineered some front Hubs, which narrowed up the front end two inches bringing it down to 46 inches wide. The extra two inches of clearance makes a huge difference when weaving through the trees, but besides this modification everything else remained virtually stock.
Most importantly with the independent rear suspension the ride was plush enough to get through one more racing season without the use of Vioxx. My back feels years better and I did say Vioxx not Viagra!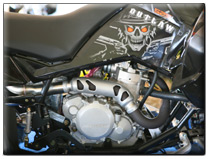 KTM Powered Outlaw 525

Enough about the 2006 Outlaw, the new and very much improved model is here, and I had a chance to ride it at the 2006 Ironman GNCC. After the Polaris guys humored this old man and handed over the new KTM powered Outlaw 525, I made quick work of swapping over all my personal accessories from my Outlaw 500 to the Outlaw 525 (flex bars, front shocks, twist throttle, custom front hubs, and Hiper Tech wheels), and I was off to pit race and a quick photo shoot.

Being a veteran racer, I should have known better, but in my excitement and with an audience, I started riding, clowning around, and feeling out the new ride. The first thing I found out was the torque and power of the 525 KTM engine is nothing to take lightly. After a few practice turns and starts, I came around a corner, grabbed a handful and all but lost control. I narrowly missed my truck, a stack of tires and 3 or 4 guys watching my first ride.
| | |
| --- | --- |
| | |
During the race, the engine continued to impress me. My jump at the start was not as good as usual, although I am sure we will be able to improve on jetting for better dead engine starts, but I was still able to drive around other quads with the twist of the throttle and entered the woods in 2nd place. The field sections were long and fast, and the KTM 525 engine was up to the task. As fast as I could shift, I was at top speed with no hesitation in 4th or 5th gear without waiting for the RPM to build to shift. I hardly think the average racer is going to have to modify this engine as it's plenty fast right off the showroom floor.
| | |
| --- | --- |
| | |
For 2007 the Outlaw has changed to Ryde FX shocks, but I didn't get a chance to test the front shocks because I switched them out with the shocks that I have setup on the Outlaw 500. I raced with the stock rear shocks, which worked well, but they were stiffer than I prefer, but we all know how personal shock setting are and are we ever 100% happy with are final choice of settings? Compared to a solid rear axle ATV the race would have been another 2 hour ride in the park except for that one tree I failed to avoid, which ended my day with a bent tie rod. You would think by now a racer of 33-years would pick and choose when to pass more carefully, but when some squid boy slams into your quad it never ceases to elevate your blood pressure.

Even though my race day was shortened, I couldn't help but notice the significant difference between the weight of the Outlaw 525 and the Outlaw 500, which I have been told is just about 35 pounds difference between the two. The quad has a lighter feel and ride, which makes it much easier to ride and use the extra power to lift over logs and ditches. The front end lifts easily with the twist of the throttle, no body english or pulling on the bars is necessary to clear objects, other added extras are a hydraulic clutch and duel piston front calipers, which makes for easier lever action on both sides of the handlebars and greatly improved stopping power.
The gas tank on the Outlaw 525 has also increased in size from 3.25 to 3.8 gallons, which should allow for racing a 2 hour GNCC without stopping and from my observations that engine didn't appear to be really thirsty beast. The one feature of the 2006 Outlaw that will be missed is the vacuum carburetor; it was great for dead engine starts.
In conclusion, all I can say is good job Polaris! I can't wait for the 2007 race season to begin, and too think that I thought my racing career was going to be over after 2005.
John Gallagher SR.
GNCC #209