The real game changer is the new Polaris Ride Command system. The first of its kind in a SXS, the touch screen system brings state-of-the-art automotive telematics to the off-road world. And it works…shockingly well we might add.
The 7" Polaris Ride Command screen is center mounted and easily accessbile by the driver or passenger with 5 large buttons below the screen to quickly navigate the various features
"I'm not afraid of technology, but it can be a hindrance, especially if it's too complicated," said Bulloch. "That is not the case with Ride Command. After spending just a few hours with it, I was comfortable with it. During the photo shoot, I found myself tinkering with the Ride Control more than I focusing on the photos."
The big seven-inch touch screen even works with gloved hands, and offers more functionality than we've seen before. The user interface is very clean. It works with any riding glove. There are five buttons on the bottom of the screen that allow you to quickly navigate through the screens without using the touch screen. The display was amazingly bright and worked perfectly even on the sunny day when we tested it.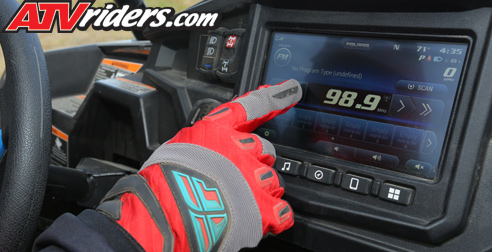 The Ride Command screen has a built in AM/FM radio tuner & you can also pair it with your phone via bluetooth to play music
We love music when we're trailing it and the included door speakers sounded great. Though we'd like to have them add the option of satellite radio, the AM/FM radio is great if you have signal or you can link it through Bluetooth to your smart phone and play your entire music library.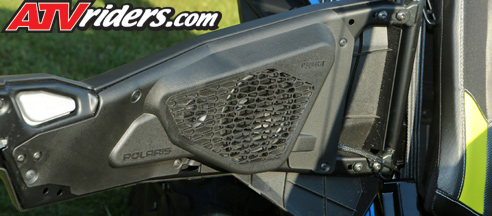 The 2017 Polaris RZR XP 1000 SE comes with doors, which have built in 300 watt 6.5" speakers
"I was amazed at how well the touch screen worked, even with gloves on and the radio system in the helmets was quite impressive," said Bulloch. "You could easily carry on a conversation and listen to music while riding down the trail. The speakers sounded great. I definitely found it had a good sound and it was never distorted. I've had a lot of poly boxes made for SXS applications and once you get the volume you need to hear the music while riding, the speakers break up. These speakers have a crisp, clean sound. It looks like they will also handle the weather very well."
Anyone who has been trail riding in a group understands about eating dust from the machine in front of you. Ride Command has you covered. You can easily input other Ride Command-equipped machines and follow each other on the screen, even when you're out of visual. This allows you to spread out without getting separated or lost. If someone stops moving, the icon on the screen changes from a circle to a square, allowing you to know if someone might have an issue. You can also map your route in advance, input waypoints into the system, leave at different times and meet up at a designated location.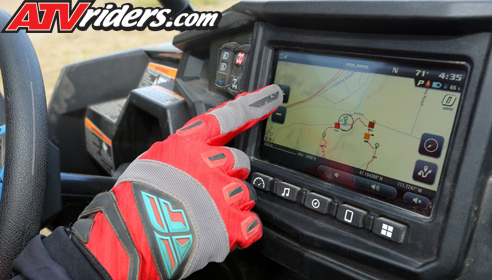 The Polaris RZR XP 1000 SE map system allows you to track/locate your friends while on the ride, which a great feature to keeping up with everyone in the group
In addition, other machines equipped with the system will show up on your screen. So, for example, if you're at large riding area like Glamis, you can spot groups on your screen and avoid traffic jams or worse, a collision. Traffic jams in an off-road park? Yes. They happen and they are no bueno.
The only downside is everyone has to have cell phone service. It also features GPS tracking for your own machine so you'll always know where you are at any given time.
"That system is a great concept," explained Bulloch. "The thing I didn't like is that it only works when you have cell phone coverage. I think it's a great start and I'm sure they'll come out with more improvements over time so it will work anywhere."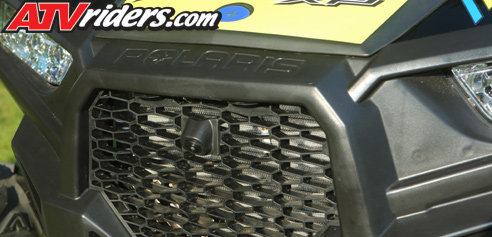 The Polaris RZR XP 1000 SE has built in cameras up front and in the rear of the machine
Along with factory wired cameras, Ride Command also accepts a range of third-party apps, including the GoPro app. We had our GoPro 4 Black on board and we easily connected to it wirelessly. We shot video and photos and the system was super intuitive and easy to use. The GoPro 4 Black allowed us to wirelessly download streaming video to our smart phone and post it to social media in a snap. The 4K video resolution was a welcome upgrade for the extra $100.
"Just to see the new capabilities of the new GoPros really opened my eyes," said Bulloch. "I know I'll use it in the off-roading and racing that I do. It was easy to operate."
The Polaris RZR XP 1000 SE Rear Camera
Did we mention that the wired rear facing camera displays on the screen when you put the RZR in reverse? "The backup camera is pretty impressive," said Bulloch. "It works the same as my truck at home. It's seamless, really. If you're familiar with the system in your car, you'll be comfortable with it right away. That's why it was so easy for me to catch on."
The Polaris RZR XP 1000 SE has proven to us that it is well worth the extra $2,000 with all the extra features including Ride Command
Ride Command is also available for sale as a standalone system that you can install in your RZR, but at $6,000, it's a bit steep. Instead, you'd be much better off to trade up to the new RZR and shell out just $2,000 more for the Ride Command option.