The front suspension features dual A-arms with 5.1 inches of travel, while a swingarm with dual shocks handles the bumps in the rear with six inches of the suspension travel. It has nine inches of ground clearance making for easy passage over most obstacles. Shocks are preload adjustable and set at the softest setting from the factory. The shocks should be stiffened for higher speeds or a heavier driver. This helps avoid bottoming and minimizes body roll at higher speeds.
The front suspension features 5.1" of travel with preload adjustment
Four-wheel hydraulic discs handle braking duty and they were more than adequate to haul the 572-lb machine to a stop. It also includes a functional hand-actuated parking brake.
The Polaris ACE 150 has a parking brake along with an easy to use transmission with a forward, neutral, reverse gear selector located on the right hand side of the vehicle along the floor
The transmission is a simple forward, center neutral, reverse affair with a chain driving the rear wheels. The 22-inch tires had good grip and helped with the machine's on-center feel and stable handling. The 65-inch wheelbase was perfect for the size and class of the vehicle.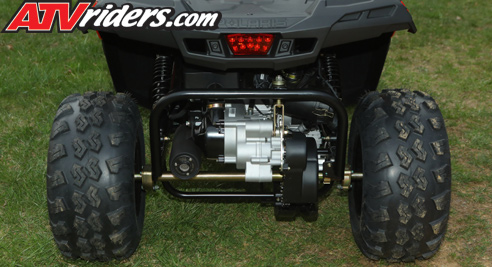 The Polaris ACE 150 features 22" tires, which provide 9" of ground clearance
Faith is a little taller than most kids her age and she still easily fit into the machine so it should easily fit kids 10 and up. She was comfortable in the cockpit and could easily use all of the controls.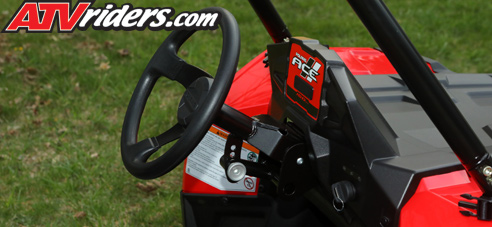 The Polaris ACE 150 steering wheel is easily adjusted without any tools
The 2.5-gallon fuel tank features a float to determine fuel level. It has an adequate storage box in the rear.
Overall, the machine is the perfect rider to introduce young riders to the sport of UTV off roading. It's safe, it's fun and it performs. The Ace 150 is priced at a competitive $3,799, which is $1,000 less than the RZR 170, and is available now at any Polaris powersports dealer.