The Polaris RZR XP4 1000 comes with 29x9-14 Maxxis Bighorn 2.0 tires in the front and 29x11-14 Bighorn 2.0 tires in the rear, mounted on cast aluminum wheels. We aired down our tires to about 12 pounds of pressure for the dunes to accommodate the conditions and the tires performed incredibly well, even in the loose sand. We have always liked the Maxxis Bighorn tires and we were not disappointed as we never once got stuck while out testing.
6 ply Maxxis Bighorn 2.0 tires come standard on the Polaris RZR XP 4 1000
The RZR XP 4 1000 features a lock and ride cargo system to easily secure coolers and other cargo and has a payload capacity of 900lbs. The bed box measures 28x41x2.8 and offers a decent amount of room.
The Polaris RZR XP4 1000 dash is the same as the two seat Polaris RZR XP 1000
The instrument panel was good and easy to read. It featured a Digital Gauge, Speedometer, Odometer, Tripmeter, Tachometer, Coolant Temperature, Volt Meter, Hour Meter, Service Indicator, Clock, Gear Indicator, Fuel Gauge, Hi-Temp Light, Seatbelt Reminder Light, and includes 2 DC Outlets.
2014 Polaris RZR XP 4 1000
White Lighting

2014 Polaris RZR XP 4 1000
Titanium Matte Metallic
The Polaris RZR XP4 1000 comes in two color schemes: White Lightning, which is white and black with red accents and Titanium Matte Metallic that is a dark metallic grey with orange accents. The starting MSPR for these units is $21,999.00 depending on the options you choose. And as always, Polaris provides a good selection of aftermarket parts to customize and make you RZR XP4 unique.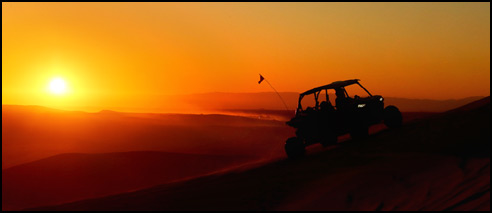 We had a great time testing the new 2014 Polaris RZR XP 4 1000 at the Glamis Sand Dunes & we drove until the sun set over the dunes
Overall, we had a great time at the Camp RZR event and are really hoping we can go back next year. It was the perfect place to be able to test the Polaris RZR XP4 1000, and during our two days of driving, we did over 80 miles in the RZR XP4 1000, which we feel it is another great product from Polaris. The ability to have four passengers seated comfortably ensures that you and your family and friends will have a great time driving in just about any terrain. The performance of the 2014 Polaris XP4 1000 is top notch and is sure to satisfy any consumer.