Polaris Rzr UTV Links
Polaris Ranger UTV Links
West Virginia
- When asked to take in the new Polaris Rzr to keep as my own for a few months and write a review on it versus the Polaris Ranger, I thought that I must have pleased the gods in some way to have this chance! I had purchased the Ranger for use around my property and it took all of a quick ride to prove it would be so much more useful to me then my Utility ATV. With a dumping cargo bed, roll cage, fully automatic transmission and all wheel drive I was in heaven. I believe I even took it for a ride or three around the area just to show it off to anyone willing to peer my way.
Polaris Rzr 800 UTV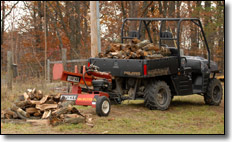 The Polaris Ranger is a work horse UTV, and Polaris has various versions of their highly successful Ranger model along with a new Ranger Crew for 2008, which are selling as quickly as they are being produced at the factory
In no time, the Ranger was pulling duties from hauling the kids to and from the bus stop and carrying my tree stands to the woods. Using it for chores actually had me looking for things to do just so I could have the smallest excuse to use it! I know, anything new is bound to have that appeal, but when the wife uses it to haul her laundry from the line to the front door instead of carrying it through the basement and up the stairs, the "Guy Toy" excuse was history! Everyone in the family was becoming well versed in its operational capacity in every aspect of outdoor life here. It has been used to shuttle anything that would fit in the bed to fetching me a cold drink while working in my gardens, it is truly a must have piece of equipment for us now.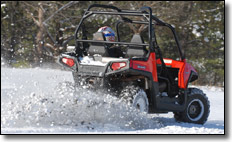 Polaris Announced their all-new Polaris Rzr just over one year ago, and it was immediately the sportiest UTV ever on the market and attracted the attention of numerous UTV enthusiast looking for something that was sporty and small enough to drive on ATV trails
Now comes the all new sporty Polaris Rzr, designed for one main purpose in life, putting a smile on your face that lasts for days! Turning the key brings the engine to a throaty idle as the high performance 760cc engine awaits your command. This wasn't the Ranger nor was it designed to be! Moving the gear selector to high range and a slight press on the gas had me chugging across the field and that growing smile started to attack me. A few laps around the back 40 soon found me slicing through the trail at high speed (I had to have been flying because the wife was giving me that look as I passed mach 2 and left her far behind!) The fun doesn't end with the first ride thankfully and it isn't a solitary ride if you allow a passenger (we refer to them as co-pilots just because it sounds cool!). With driver and passenger securely belted in, the fun begins all over as trails are explored or laps are completed.
Over the course of several months, everyone here got their fair share of seat time, including folks that happened by to check out the red blur clipping through the fields and dancing between the trees. The fun factor on the Rzr is off the charts for everyone that strapped in for a ride, although a few passengers may have preferred more warning that this thing cruises and the passenger grab handles are their for a reason. I can usually make my passenger grab them within the first 50 feet just for the record. Many had no idea that the two machines were built by the same company as they look about as similar as Rocky Balboa and Pee Wee Herman.