Kawasaki Brute Force 300 Utility ATV Related Links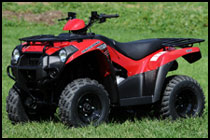 2012 Kawasaki Brute Force 4x4 750 4x4 Utility ATV Review
Wampum, PA (10/20/2011) -
ATVriders.com was recently invited to review the new 2012 Kawasaki Brute Force 300 utility ATV during its press event held at the Mines and Meadows riding facility located in Wampum, PA. The launch of this model would propel Kawasaki back into the 300 class with a brand new 2wd machine targeted at the entry level while replacing the aging Bayou 250 line.
At first glance, you would dismiss the new Brute Force 300 as that of its 750 big brother as Kawasaki set the styling directly after the big bore model. Closer inspection revealed the scaled down look, however attention was paid to making the machine appear and feel bigger then it is. Fit and finish of the fenders, seat and fuel tank all were seamless and integrated well.
2012 Kawasaki Brute Force 300

2012 Kawasaki Brute Force 750

The new 2012 Kawasaki Brute Force 300 ATV has very similar stying to its big brother the Brute Force 750 4x4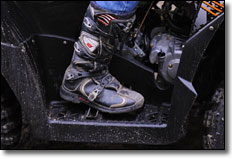 The Kawasaki Brute Force 300 foot wells offers large water drainage holes & the front & rear fenders provide ample protection from the elements
The Kawasaki Brute Force 300 comes off as a mid size platform which should help its intended market blend in with anything on the market while offering a small bore entry level comfort. Ergonomics are well thought out and even riders over 6 feet tall had no issues comfortably fitting and riding the machine. Ample foot wells have raised and integrated pegs that do a good job of protecting the riders feet without cramping from the built in mud protection that is affluent throughout the ATV's design.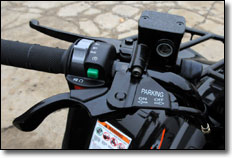 Brute Force 300 handlebar mounted parking brake
Features available on this model far out weigh what we have become accustomed to when we think of a base entry model and should help sell the machine. A digital dash board that reads easy is a welcome addition. Speed, Trip Odometer and both fuel and temperature are all displayed on a very easy to read layout. The Brute Force also features a 12 volt power outlet that will allow use of any 12 volt accessory that has a cigarette lighter style plug is also factory installed. Standard grips and bars out fit the unit however a new style parking brake graces the bars that worked very well during out tests.
The Brute Force 300 utility ATV features both a digital instrument panel & convenient DC electrical socket for accessories