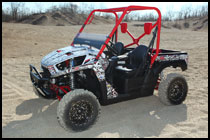 Kawasaki Teryx 750 4x4 SxS / UTV Project Build
Indianapolis, IN
- In Part four of our Kawasaki Teryx 750 4x4 UTV / SxS build we add some styling and protection to our ride with the help of a Custom Graphics Kit from Santor Design Co. printed by Spider Graphix and a Bumper, and half-windshield from Pro Armor.
As with anything in life, good protection is always important. whether it be some form of insurance, a helmet, or even a heavy duty bumper on your SxS / UTV. Luckily our friends at Pro Armor specialize in protecting SxS & ATVs. We contacted Pro Armor to see what they could outfit our Teryx Project build with to help protect our ride. Pro Armor sent over their heavy-duty aluminum front bumper and rear bumpers and half windshield.
The powder coated black bumpers not only added style to our ride, it also would help deflect elements along the trail. Although we were not able to directly bolt on the rear Pro Armor bumper due to our previous Lonestar Bed Delete modification the front bumper was very easy to install with no problems.
We added a trick looking powdercoated aluminum Pro Armor front bumper with a brushed aluminum skid plate
The Pro Armor front bumper features large grab handles that follow with the Kawasaki Teryx 750 design lines. The Pro Armor front bumper has enough room for a couple guys to help lift the front end if you do find yourself stuck. The Pro Armor front bumper also features a brushed aluminum skid plate that bolts on to help deflect obstacles along the trail.
Pro Armor also sent over their half windshield. The half windshield is a good alternative to a full windshield and is easier on your wallet. It also helps deflect mud, water, and other elements along the trail.
A Pro Armor half windshield was added to deflect mud, water, & other elements. While the windshield works, the key thing is when it gets dirty it is a good idea to clean it for better visibility along the trail
Although Kawasaki did a decent job of adding some color accents on the Kawasaki Teryx 750 4x4 SxS / UTV, we decided this build deserved a one of a kind custom graphics kit. Since I am also the owner of a graphics and web design company called Santor Design Company I figured I would design something that would really catch people's attention at the Indy Dealer Expo like I have done in the past.
::CONTINUED::