Kawasaki Mule Trans 4x4 Diesel
Kawasaki Mule 610 XC 4x4

Mine Made Paradise Park, KY
- We were recently invited by Kawasaki out to a new riding facility in Eastern Kentucky called Mine Made Paradise Park. Not yet open to the public, we got a sneak peak of what the vast trail system of Mine Made Paradise Park will be like first hand, while aboard some of the newly released 2010 Kawasaki Mule side by sides.
| | |
| --- | --- |
| | |
| The 2010 Kawasaki Mule 4010 Trans 4x4 Diesel is Kawasaki's premium Diesel offering in the UTV division & we put it through its paces in Kentucky | The 2010 Kawasaki Mule 610XC is also a work horse but with a little beat of Teryx spunk thrown in - we also put it through its paces at Mine Made Paradise Park |
For 20 years the Kawasaki Mule has defined a whole category of hard working utility vehicles that have been proven my construction workers and farmers alike. For 2010, Kawasaki decided to make two new additions to their extensive Mule line up; the 2010 Mule 4010 Trans 4x4 and the 2010 Mule 610 4x4 XC. Each of these models bring their own characteristics and styling to the long proven Kawasaki Mule line up.
For this Ride/Review we were testing Mules in "Elk Country" - This area is habitat to the largest Elk population on the Eastern side of the Mississippi River & we happened upon some during our journey at the 60,000 Acres ranch of Mine Made Paradise Park which will be open this fall to the public & we will have a full review of the Park as well in the near future
It was our first time out on the trail at Mine Made Paradise Park and we had our eyes set on the new 4010 Trans 4x4 Diesel. Personally, I have never ridden any diesel powered utility vehicle, so I was more than eager to see what diesel power was all about. As I sat down in the cockpit of the 4010 Trans 4x4 Diesel, I noticed the cab was much like others in its family.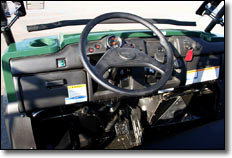 The Mule 4010 dash is simple to navigate with your eyes which allows you to remain concentrated on your duties ahead
It has an easy to read automotive style instrument panel, cup holders that accommodated each side of the dash, a large glove box for storage, convenient easy to reach parking brake lever, and spacious seating.
In addition to its notable family characteristics, the 4010 Trans 4x4 Diesel has more that meets the eye. Much like the hit movie Transformers, the 4010 Trans 4x4 can easily be transformed into a four-to-two seater in less than 30 seconds! After converting the Trans 4x4 into a two seater, you also gain another 2 feet of cargo bed space.
The Kawasaki Mule 4010 Trans 4x4 gets its name from its ability to "Transform" into a single bench UTV from a dual bench configuration thus giving you added storage space in the convenient rear dump bed
Both the Trans 4x4 and the 610 XC feature easy to use dump cargo beds that have a large cargo capacity of 400 lbs (610 XC and Trans 4x4 4-passanger mode) and 800 lbs (Trans 4x4 2-passanger mode). Although the Trans 4x4 can quickly be transformed into a two seater, we still couldn't figure out how it turns into a walking, talking, metal super hero. I guess Kawasaki is going to keep that one a secret.