Kawasaki KFX450R ATV Links
2010 Kawasaki KFX450R
San Bernardino, CA
- Round seven of the WORCS Racing series at Glen Helen Raceway in San Bernardino, California would play host to the 2010 Kawasaki KFX450R debut. The date is September 26th, and throughout the northern parts of the U.S. the days are getting cooler and shorter as winter slowly creeps southward. In southern California however, things seem to be heating up, at least in southern California where a heat wave put temperatures over 100 degrees.
While we all know any ATV racing discipline is taxing on mind, body, and equipment WORCS racing is an especially potent cocktail blend of motocross, desert racing, and cross country. This isn't your local motocross race with two minute lap times and four lap motos. This is a serious endurance event that pushes body and machine to their limits. The amateur competitors race for just shy of an hour while the pros compete for a full 2 hours. Take this already potent mixture and set it ablaze with 105 degree temperatures and you've got one tough event.
When I heard that Kawasaki was unleashing their 2010 KFX 450R at a WORCS ATV Racing Series, I thought that they were either completely crazy or maybe very confident in the capabilities of their machine. Personally, I was leaning towards completely crazy. Take the rocks and ruts of a GNCC event, the big air of a motocross track, and the endless sand whoops of a desert race and you can begin to get an idea of what a WORCS race can do to an ATV. Good or bad, it was sure to be interesting.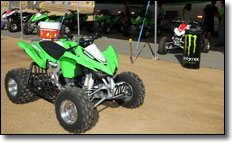 ATVriders.com along with 7 other ATV Magazines/Websites were invited out to Glen Helen to test ride the KFX450R at Round 7 of the WORCS Series
When we arrived at Glen Helen early Saturday morning the air was surprisingly cool, and I was thinking that we might get lucky with cooler than expected temperatures. The race was set to take off at 11:00 AM, growing excited I looked at my watch and to my disappointment it was only 7:30 AM! Of course, as it does in the desert the temperature climbed about 10 degrees per hour as the sun rose across the sky. By race time the temperature would be about 95 degrees and climbing.
As we prepared for our race under the big Kawasaki tent, I did a quick check over on the KFX450R that I would be riding. As I hopped on the ATV, the first thing I noticed is how balanced the ergonomics feel. I am 5' 10", and everything from the bar height to the lever position, and even the seating position felt just about where I thought it should be.
Kawasaki only had to add a set of Nerf Bars & Tether Cord to make the KFX 450R ATV race ready to compete in the WORCS Industry Class
I also have to note that Kawasaki installed some DG Race Peg nerf-bars with netted heel guards, and for me this was the icing on the cake of an already solid feeling bike. The extended wider pegs of the DG nerf-bars provided ample traction in any riding position, and never got in the way or felt restrictive when trying to move around the KFX 450R.