2011 John Gator XUV 625i - Gas Engine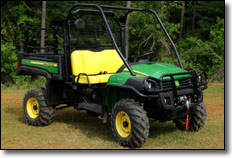 2011 John Deere Gator XUV 625i, which features 617cc liquid cooled V-twin engine with 23 HP & 30 MPH top speed
The John Deere 625i is back for 2011, and it features a Kawasaki 617cc liquid cooled V-twin engine, which produces 23 HP with a top speed of 30mph, and the 625i also features electronic fuel injection for good throttle response and provides instant starting in all types of weather. As with all Gators, it has Independent rear suspension and offers 11" of ground clearance, and like all John Deere Gator XUV models, it is available in three color choices of olive and black, Realtree Hardwoods HD Camo or traditional John Deere green and yellow.
2011 John Gator XUV 825i - Gas Engine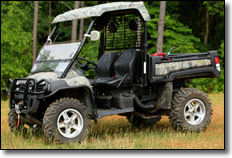 2011 John Deere Gator XUV 825i shown in the Realtree Hardwood HD Camo
The Gator 825i was the machine that we had our eye on when we arrived and we were looking forward to getting a chance to see what it had to offer and we were quite impressed with this work horse. The 825i features a 3 cylinder automotive style engine, which increases the durability and life of the engine, and has a top speed of about 44 MPH. Additionally, the gas pedal is electronically controlled so that even if the terrain you are on is rough, you will be able to maintain a steady speed and stay in control. John Deere offers a surprisingly large choice of options for their vehicles and tires and wheels are no exception with to that. First we tried a base model set up and the base model tire and wheel combo is very responsive. The tires are light weight and offered good acceleration. John Deere offers three different tire options and two different wheel styles in your choice of three colors.
| | |
| --- | --- |
| | |
| Ancla XT Tires Mounted on Yellow painted Steel Wheels | Maxxis Big Horn 2.0 Mounted on Stylish Aluminum Wheels |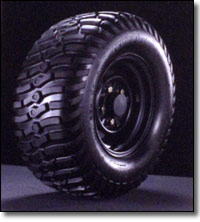 25" Terra Hawk AT Tires
We also were able to test a model with 26" Bighorn tires, and while the Bighorn's hooked up great the weight of the tires seemed to slow the machine down a bit. We also got to check out a unit with 25" Terra Hawk AT's and we really liked the way those tires performed. They were light weight and provided excellent traction, so if you don't plan on taking the Gator into extreme conditions off-road conditions, the Terra Hawk AT tires would be our suggestion, but if you plan on riding over rocky or rugged terrain, it would be well worth the upgrade to the Big Horn 2.0 tires mounted on Aluminum wheels, but you will sacfrice some performance from the added weight of the wheels and tires