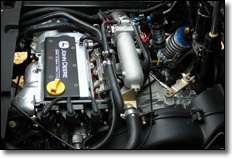 John Deere Gator 825i features a liquid cooled 3 cylinder DOHC automotive style engine, which produces 50HP
The top speed of the John Deere Gator 825i is 44 MPH, which seems slow in comparison to other manufacturers more recreational/performance based units, but as a purpose built machine, we felt this was more than enough speed for farming, working or hunting. The top speed is also in line with safety for the Gator but was more than satisfactory for our testing purposes as well.
"The power of the Gator was great. It was plenty fast for us on the farm and we were able to tow and haul just about anything with it. We also took it out on the trails for some fun and we had a great time with it. The ground clearance was good and it went over just about anything." Schwartzback stated.
The extra large 16.4 cu ft cargo bed with 1,000 lbs of capicity, removable sides, & 20 tie down points to secure your cargo is huge selling point for the Gator. It also features hydraulic dump, which allows for easy unloading of the bed with a push of the dash mounted switch
One of the best features of this machine is its huge cargo bed that offers a 1000 pound capacity. Most Side-by-Sides come equipped with cargo beds, but the Gator surpasses any others on the market. The capacity is outstanding as we were able to put five bales of hay in the bed, with three on the bottom and two stacked on top. The Gator was even able to haul a couple of calves in the bed when transportation was necessary. The center truck-style latch was easy to engage and disengage and you can also opt for a factory installed power lift option for easy dumping.
We loaded 5 bales of hay into the cargo bed of the Gator 825i & hauled it around the farm with ease & the dump bed allowed for quick & easy unloading
The Gator's large capacity bed also makes it an ideal machine for hunting in remote locations, or even closer in, as it can haul a full grown Deere or elk easily. It's also great for fishing with plenty of room for equipment and coolers.
Our Gator 825i came equipped with a Warn Winch mounted on the front of the RUV & the hand control plugs into a socket in the front glove box with an extra long cable, so you can walk around the vehicle while using the winch for improved visibility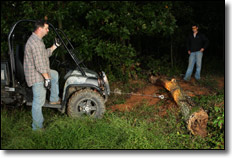 The winch worked great on the trail to remove a tree that fell accross the trail & we highly recommend a winch for all SxS vehicles
We opted for a winch on our unit and found it to work well. "We never got stuck to where we had to winch ourselves out, but we did use it to yank out a couple of stubborn shrubs and few small trees on the farm, and it did that pretty well," said Davis Schwartzback. The Gator is also incredibly tough and durable as would be expected with any John Deere product. The Hydro-formed steel frame allows for fewer welded and bolted joints, providing superior durability and exceptional tolerance for twisting under heavy loads. The Gator features full steel skid plates for unsurpassed underbelly protection, automotive quality electrostatic paint to fight corrosion and provide a tough finish. We did have a belt wear out during our test, but it was under extenuating circumstances and only added to our positive experience with John Deere.