One of Honda Powersports latest achievements is the new 2014 Honda Rancher Utility ATV. From concept to production, the all-new Honda Rancher was developed by U.S. Based Honda operations. With the exception of the new aggressive styling (which was designed by Honda's design team in Los Angeles, CA) the Honda Rancher was designed, tested, and developed by engineers at the Honda R&D Facility in Ohio and was built in Honda's manufacturing facility in Timmonsville, South Carolina which is one of fourteen manufacturing facilities Honda has in the United States.
| | |
| --- | --- |
| | |
| 2007 Honda Rancher 420 Utility ATV | 2014 Honda Rancher 420 Utility ATV |
Since its inception in 2007, Honda has sold over 1.5 million Honda Rancher 420 Utility ATV units. Over the years, Honda has improved the Rancher 420 by adding the option of automatic transmission and electronic fuel injection that has improved its versatility and dependability making it one of the best selling ATV models on the market. It's proven performance and reliability for use working on the jobsite or on the farm has made Honda Rancher very popular among customers who use it for utility purposes.
After visiting many Honda Rancher owners, and hosting many focus groups, Honda was surprised that many of it's customers said they wouldn't change a thing on the Honda Rancher; which made the job fairly difficult for the engineers assigned to redesign of the Honda Rancher. With all the positive feedback, the engineers went to work and tried to determine the focus of the redesign, which would be to maintain all the functionality and utility aspects and to improve the ride to make it more comfortable and handle better for recreational riders thus creating a better well rounded machine.
It is truly amazing how much testing and research goes into every product that Honda produces. Starting from examining how certain materials react under an electronic microscope, to engineering, prototyping, consumer feedback, and field testing, the Honda R&D of Americas in Ohio makes literally thousands of decisions based on their findings to build upon the Honda brand that is known for their high quality and reliable products like the 2014 Honda Rancher Utility ATV.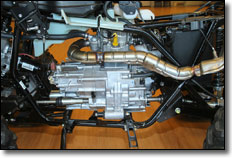 The new Honda Rancher features some minor updates to the liquid cooled 420cc fuel injected engine
Honda began redesigning the 2014 Honda Rancher Utility ATV around its proven liquid-cooled 420cc fuel injected engine. For 2014, Honda has made some minor improvements to the engine that include new mapping for the Programed Fuel Injection that was combined with a new oxygen sensor, which improves power delivery, and throttle response. The new mapping also improves emissions and improves fuel efficiency.
A new fuel pump was also added to the 2014 Honda Rancher with help from Honda's automotive department.  The new fuel pump is mounted in the fuel tank for better heat isolation and increased filter life.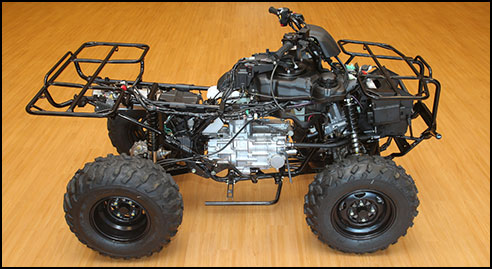 The 2014 Honda Rancher has a redesigned chassis for better handling
Keeping the engine in place is an all-new redesigned chassis. Designed with Computer Aided Engineering (CAE) the new double cradle steel frame is now 20% stronger and more ridged than previous models.  The increased stiffness provides not only more durability, but also improves handling and provides less steering effort.